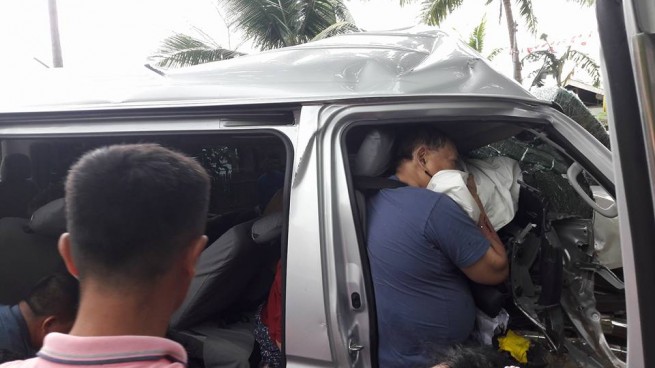 A weekend getaway in Cebu quickly turned into a tragedy after seven Filipino-American medical missionaries were killed in a car crash in the nearby town of Alegria last weekend.
On Saturday, January 20, a group of 10 physicians and nurses from the United States were in the town of Oslob, located 73 miles south of Cebu City. The group was on its way to Kawasan Falls in Badian that morning when the driver of their rented Toyota Grandia van reportedly fell asleep at the wheel.
The car then crashed into a roadside mahogany tree between 11 a.m. and noon, less than 10 miles away from the destination.
According to local officials, five passengers were killed on the spot while the other five passengers were transported to hospitals; two died on the way to the hospital. Three passengers sustained severe injuries while the driver — identified as 24-year-old Gilbert dela Cruz — survived with minor injuries.
Among those killed included Dr. Nunilo Rubio, 74, of Chicago; Aurora M. Gagni, 63, a registered nurse from Orland Park, Ill.; husband and wife Reynaldo and Diane Pascual of White Plains, NY; Joseph and Juvela Huang and Berniti Rojas, according to Inquirer.
The three passengers treated for injuries were Dr. Rubio's wife Dr. Elenita Rubio and husband and wife Fred and Nora Tsai of Chicago.
The traveling group were a part of 48 volunteers of an annual medical mission organized by the Philippine Medical Association of Chicago (PMAC) and it's Women's Auxiliary that was expected to begin on Monday, January 22 in Camiguin Island.
Once a year, the volunteers help treat thousands of poverty-stricken patients and bring along dozens of balikbayan boxes of medical supplies and medicine. Many of those who passed away were respected professionals in the medical world and had partaken in past PMAC mission trips.
In an interview, Dalisay Villalon, a registered nurse and past president of PMAC Auxiliary expressed sorrow for the lives lost and honored them for their efforts in helping the less fortunate.
"The death of these seven volunteers shocks me to no end," Villalon said. "I [had] to double check what I read online. Sadly, it shows the volatility of man's life, but our desire to serve the poor and the sick should continue as it will be this year for the PMAC despite this tragedy. The missionaries will continue healing even as we mourn those who passed on."
According to Alegria Chief of Police Efren Diaz, dela Cruz admitted to falling asleep at the wheel, but he denied drug usage. Additionally, he said that he only had an hour's sleep before he was to drive the travelers early the next morning.
Dela Cruz is currently in custody awaiting charges against him for reckless driving that resulted in multiple homicide and injury. (Klarize Medenilla/AJPress)