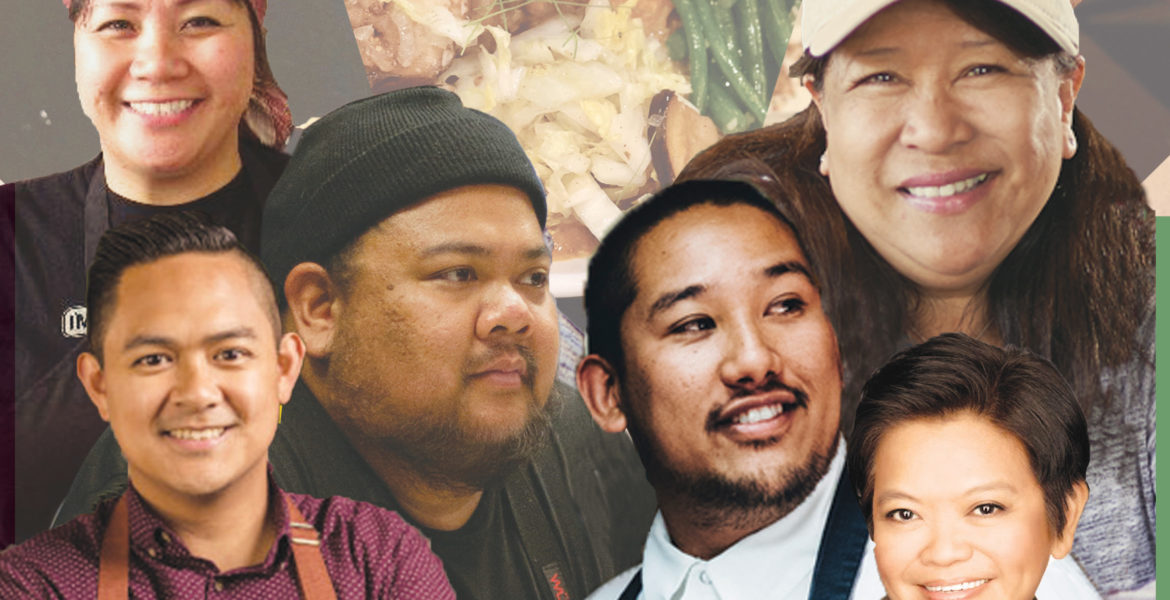 THE Los Angeles Food & Wine Festival (LAF&W) this past week brought together dozens of renowned culinary personalities from across the country for five days of events.
From Wednesday, August 22 to Sunday, August 26, the 8th annual festival occupied spaces around LA from Grand Avenue in Downtown to Barker Hanger in Santa Monica for lunches and dinners by high-profile chefs to food tastings paired with hundreds of wine samples.
Of course, a festival showcasing the LA food landscape couldn't be without Filipino cuisine.
For the first night on Wednesday, two Filipino dinners kicked off the fest — one by Chad Valencia and Jon Yao and the other presented by Barb Batiste (Big Boi/B Sweet Dessert Bar) and Alvin Cailan (The Usual in NY). Both dinners priced at $150 per person were sold out.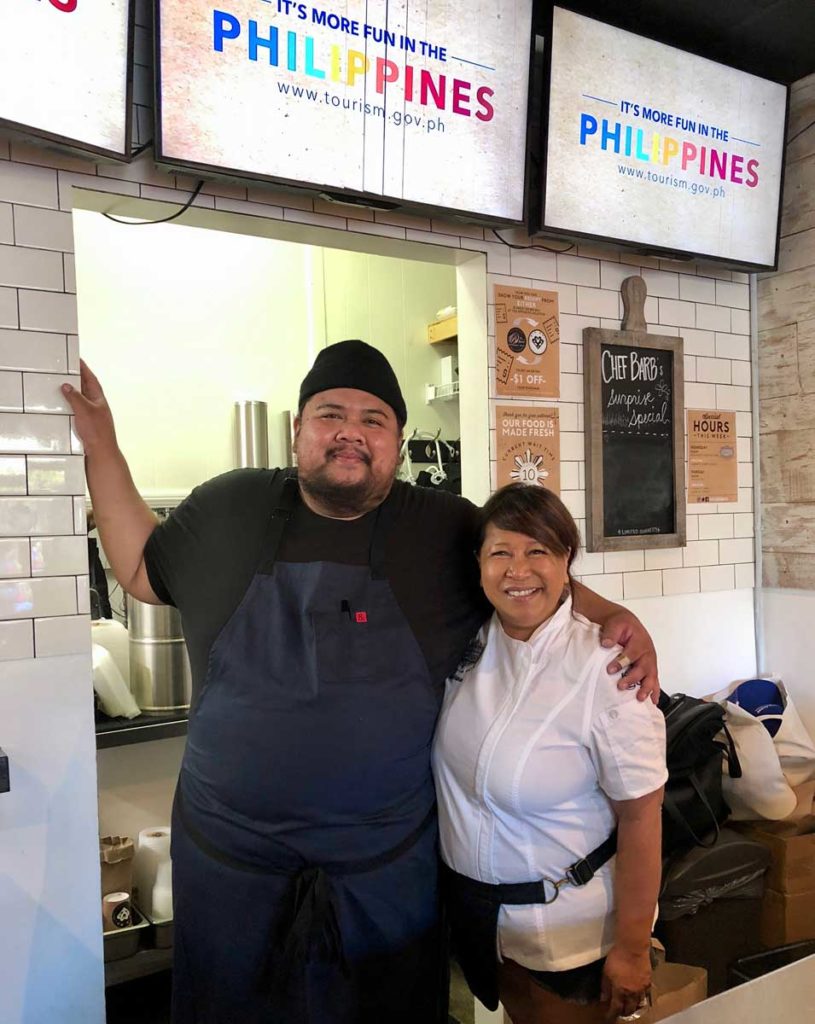 "It's our time. The people from Food and Wine recognize how much we represent our culture and how much we represent Los Angeles in general. Now we showcase. It's always been my credo, which is just for us to be a part of the conversation," Cailan told the Asian Journal. "For us, to actually do something to where people know, 'Hey we're Filipino, we're on the billboards, we're on the marketing' not because of PR…but because we're persistent and we work hard to promote our culture through our food."
Valencia, along with his brother Chase, helms LASA, which was named one of Food & Wine's Best Restaurants of 2018. (LASA was a series of monthly pop-ups before it became a permanent space at Far East Plaza in Chinatown).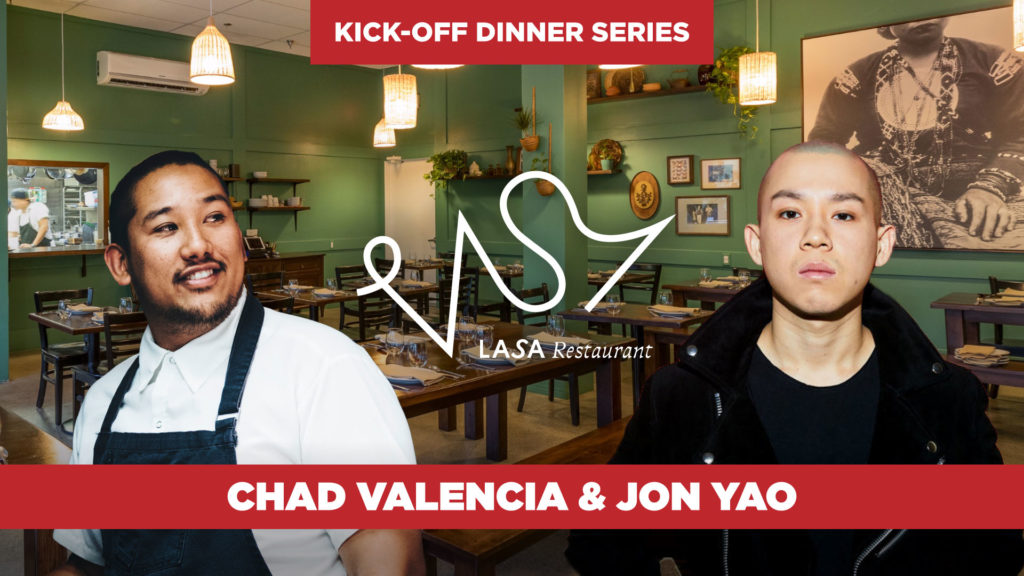 Yao, the chef at Kato in West LA, has been nominated as a Rising Star Chef by the James Beard Foundation and is one of this year's Food and Wine Best New Chefs.
Together, the two chefs presented an eight-course menu, featuring dishes like kilawin (flat iron tartare, patis aioli, kelp chips and vinegar powder); soft-shell crab with black vinegar and fermented broad bean; lumpia sariwa (a take on the fresh Filipino spring roll with brown rice flour crepe, black kale, maitake mushrooms); kesong puti dumplings (uni ginataan, chicken skin chicharon, and sorrel); turbot (a flatfish) in dry chili paste; and pork belly with eggplant, bagoong, vegetables and ampalaya powder.
The meal ended with their take on the shaved ice dessert, halo halo. 
Kababayan spirit at Big Boi
On the other side of the city in West LA, Cailan and Batiste closed down the latter's Big Boi for the dinner.
Cailan — the LA-native chef whose portfolio includes Eggslut, Amboy, and Unit 120 — moved to New York to do a series of pop-ups that spawned into the Usual, an American comfort food restaurant that has some Filipino influences on its menu. For him, his participation in this year's LAF&W was like a "homecoming."
The two chefs, who first met at LAFW five years ago, have both presented alongside each other at prestigious culinary gatherings like Pebble Beach Food & Wine but never had the chance to do something collaborative until this year.
"Chef Barb is truly like one of my best friends," Cailan shared with dinner guests. He added that the menu is "a shine on who we are…[and] our friendship."
Batiste, who has a background as a pastry chef, first opened B Sweet Dessert Bar on Sawtelle Avenue four years ago, garnering praise for her bread puddings, halo halo, and ice cream donut sandwiches. Earlier this January, she launched Big Boi just a few doors down as a tribute to her late father Angel and classic Filipino dishes she grew up eating.
"You walk into Big Boi and the first thing you read on the wall is, 'What is Filipino food?' because people always ask. You can't really compare it to anything. I always tell people, 'if you like really flavorful food, then you're probably going to end up loving it,'" she told the Asian Journal.
With a four-course, family-style meal, the pair intended to show that Filipino food is about sharing. A few of the tables were occupied by guests who didn't know one another, but by having that communal experience, they could "see what kababayan means," Cailan added.
Spanning about three hours, it started off with Batiste's pan de sal and ube butter (which has the consistency and deep purple color similar to ube halaya, a mashed jam version of the yam). Next came hiramasa kinilaw by Calian using kingfish, coconut-calamansi vinaigrette, lemongrass, cilantro and Thai chili.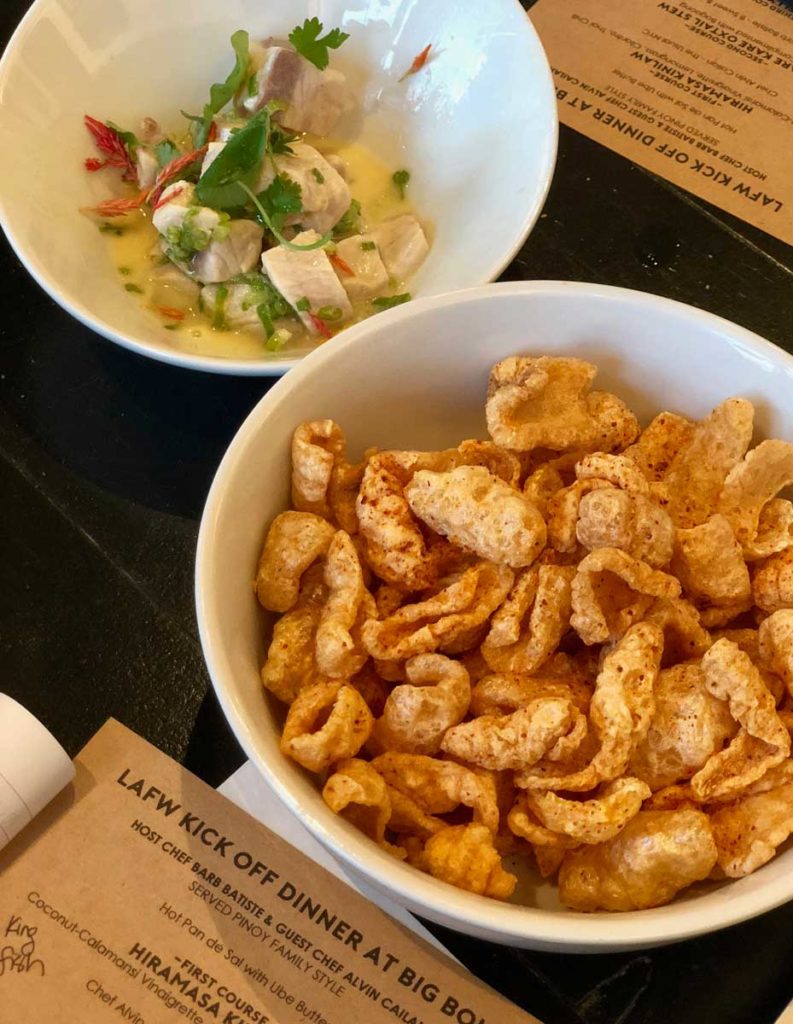 The dishes he prepared were meant to be "half educational, half comfort food," especially the kinilaw because he has spent the past year or so preaching that the seafood dish, ceviche as its known in other countries, originated in the Philippines.
"It was in the 1500s with the first documented recipe, which was way before anyone from Chile or Peru who claimed to have invented ceviche," Cailan said. "I've been on this soapbox proclaiming that seafood cooked with acid is our thing and they can't take that away from us because that's the truth."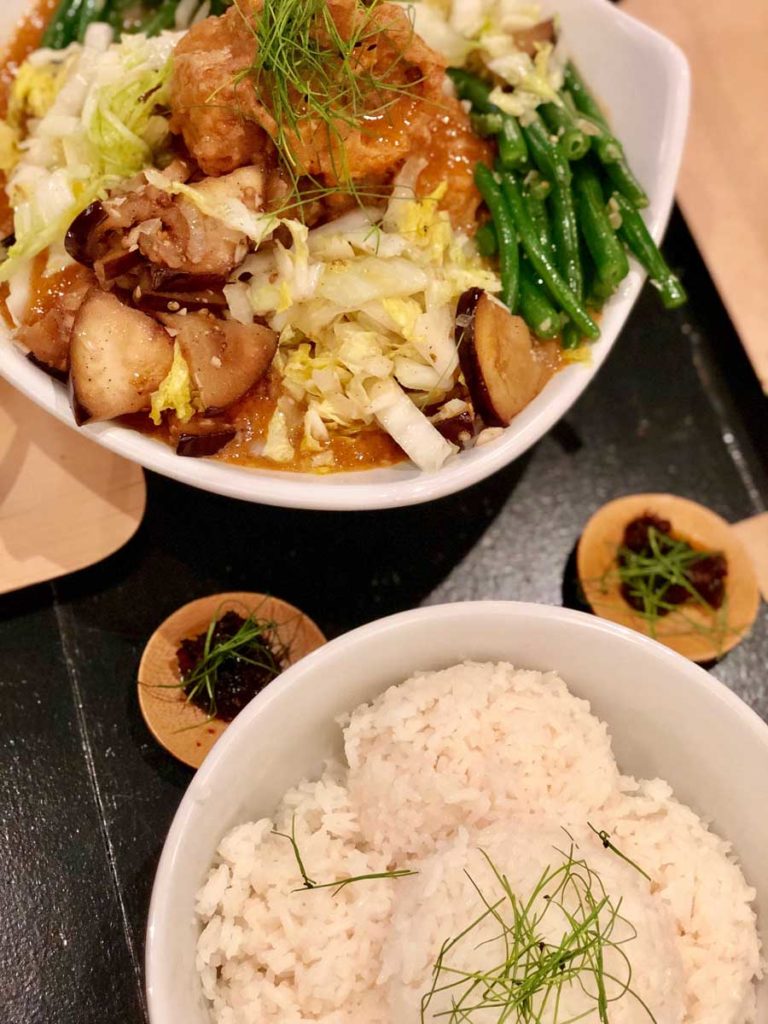 The heartiest dish of the night was Batiste's kare kare (peanut stew with oxtail and vegetables) paired with white rice and bagoong (shrimp paste). Everything was made from scratch, Batiste said, mirroring how her family prepared it.
"With Alvin in New York and me being here in LA, I told him what I wanted to make and in turn, he kind of paired it. I did the very savory thing and then he did something for the next course that was so different from the course beforehand," she said.
The last savory plate was Cailan's take on tokwa't baboy, crispy pork belly with crispy tofu, which he considers his "favorite snack and drinking food." In a somewhat healthier manner, his version was topped with cucumbers and tomatoes.
Lastly, Batiste put her sweet touch with a dessert mini sampler of turon bread pudding, ube cheesecake, and halo halo.
The night ended with everyone satiated, but one guest, in particular, left with something extra: two round-trip tickets to the Philippines, a culinary tour for two and a hotel stay. The prize was raffled off courtesy of the Philippine Department of Tourism — Los Angeles, represented by attaché Richmond Jimenez, and Philippine Airlines area manager Michelle Narvaez.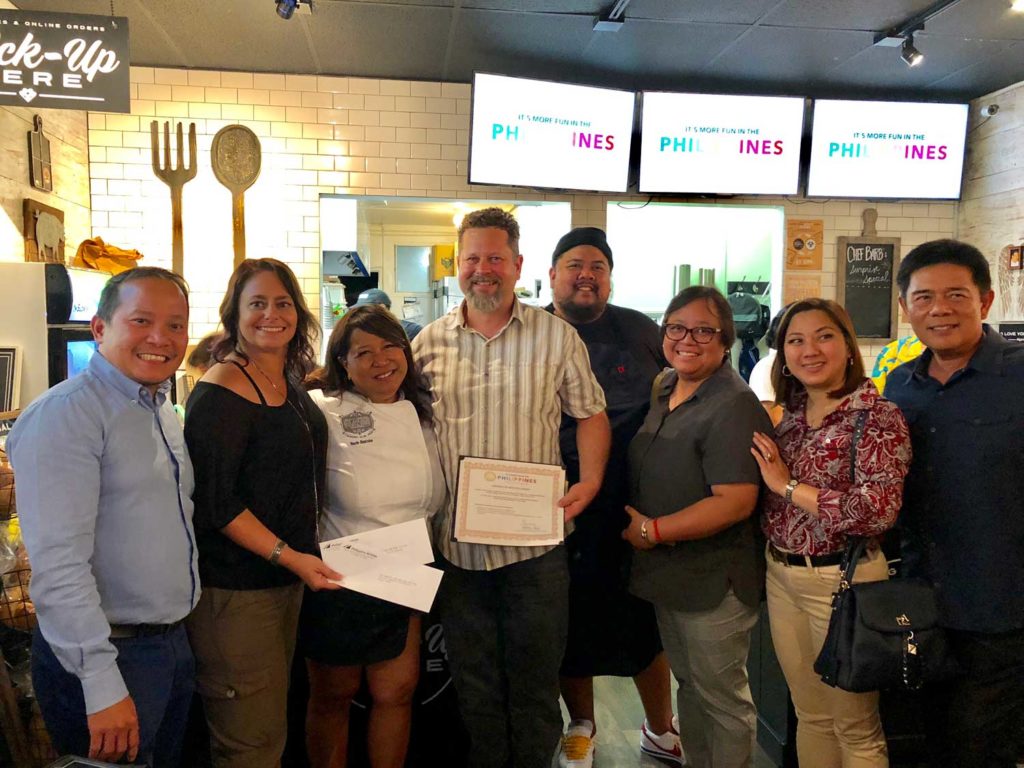 Filipino bites
On Thursday night, Cailan and Antonia Lofaso — who has appeared on Top Chef and various Food Network shows — hosted the tasting event "Ultimate Bites LA" ($225 for VIP; $175 for general) on Grand Avenue in front of the Walt Disney Concert Hall. Dishes from 23 chefs and hundreds of wine and cocktail options were for available for consumption. Batiste also had her pan de sal and ube butter at the event, while Cailan whipped up pozole verde con pulpo.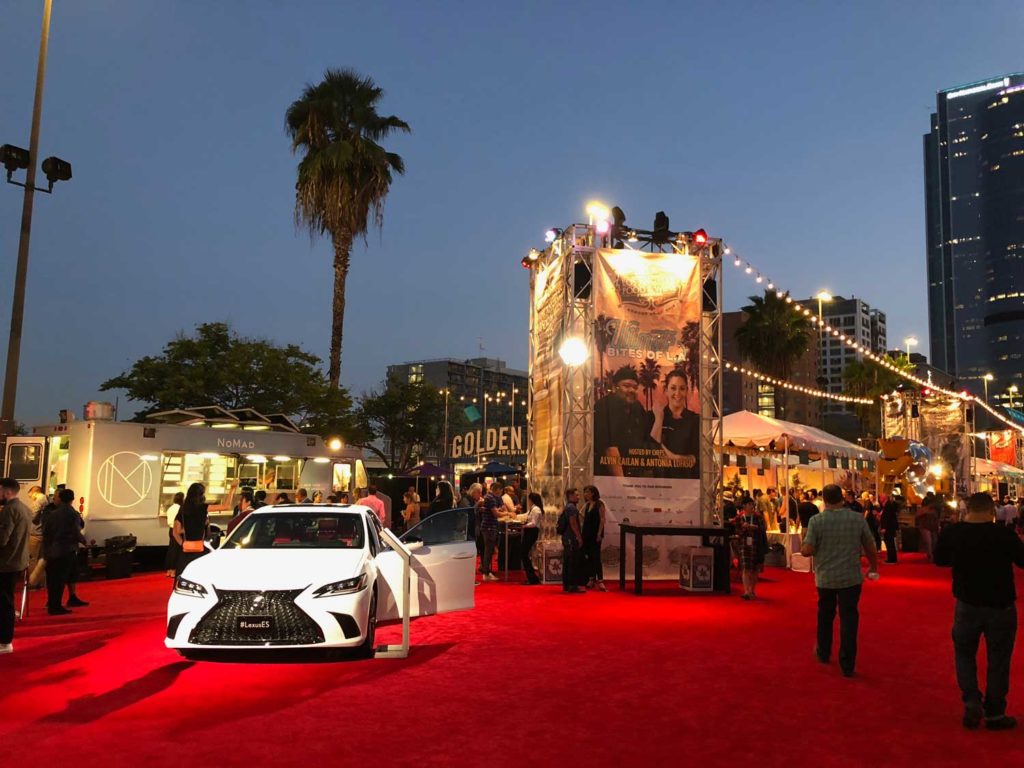 Other standout dishes included: the bay scallop with yuzu, burnt orange and poppy seeds by Nickolas Erven of Rappahannock Oyster Bar; Wagyu beef "Philly cheesesteak" from Holly Jivin of The Bazaar by José Andres; and the summer truffle slider by Gregg Wiele of Patina.
Guests were invited to place the votes for their favorite "bite," as the chef with the most votes will be featured at Pebble Beach Food & Wine in April 2019.
By Saturday came one of the festival's culminating events, the Lexus Grand Tasting at the Barker Hangar in Santa Monica ($225 for VIP; $175 for general), featuring over 25 chefs.
Batiste yet again was present with pork two ways, adobo and longanisa with garlic friend rice, and her nitro cold brew coffee.
Ross Pangilinan of Mix Mix Kitchen Bar (named 2017 restaurant of the year by Orange Coast Magazine) in Santa Ana had pork ravioli in adobo broth with pickled chili and crispy shallots. It was a resounding hit, with the dish being picked up by guests so quickly and many dubbing it as one of their favorites that day.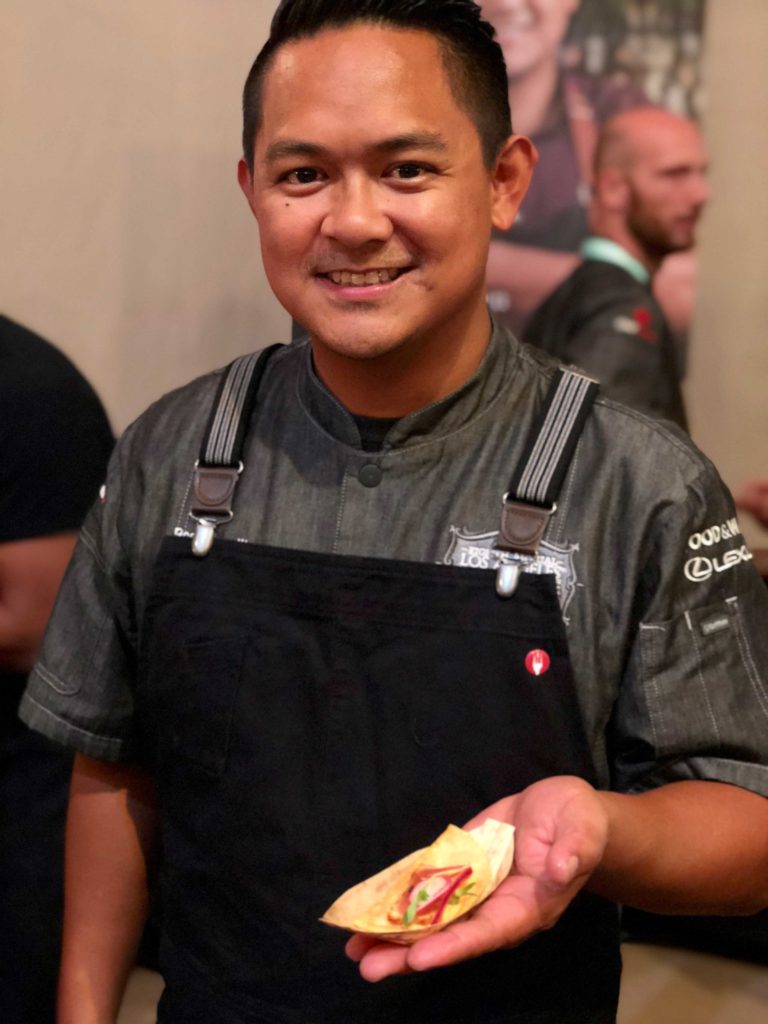 Pangilinan — whose impressive background includes Michelin-starred Les Trois Marches in Versailles and sous chef at Patina — is set to introduce Terrace by Mix Mix at the South Coast Plaza this fall, which will have French, Italian and Filipino influences, tapas style.
On the sweeter side, two Fil-Am chefs presented small dessert bites.
Kristine de la Cruz of Créme Caramel LA in Sherman Oaks and FrankieLucy Bakeshop in Silver Lake had her "purple yam pavlova" (ube custard, meringue dollop and brûléed graham cracker on top).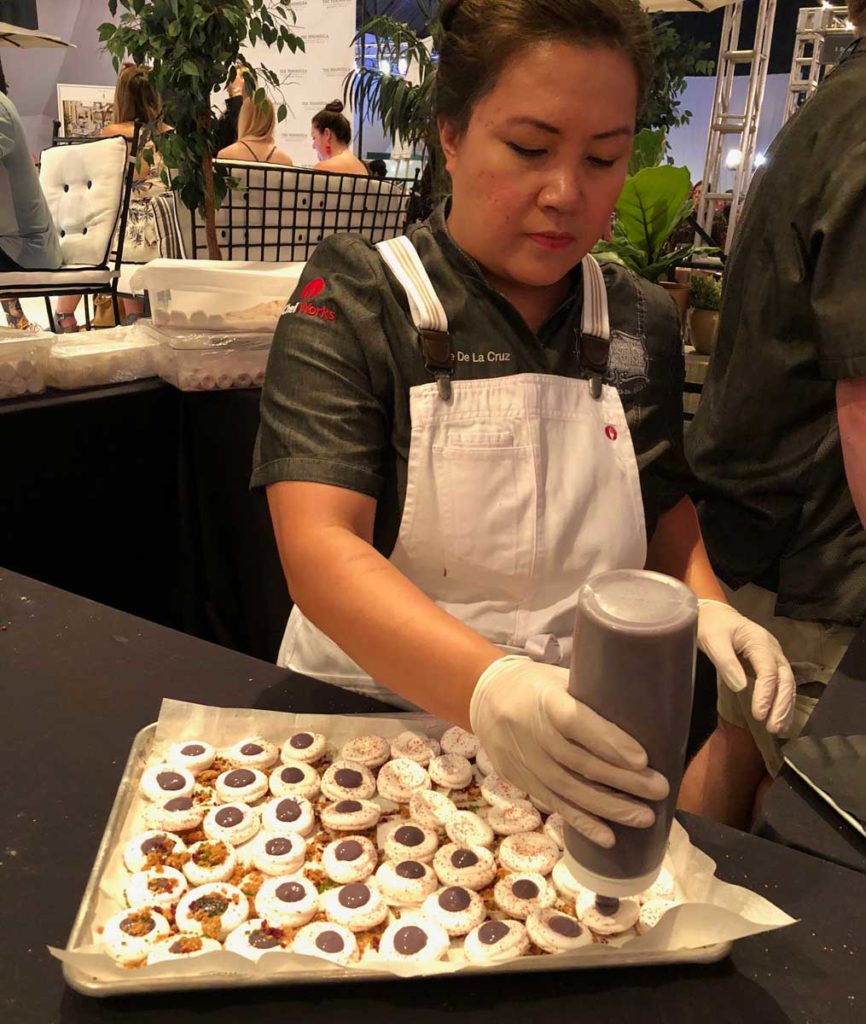 De la Cruz — who began her venture with custard and leche flan — has continuously been a vocal advocate for Filipino flavors, by incorporating them into her desserts, whether it's ube or macapuno. 
Tonet Tibay of Marti Chocolatt presented French-style chocolates infused with ingredients from the Philippines, like pandan, calamansi, and pili nuts.
It was her fifth year participating in LAF&W, as she usually does catering and special events.
Growing up in the Philippines, Tibay had an aunt who grew chocolate on her farm in Cavite, which her mom would turn into "champurado."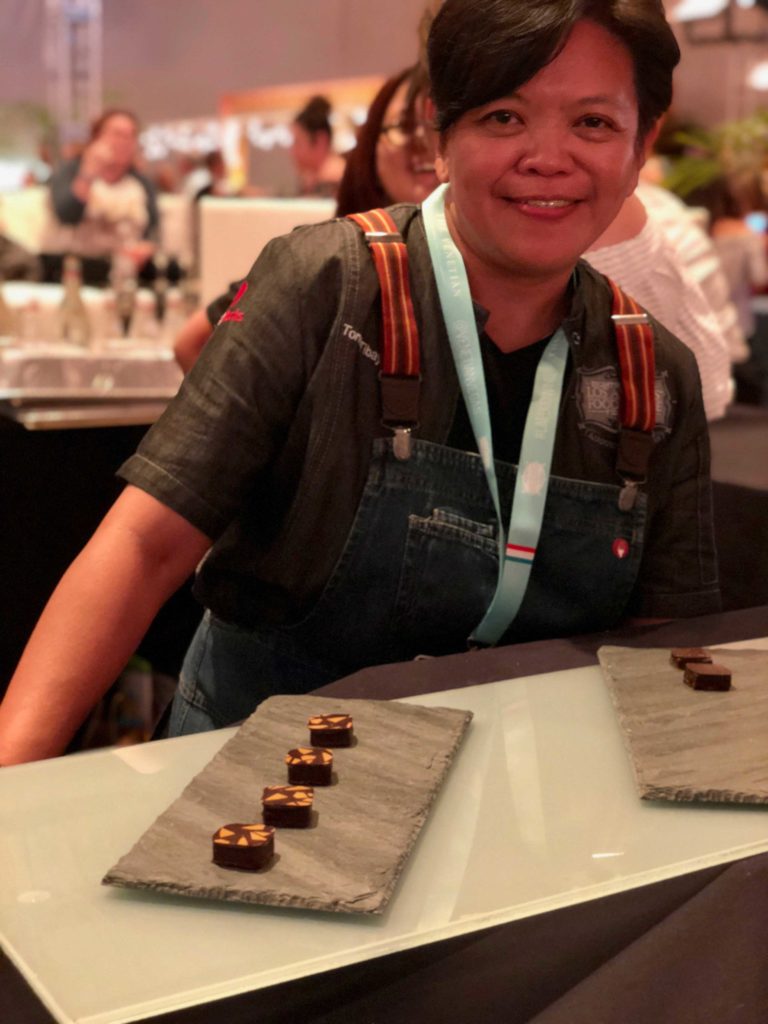 Her chocolate creations have received accolades, including Best Chocolatiers in America by The International Chocolate Salon from 2010 to 2018 and Best Artisan Chocolate for Gift Giving by Forbes.
As evidenced by Fil-Am chefs participating in major food gatherings and successfully opening their own ventures, the Filipino food movement continues to show that it is beyond a fad.
Beyond cuisine champions like the late Anthony Bourdain and Jonathan Gold, however, Cailan said it's up to the Fil-Am community to ensure the sustainability of Filipino cuisine nationwide.
"I don't cook for anybody else but my people and if my people don't support me and they don't propel us to the next level, we'll never get there even if we win some type of Top Chef or whatever. That's fickle," he said. "The solidarity of our people and support [are] what [will] bring us forward and will have us have Filipino food as a staple or as a mainstay like sushi, Pad Thai, or pho. If we want to be considered that style of an impact, then our people really have to support us." 
Facebook Comments