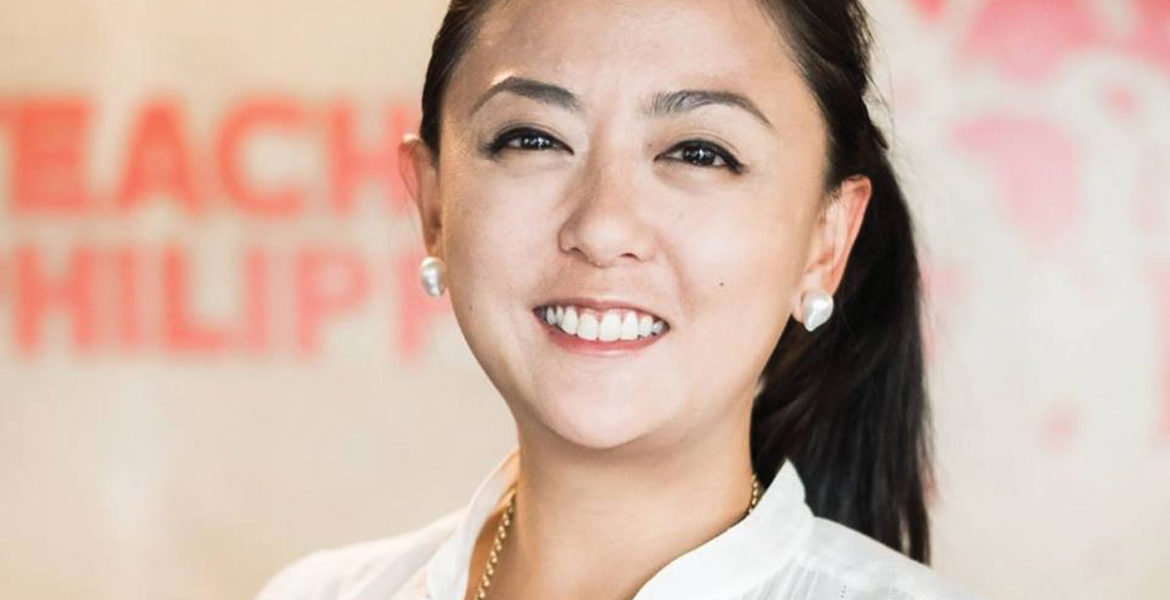 Education has also long been cited as a way out of poverty and a path towards new opportunities and a better future.  Yet, inequity in education continues to be a problem as many young students around the world continue to lack access to quality instruction.
This is true in the Philippines where approximately 3.8 million young Filipinos aged six to 24 were said to be out of school, according to a 2016 Annual Poverty Indicators Survey conducted by the Philippine Statistics Authority.
One Filipina philanthropist and social entrepreneur has become a champion of education reform in the Philippines, and is now one of the few selected individuals from around the world to enter the inaugural 2018 Obama Foundation Fellowship class.
Clarissa Isabelle Delgado of Makati, Philippines was chosen out of over 20,000 applicants from 191 countries for her non-profit organization Teach for the Philippines, where she acts as co-founder and CEO.  She joins 19 other changemakers representing 11 countries around the world.
"A truly amazing morning to wake up to here in Manila [sun emoji].  Deeply grateful to the Obama Foundation for the chance to represent the Philippines and honor her the way she deserves," Delgado posted on Facebook, sharing the announcement of former U.S. first lady Michelle Obama.
An alumni of the U.S.' William & Mary University and prestigious Phillips Exeter Academy, Delgado co-founded Teach for the Philippines in 2012 with philanthropists Elizabeth "Lizzie" Zobel and Margarita Delgado, founders of the literacy advocacating Sa Aklat Sisikat Foundation.
Learning from the non-profit Teach for All, which remains their network partner, the women made it their goal and vision to provide all Filipino children access to excellent and relevant education through the development of quality teachers.
According to the organization, roughly 40,000 teachers are needed in the Philippines' public schools and the impact seems to be grave with only three out of 100 students who enter Grade 1 completing their education.  Of Grade 6 graduates, less than one percent are academically ready for high school.
Through the organization, young Filipino leaders — regardless of college degree or teaching experience — are recruited and trained to not only fill in the voids of public school teaching positions, but become advocates of education equity.
"[The] qualities we look for are definitely leadership skills because we believe that the same qualities that make a good leader are the same qualities that make a good teacher.  We look for bias for action — it's not enough to recognize that certain changes need to be made.  You have to act on it and make it happen," Margarita Delgado told the Asian Journal in 2015.
For two years, the young educators spend time teaching in public schools across the Philippines in hopes of becoming positive influences to their students and changing their students' life paths.  The organization currently operates in 29 schools across 17 local governments.
On why the new fellow chose to focus on education advocacy, Clarissa Delgado said it came down to the growing inequality and poverty in the Philippines.
"I believe that to alleviate poverty, the first step is to change the way in which those entrenched in it perceive themselves," Delgado told the Philippine Tatler in a 2014 interview.
"To alleviate poverty, a society must have the sense that they can shape their own future.  It is only through education that individuals are taught this," she added.
Delgado recently received her master's degree in Education Leadership and Administration from Ateneo de Manila University.
The Obama Foundation Fellowship is a two-year, non-residential program that will provide hands-on training, leadership development, and a network for the Fellows to "amplify the impact of their work and inspire a wave of civic innovation."
The first gathering for the Fellows will be in Chicago this May. Obama recently made a visit to Singapore last month for an Obama Foundation discussion where he met with young adults representing Southeast Asian countries including Delgado.
"The 2018 Obama Foundation Fellows come from a variety of disciplines, including healthcare, community organizing, technology, and the arts," read an Obama Foundation announcement release.  "These leaders apply their talents to a range of missions, such as empowering parents and teachers to improve our schools, ensuring deaf children have equal access to literacy tools, and working across the healthcare system to treat addiction."
Other fellows include Afghanistan refugee Zarlasht Halaimzai who started the Refugee Trauma Initiative, U.S. based Sasha Fisher who started Spark MicroGrants, and Mali's Moussa Kondo of the Accountability Lab Mali.
Facebook Comments