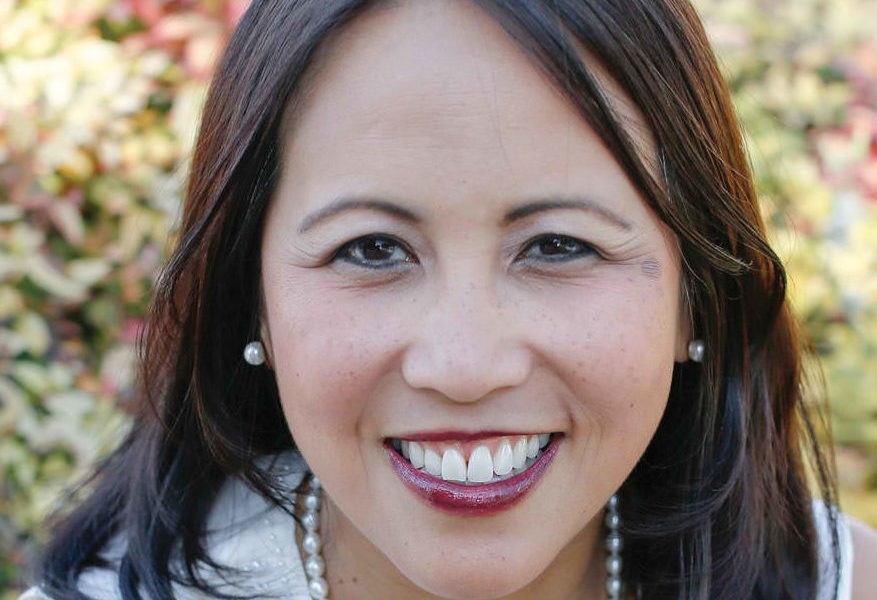 Located in the foothills of the San Gabriel Valley and east of Pasadena, California sits Sierra Madre, which gives off a small town atmosphere reminiscent of somewhere in the middle of the country. The city's main street is quaint and charming with local restaurants and shops and residents tend to know each other on a first name basis.
With a population of a little over 11,000, Sierra Madre is comprised primarily of Caucasians (82 percent), Hispanics (15 percent) and Asians (8 percent), according to the 2010 U.S. Census. At the helm of the city is Filipina-American Rachelle Pastor Arizmendi, who has held the post for the past year and has served on the city council since 2014. With her position, she joined a handful of Fil-Ams in Southern California elected into local offices.
Arizmendi and her husband Fili first moved to Sierra Madre 2006 in search of a place they could "grow old and retire in" Los Angeles County. Years later, Arizmendi decided to give back to her city of residence and ensure that the quality of life could be maintained there.
In addition to her mayoral leadership, she is the vice president and chief executive officer of the Pacific Asian Consortium in Employment (PACE), a non-profit community development organization based in LA that serves over 40,000 people annually in the areas of job training and employment, business development and early childhood education, among others.
Ahead of the general municipal election in Sierra Madre on Tuesday, April 10, Arizmendi sat down with the Asian Journal to talk about why she is running again for the City Council and her advice for Fil-Ams seeking to hold public office in the future.
AJ: How long have you lived in Sierra Madre and what made you choose the city? 
RA: I've lived there for 12 years, but by Sierra Madre standards, that's like you're still new in town. People don't live there for decades, they live there for generations so a lot of our residents have been there for two or three generations.
My husband and I have lived in several places in LA County when we're dating and even got engaged so I've probably lived in eight to nine places in LA County…With all that moving around, we just wanted to settle down and so we looked for a place that potentially we could grow old and retire in. I wanted to look for three things: The first thing is a bagel shop I could walk to on a Sunday. I wanted a place I could walk my dog late at night if I had to. We don't have children; we have a dog. The third thing I wanted is a place where people still said 'hello' to each other and I will confess that we looked at Claremont. I really like Claremont too but it was so far and when we found Sierra Madre, it was just such a small town feel.
AJ: What made you run for the city council in 2014? 
RA: A lot of people ask if that's always been my goal and aspiration in life. The short answer is no. When I was younger, I was class president. So a lot of my classmates will say, "I'm not surprised that you're on city council." When I moved [to Sierra Madre], because we didn't know anyone, I wanted to see how I could get involved. I saw that there was an opening on the Community Services Commission. I thought that was a nice fit because that's part of what drew me to Sierra Madre — the community services — and that's a lot of stuff that I've done in my entire life so I joined.
I had participated on that commission for five years and at one point there was an open city council seat and someone had asked, "Are you interested in it?"
That's not what I want[ed] to do, but after a while, I decided there were a lot of things going on in the community where people wanted to change things. They wanted to build a lot of big developments in the city and as I just shared with you, that's exactly the opposite of what we're looking for there. So for me, it was being able to have a say in ensuring that we kept and preserved the qualities of Sierra Madre and just protect that village-like character in it. For me it was about maintaining that quality of life and the quality of feel of Sierra Madre.
AJ: What's a typical day like for you?
RA: I wake up to work out first. I think that's important because in terms of taking care of your physical self, I do work out and make sure I eat pretty relatively well. I'm a dietitian by education so I try and make sure that part of me stays in health. But I actually have a spin bike at home and I start my emails right when I have a cup of coffee and water next to me on the bike. I start answering emails so a lot of what I do could overlap with city work, and it could be with PACE work. I serve on quite a few boards and so it's answering those emails too.
I go to PACE and I am usually there by 8 a.m. A lot of the work is focused on community development work, early education, job training development, business development, and affordable housing — an array of services. Now I've been there for two years in the position of vice president and prior to that it was a different position. So I'm still on a steep learning curve but it's been a lot of fun and extremely rewarding but usually by the afternoon, it's city work so whether there's a commission that I am a liaison for, I'm going into city hall to have meetings there. Our official meetings are only twice a month but there are so many other meetings that you have in between.
With campaign season, it's almost like having a third job so on the weekends I'm still walking door to door. Even though I'm the mayor at this point you'd think that I would just take it for granted and say, "Yeah, this is going to be really easy to walk into in this position." But I still think it's extremely important to make sure we're touching voters and we're talking to folks and understanding what the needs are and making sure that they still know you and that your face is not just a face when you're running for election but it's a face that they can reach out and talk to.
AJ: With the upcoming election, what do you want voters to know about what you have accomplished in the past year as mayor of Sierra Madre?
RA: I just delivered our State of the City…on Saturday [March 24]…where I was able to highlight and share in terms of the accomplishments over the last year. We brought in a new city manager last year, and I think that with the leadership of our current council, we've been able to do quite a bit. We tripled our investment in water infrastructure in the past year, given that our city's so old and the infrastructure and pipes were like 80-90 years old and some of them were just obsolete.
We used to have a partial volunteer fire department, which is nice that you have volunteers who participate. But times have changed and even though we did that 80 years ago, it doesn't necessarily work now so we professionalized our fire department…to ensure that we really keep a safe community and that we have paid professionals that are on duty. Our police department was not fully staffed…but now we are a fully staffed department. And we've been able to really reduce our expenditures and increase our general fund. So all good stuff and I'm really proud of that work.
But at the same time, there's still so much that has to be done. We're still at a high percentage of our water loss. We need to maintain our water infrastructure, maintain our public safety, and ensure that as we are moving forward we can still balance our own budget knowing that we still have these unfunded liabilities that still need to be paid for pension.
AJ: When you're going door to door, what are some of the concerns that residents have besides water and public safety?
RA: Right now we have a measure that's on the ballot, Measure D, and it's about repealing this utilities rule tax altogether. That's probably the biggest issue because not to get all nerdy about numbers but most of our budget comes from property taxes.
In Sierra Madre…cute as our downtown is, it actually only generates 2 to 3 percent of our general revenue and the rest of it, which is 24 percent, comes from this utility rate. Nobody likes taxes but this measure is saying we're going to take it all away. So that it will be $2.6 million out of our general fund, which is actually a huge chunk of a small city like Sierra Madre. When you have your general fund, this equates 20-26 percent of our total budget. This is what people are really interested in [because] we can't do without this utility users tax, but there are others that are just like, "I don't care if we don't have any services here, I just don't want to pay the taxes," which is a very small percentage of people. Basic issues like water — people ask, "How come my water rates are so high?" and talking about how the drought came into play, how we had penalties when you've overused your water, how were trying to restructure that so it's not hitting residents too hard in terms of penalties.
And then I wouldn't say thirdly like it's an order, but a top hot topic issue for voters is that they simply want to stay safe. They see what's going on in other communities and there is a reason people move to Sierra Madre. But a lot of it is themed around the idea of being in a safe place and people want to continue to have that with their families and being able to take this generations on like other families have been able to do.
AJ: Even if there isn't a large Fil-Am community in Sierra Madre, what do you want Fil-Ams in greater Southern California to know about you?
RA: One thing about this position and being the first Filipino elected in Sierra Madre — though it was never a platform of mine saying that I could the first Filipino here — is the responsibilities that come along with it. I want to continue being a role model of sorts for those who wish to enter, whether it be in public service or an elected official capacity, because the fact of the matter is with Filipinos being the largest group in California and yet, we have little to no representation at all levels of government. It's actually quite disheartening and the fact that we have very few Filipina women in those positions, so I'm hoping that it's encouraging to those who are interested.
There's such a small percentage of [Filipinos] there. It's really not about the representation of Filipinos in Sierra Madre that I hope to represent, it is a bigger picture of how important it is for Filipinos to have a voice in all levels of government. And it doesn't even have to be in that official capacity whether it's leadership in their own communities. But as large as we are as a group, we definitely need to have more of a voice, more seats at the table when decisions are made and that we are looked upon from the larger society as a group that needs to be reckoned with.
AJ: What's your advice for Fil-Ams who want to get into government or public office in the future?
RA: I think a lot of it is just being active in different civic events [where] you are getting to know who your elected officials are and finding those mentors. I talked to a lot of API [Asian Pacific Islander] leadership emerging groups… It would be nice if we had a Filipino one but this is usually in general and what we encourage them to do is just reach out and sit down with people in positions.
I've sat down with a few people where they just pick my brain and ask what are the things they can get started with. I tell them to be part of a commission or be an intern for different elected officials or agencies…and see if that's an area of interest of yours and then make those connections. A lot of it is staying in touch with people, not just when you need something, but being able to offer help when need be and again building those relationships with others.
This interview has been condensed and edited for clarity. 
Facebook Comments