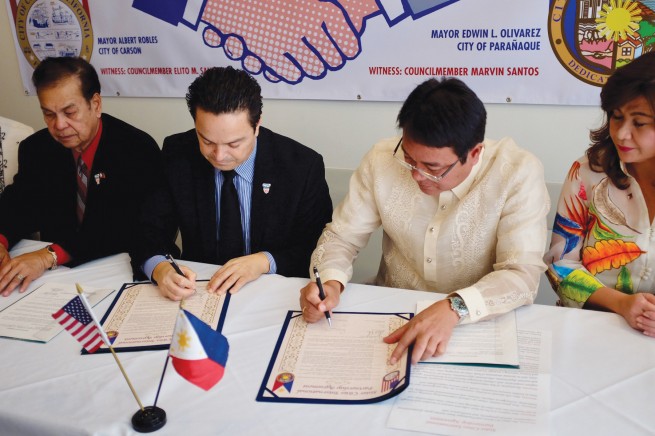 The City of Carson, along with the Philippine Consulate General Los Angeles, the Dr. Jose P. Rizal Monument Movement (JPRMM), Kalayaan Incorporated, and the Knights of Rizal, all came together on Friday, December 29 in commemoration of the 5th Annual Rizal Day and 121st Martyrdom Anniversary of Philippine national hero Jose P. Rizal at the Internaitonal Sculpture Garden in Carson, California.
Special guests included former City of Carson Mayor Jim Dear, and Mayor Edwin L. Olivarez of Parañaque, Philippines and his delegation.
"On behalf of the one million people of Parañaque City, we would like to convey our sincerest thanks for giving us the opportunity to be with you today in the celebration of the 121st anniversary of the martyrdom of our beloved hero, Dr. Jose Rizal," said Olivarez.
"Activities here today clearly show our patriotism, and although we came from different cities and provinces in the Philippines, we still find time to celebrate his life and times," he added.
Following the singing of both the Philippines and U.S. national anthems was a wreath laying ceremony that started off with the Consul General's office, followed by the City of Carson, delegation members of Parañaque, JRPMM, and Kalayaan Incorporated.
The 7-foot bronze statue at which the wreaths were laid was erected in 2012 and was sculpted by Philippine sculptor Toym de Leon Imao.  It is one of the eight in the U.S. sculpted by de Leon, and the first in California.
Olivarez, who has served as Parañaque's mayor since 2013, described Rizal as being one of this role models.
"We will always cherish him in our hearts and as mayor now of Parañaque, he will always be my guide and inspiration in discharging my duties as a public servant," said Olivarez.
Consul General Adelio Angelito Cruz described Rizal as being a "true Renaissance man" through his ability to influence progress through thought, even after his death on December 30, 1896 at the age of 35.
The theme for this year's Rizal commemoration was appropriately "mabuting kaisipan susi ng kaunlaran" (a sound mind is the key to progress).
"Without knowledge, there can be no development.  Without an underlying philosophy, there can be no change.  Without excellence, there can be no progress," said Cruz.
"My dear fellow Filipinos in Southern California, in whatever you do, be like Rizal and strive for excellence.  Thirst for knowledge and use your abilities and your skills for the betterment of the community and for the betterment of our beloved motherland," he added.
A reading of Rizal's last hours by a member of the Order of the Knights of Rizal commenced the memorial.
Following the Rizal remembrance was the official sister city signing ceremony of Carson and Parañaque led by City of Carson mayor Albert Robles and City of Parañaque mayor Olivarez.
"It's a great opportunity for us in exchange of heritage, culture, tradition, and practice that we could apply in our city to be more progressive and developed just like Carson City," said Olivarez.
"I am absolutely ecstatic that our cities are forming this partnership," said Carson mayor Robles, adding that the city also shares a sisterhood with Soka, Japan.
The ceremony came in time for Carson's 50th city hood anniversary, and Parañaque's  20th.
Signing as witnesses were councilmember Santarina of Carson, and councilmember Marvin Santos of Parañaque. (Rae Ann Varona/AJPress)