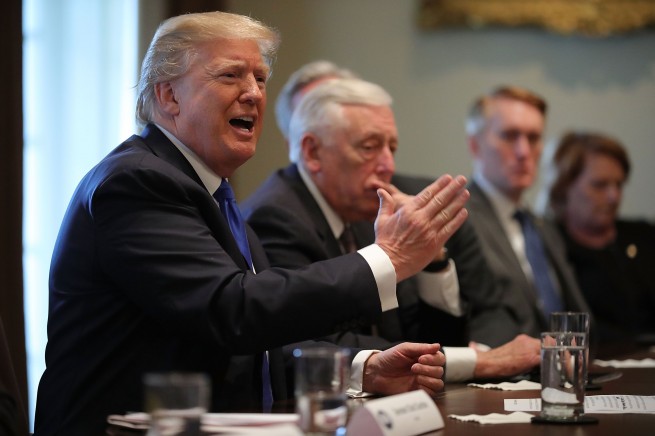 Trump pledges support for 'clean DACA bill' as long as increased border security is confirmed
A bipartisan pair of Congress members on Sunday, January 7 reached a deal on the defunct Deferred Action for Childhood Arrivals (DACA) program which will also include plans to strengthen the United States-Mexico border.
Reps. Will Hurd (R-Texas) and Pete Aguilar (D-Calif.) have spent the last several weeks quietly developing a bill that would be a legislative solution to DACA, a core program under former President Barack Obama that provided a host of benefits to undocumented youth that was terminated by Trump in 2017.
Since it was introduced in 2012 by Obama by way of executive order, DACA has provided work authorization, protection from deportation and other benefits to undocumented youth who illegally arrived in the U.S. as young children.
Though not a pathway to citizenship, DACA offered benefits that lasted for two years; recipients were allowed to renew their applications after those two years.
Since Trump announced the administration would end DACA, Democratic and Republican Congress members have been collaborating on a legislative solution that would make a pathway to citizenship possible for nearly 1.1 million undocumented youth eligible for DACA, according to Pew Research.
"I've always said I'm willing to work across the aisle to deliver results for my community," Aguilar, whose district covers the San Bernardino area, tweeted on Monday. "The bipartisan compromise with [Hurd] will #ProtectDreamers in the Inland Empire and around the country."
The Aguilar-Hurd bill is just one of the multiple bills to protect DREAMers introduced in Congress since the Trump administration announced it was ending DACA in September.
On Tuesday, January 9, President Donald Trump pledged his support for the new immigration bill, promising to sign what he called a "bill of love" for the nearly 800,000 current DACA recipients. Mirroring Aguilar, he said this is the first step in his long-awaited immigration overhaul.
"You folks are going to have to come up with a solution," Trump told 25 lawmakers in a negotiation at the White House on Tuesday. "A clean DACA bill to me is to take care of the 800,000 people. We take care of that, and we also take care of security. And then we can go to comprehensive [immigration reform] later on."
Looking to avoid the possibility of a government shutdown before the Jan. 19 deadline when government funding must be finalized, the co-authors are looking to include their bill in the next spending package, which means a vote before that deadline.
Previously, Trump emphasized that he's willing to sign a legislative solution for DACA recipients as long as it comes with his long-awaited plan to implement a wall between the U.S.-Mexico border.
"We want DACA to happen," the president said at a meeting with Republican leaders at Camp David on Saturday, January 6. "We all, everybody — I think I can speak for everybody, we want — [Sen] John Cornyn (R-Texas) — we all want DACA to happen, but we also want great security for our country."
On March 5, a thousand DREAMers a day will lose their benefits, according to Sen. Richard Durbin (D-Ill.) who reminded Trump that a solution for DACA needs to be made as soon as possible: "Lives are hanging in the balance. We've the time to do it."
What's in the bill?
The Aguilar-Hurd bill would offer eligible DREAMers the ability to apply for a green card and — after years of conditional residency — a pathway to citizenship, given they meet the requirements, including a background check and proof of work, education and/or military service.
The bill doesn't provide details about sponsoring relatives. Currently, parents of DREAMers who came to the U.S. illegally are not allowed apply for a visa and are required to return to their home country for at least 10 years before applying; the bill does nothing to remove that requirement, according to the bill summary made available to CNN.
This reiterates Trump's wish to remove family-based migration, also known as chain migration, and replace with a more "merit-based" system.
"When somebody gets picked in the lottery, we're not getting the best people," Trump said at the Camp David meeting. "So we have to get rid of the lottery system. We have to get rid of chain migration. We have to have the wall."
The bill also calls for increasing the number of immigration judges and attorneys in an effort to reduce the accumulation of cases in immigration courts that force many undocumented people into a limbo for years.
As for the border, the bill would call on the Department of Homeland Security (DHS) to gain "operational control" over the border by the end of 2020 through "technology, physical barriers, levees, tools and other devices," the bill summary said.
The co-authors stressed that this bill is the first step in revamping the U.S. immigration system.
"This is a DACA and border security fix," Hurd said, whose previous "smart wall" bill provided the basis for this new bill. "And if there's other elements that have to be included in a broader deal to get signed into law, this is a foundation for that conversation."