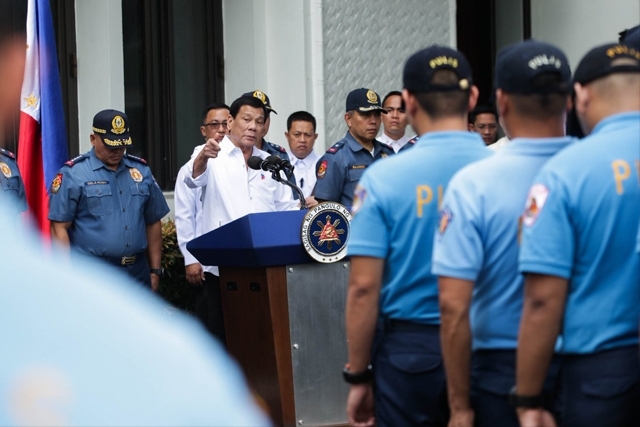 Philippine President Rodrigo Duterte on Tuesday, January 16 vowed to continue his drive to cleanse the government ranks from corruption by dismissing more corrupt officials.
"I am on a purging spree. And I will continue to do this, I suppose, I'll do it tomorrow. I'll be firing more people from government," Duterte said during a speech in Pasay City.
Speaking before the inauguration of new Communications, Navigation, Surveillance/Air Traffic Management Systems, the president warned officials from involving themselves in corruption, saying, "Do not do it during my watch."
Duterte also warned officials against taking excessive foreign trips.
"And those who are into the wanderlust or are itchy for travel and wasting the many things that you do there without necessarily an impact on the lives of the people, better think of resigning," he said.
Duterte on Monday, January 15, said he sacked Commission on Higher Education (CHED) head Patricia Licuanan, who announced her resignation earlier that day. The president did not cite specific reasons for dismissing Licuanan but he made note of rampant corruption in government when he made the revelation.
Prior to Licuanan, Duterte also remove former Maritime Industry Authority administrator Marcial Amaro III from office. Both Licuanan and Amaro were accused of making excessive foreign trips.
The president went on to say, "Those who made trips more than 20 a year, that's too much. So I will be asking almost all of them to maybe just step down, unless, of course, I have this commissioned for you to do something for the country and for the people."
In his speech, Duterte also hit public bidding in the guise of lowest bid as another source of corruption.
He further warned that he will not tolerate winning bidders who failed to finish the public works projects at specified timetable.
"The highways in the Philippines are clogged with unfinished products and accidents multiply because of the sheer negligence also of the people handling the project. This insanity must stop," the president remarked.
He went on to say, "If you have the contract and you incur a delay of 30 days, I'll take over. I'll give it to another contractor which has the money to continue and I will not pay you, you go to court, then we will fight it out.