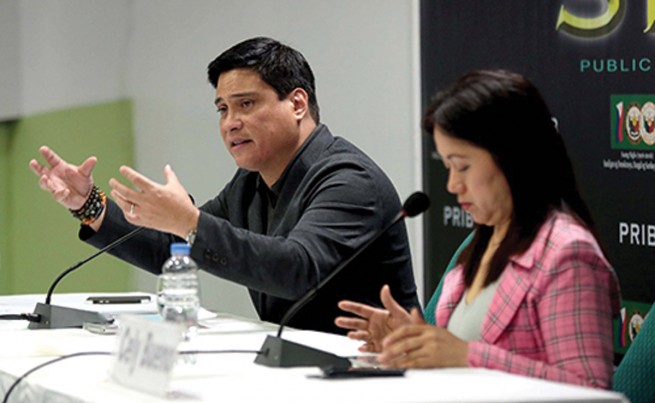 Philippine President Rodrigo Duterte raised the possibility of a war in Mindanao should Congress fails to pass the Bangsamoro Basic Law (BBL).
In his speech during the launch of the Overseas Filipino Bank (OFB) in Manila on Thursday, January 18, the president stressed that it was about time to address what he called the "historical injustice committed to the Moro people."
He cautioned that failing to address the years-long concerns of the Moros could lead to dire consequences.
"Kung walang mangyari nito sa BBL ngayon (if nothing will happen to the BBL) or we change the Constitution or do not change the Constitution at all, there will be war in Mindanao. I can assure you, mamili kayo (you will choose)," the president said.
Passing the proposed BBL has been among Duterte's campaign promises.
A version of the BBL crafted by the Bangsamoro Transition Commission (BTC) is now pending in the House of Representatives as House Bill No. 6475. BTC include representatives from the  Moro Islamic Liberation Front (MILF) and Moro National Liberation Front (MNLF).
The proposed measure aims to abolish the current Autonomous Region in Muslim Mindanao (ARMM) and replace it with Bangsamoro Region that will enjoy fiscal autonomy. It will also serve as the completion of the peace process with the Moro rebels.
Duterte further warned, "And at this time, it could be a double whammy because my enemy would be their friends and what would that be?"
"It's the ISIS," he said, referring to another name for Islamic State (IS) terrorists.
Government forces recently engaged with a five-month long of armed conflict against pro-IS terrorists in Marawi City from May to October 2017. Mindanao remains to be under martial law due to threats posed by rebels and other pro-IS insurgents.
In an earlier statement, Malacañang reminded that proposed BBL should adhere to the Constitution to be passed by Congress.
"You need to pass a BBL that's consistent with the Philippine Constitution, simply put," Presidential Spokesperson Harry Roque said in a press briefing on Tuesday, January 17.
A solon also shared the same sentiment, saying that the 1987 Constitution will remain to be the basis of the proposed BBL amid the Congress' ongoing efforts for a Charter Change (cha-cha) in connection with the proposed shift to a federal form of government.
Unless the current Constitution is revised, Zamboanga Sibugay 1st District Rep. Wilter Wee Palma II maintained that lawmakers "will base everything on the 1987 Constitution."
Last month, Duterte expressed doubt that doubt that the measure will be passed by Congress, remarking that the proposed BBL will unlikely "hurdle constitutional barriers." He, however, did not specify which provisions will violate the Constitution.