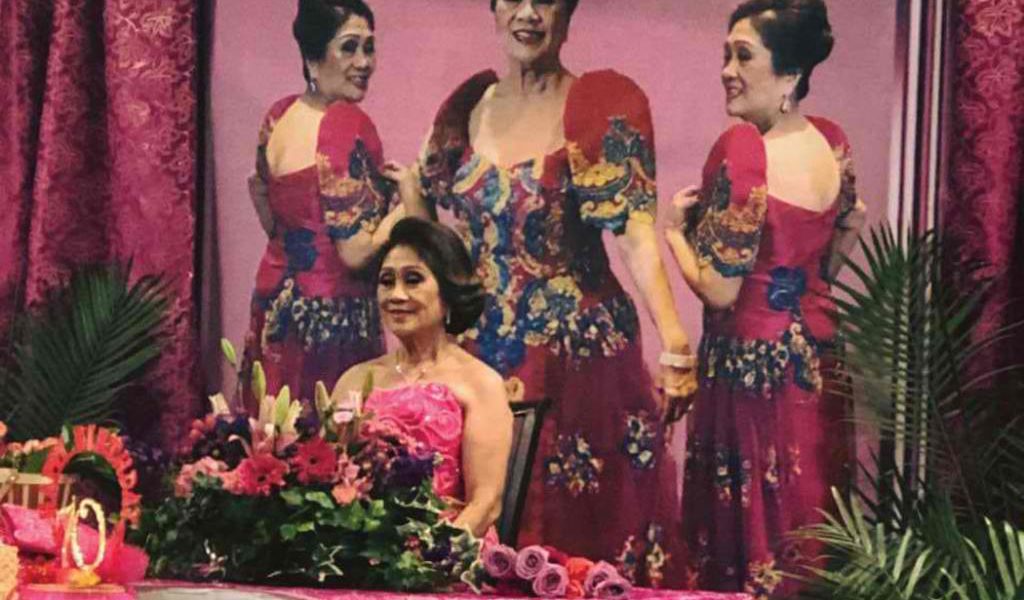 How does a woman feel when she turns 70? Does she feel fulfilled, empty, or missing something?  Is she flooded by a voluminous reflection of her past? Knowing the "end" is eminent, will she feel remorseful and start to repent and save her soul? Does aging give her downheartedness and depression?
One of the well-loved figures in the Filipino-American community in the tristate area is Ramona Sansait Gapasin, an efficiently assiduous Laboratory Scientist (formerly termed Medical Technologist), who pompously celebrated her 70th year with a bang.
Married to Rogelio Gapasin for 45 years, Ramona is like a human engine consistently on-the-go after having worked at the Jersey City Medical Center for 26 years, at the UMDNJ for 13 years, at the Hoboken University Medical Center for 38 years, and currently at the Claramas Medical Center in Belleville, New Jersey.
A dutiful wife, hardworking and devout mother, a dependable ally, and a reliable confidant, Ramona's persona is unmistakably deceiving at times. She may be a plain Jane after stepping out of the corridors of the hospital where she works…but instantaneously transforms with regal bearing once made-over under the magical touch of Danica and Irene, (most sought-after beauty experts in downtown Jersey City), just like stylish figures that step out of the glossy pages of fashion magazines.
Enjoying her semi-retirement status, after retiring from one of her fulltime jobs, one sees her attending every single organization event and social functions merely trying to catch up for the lost times. She openly admits that she's a despairing late bloomer juggling between jobs and home. "I never found time to socialize before…it was all work and work for me," she mused.
Ramona's secret in staying vibrant and hyper-active is simple: she believes that "Age is strictly a case of mind over matter… if you don't mind, it doesn't matter…!"
Inside Ramona's heart is a fledgling soul that doesn't wonder what the hell happens outside. For her, at 70, is a comfortable old age which is the reward of a well-spent youth. "Turning 70 is an intermittent privilege most people my age were deprived of. I'm more than grateful for being given this opportunity to live beyond the predicted life span of this generation," Ramona earnestly uttered.
She would even say: "I am one person who is too busy to worry about my age in the daytime…and too tired and sleepy to be concerned about it at night."
Ramona experienced a dynamic existence, a successful professional career, and slickly journeyed far because of her supportive family. Her mom, Feliza Nillo Sansait, (who is turning 101 years old on March 29), ably assisted by her sisters Crispina Mirasol and Estrella Camello, tried to make it (although a bit late) to her (Ramona's) 70th birthday bash at the Ramada Hotel in Newark, New Jersey last Saturday, February 24, 2018.
It was Ramona's fervent wish to have all her siblings united that significant milestone (the reason why she hosted that ostentatiously profligate party) but for some inevitable and obligatory circumstances her brothers, Antonio and Artemio (who are both Toronto, Canada-based), failed to make it.
A connubial life won't be blissful and complete without the fruits of their matrimonial partnership. Completing the household were the branches (children) and twigs (grandchildren) that make up their family tree.
Their first born, Rebecca, married to Angel Pagan, together with their heirs Bryan and Jayden, were the first to greet Ramona, followed by Jeffrey, Ramona's second born,  with wife Sharon Lakatos and their children Milo and Elliot.
Patrick and spouse Annalysa, with their only daughter Kalia, warmly greeted the birthday celebrator after which Gregory, the youngest son, with partner Patricia and daughter Emma, offered the last greeting.
It was a splendid sight to behold seeing the whole Sansait-Gapasin family framed amid an ecstatic and jubilant ambience while being shared by their closest relatives and friends.
The ecstatic moment was permissibly capped by Ramona and Roger's romantic waltz to the tune of "Ramona," an old Tagalog ditty that perfectly fit the picture.
The most anticipated time of filling-up-the-guts to adequately sustain vigor was indubitably one feast hard to resist: buffet tables lavishly loaded with food on both ends of the hall, two mouth-wateringly roasted pigs, and two delectably baked cakes. What more could one ask for? Truly, it was a magnificent buffet fit for a grand matriarch!
Entertaining numbers made the dinner more appetizing and savory. A specially choreographed terpsichorean exhibition by dance enthusiast Maria Pilar Monje and partner Dr. Hseung Jang Don (a revered Latin Ballroom Champion, Master's Degree in Dance, and Ph. D. in Dance holder) graciously opened the roster of a lavishly prepared production.
Other performers were Becky Samanyaphon, Anita Borja, Carmen Conseur, Linda Contreras, Maria Pilar Monje, and Matty Bautista, collectively dubbed as The Tri-State Area Timeless Dancers, did a creative interpretation of  "Mazurka Boholana," a popular regional dance… while Marieta Lamar and Hermie Garcia, authentically garbed in their Roaring 20s best, performed "Puttin' On The Ritz."
More prepared entertaining numbers made the guests truly enjoy the occasion: Gilbert Viason's choreography of "Perhaps, Perhaps" was easily a well-applauded number as performed by Edna Tiongson, Ruth Logdat, Nellie Bautista, Maria Pilar Monje, Hermie Garcia, and Vicky Hamilton.
Obviously, Ramona was the core figure and center performer of every production. "I always love to dance…this is my stress reliever! It could be strenuous but it gives me a different kind of high…!"
Ramona's granddaughter, Kalia, did a Spanish-style dance with another equally fashionable grandma, Hermie Garcia… while dashing dance instructor John Alberto led Ramona in the evening's main highlight: a medley of Tango, Cha-Cha, Boogie, and Swing number.
After everybody witnessed Ramona in the flesh, a video of her decades ago was shown on the wide screen to the delight of the guests. More "Oooohs" and "Aaaahs" pervaded the air when Ed O'Donnell, the DJ Magic, rolled the VTR (video tape recording) showcasing Ramona's passionately fashionable side. A bevy of her designer wardrobe undeniably emitted unprecedented praises and admiration.
The septuagenarian honoree impressively maintained her regal bearing and remarkably sustained an implausible stamina all throughout the strenuous and tensioning situation. With neither a trace of fatigue nor complaint, Ramona maintained a plastered smile where the only breaks she had were during times when she had to run to the dressing room to change and for a quick retouch.
The four-hour revelry culminated with a traditional candle blowing and slicing of the birthday cake which was shared to every guest then non-stop dancing and socialization continued while others excitedly queued to the photobooth set outside the ballroom.
Turning 70 is a great phase in life as it marks the beginning of a whole new world for a senior…but for Ramona, who tries to catch up for her lost times, 70 is merely the new 50. She said, "I've never felt like an old soul. Every day offers a new beginning… a fresh start… and a challenge. I enjoy my life as it is. I feel great to turn 70! Who's afraid to be a septuagenarian!"
–
For comments and suggestions, please email to: gemini0646@ayahoo.com.
Facebook Comments