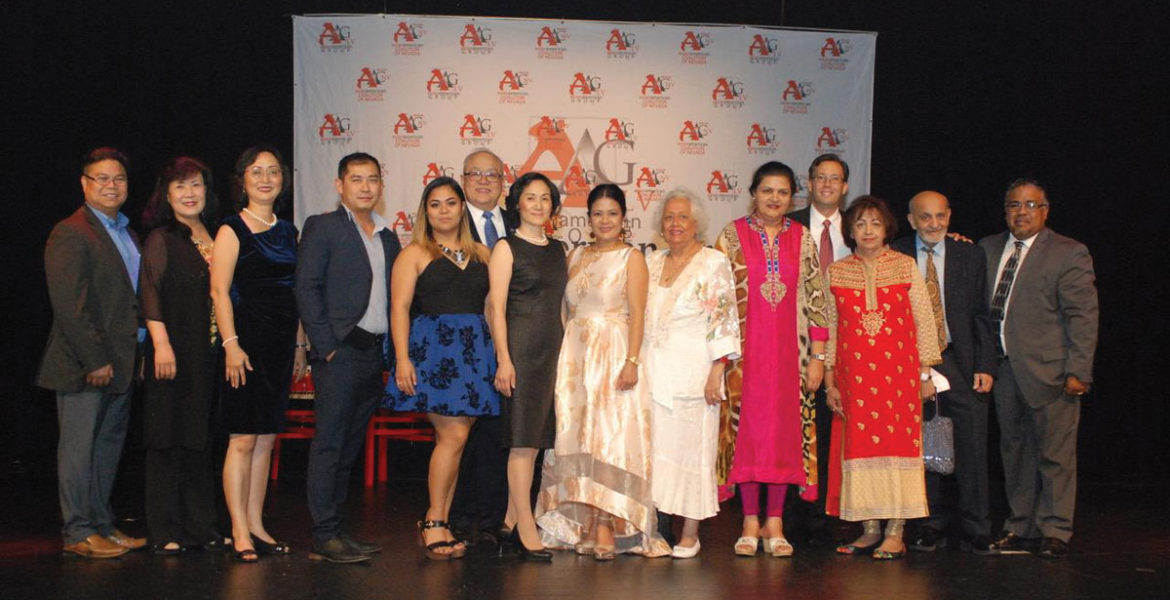 On Saturday, September 22, the Asian American Group (AAG) presented Community Achievement Awards to 12 outstanding Las Vegas citizens and organizations, who have worked diligently to make a positive difference in Southern Nevada. This is the 15th anniversary of the Gala Awards night. The event was held at the Treasure Island Hotel & Casino Grand Ballroom. There were cocktails and silent auction items prior to the program, which included performances by Li Linhong Chinese Music Ensemble, World Taekwondo School, Shirley Chen & Dancers, Tangling & the Vegas Oriels Choir, Zhilin Dance Studio, & ANJL a Las Vegas Born POP and R&B singer. 
The individuals and organizations who were honored are as follows in order of presentation: Vegas Golden Knights Foundation, Raiders Foundation, Yen-Soon Kim, Department Chair; Food & Beverage and Event Management-UNLV Harrah's Hospitality College, Dr. Phan Nguyen, Doctor of Dental Surgery, Dr. Kate Zhong, Senior Director, Clinical Research and Development; Cleveland Clinic, Doc Michael StaJuana, Host & Segment Producer; FIL-AM Asian TV News, Dr. Rhigel Jay Alforque Tan, Board Member of The Nevada State Board of Nursing & Director of Nursing Practice Advance Nurse Practitioner, Dr. Wael Did, Board Certified Pulmonary, Critical Care,& Sleep; United Critical Care Lung Sleep Medicine, Andy Liu, CEO, Nevada US China Cultural Association, Salim Abi-Karam, VP of Airport; Enterprise Holdings, Ruel Rodriguez, President Cavite Association of Nevada, and Alden Crowley, President & CEO Pinnacle Partners & Founder Another Joy Foundation NGO.
The AAG is an organization with a mission of unifying and strengthening the community. It has united Asian leaders in the community to work with law enforcement, other charity and elected officials. Recognizing the outstanding contributors to the community each year and to identify and help areas of the community in need.
In previous years the AAG has distributed over 1,300 turkeys in collaboration with Las Vegas Metropolitan Police Department in various areas. Also, 1,300 toys were distributed to the students of Matt Kelley & Mariion E Cahlan Elementary School.
–
AJPress photos by Robert Macabagdal
Facebook Comments