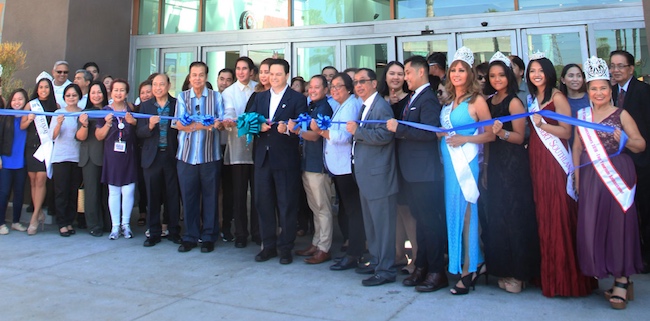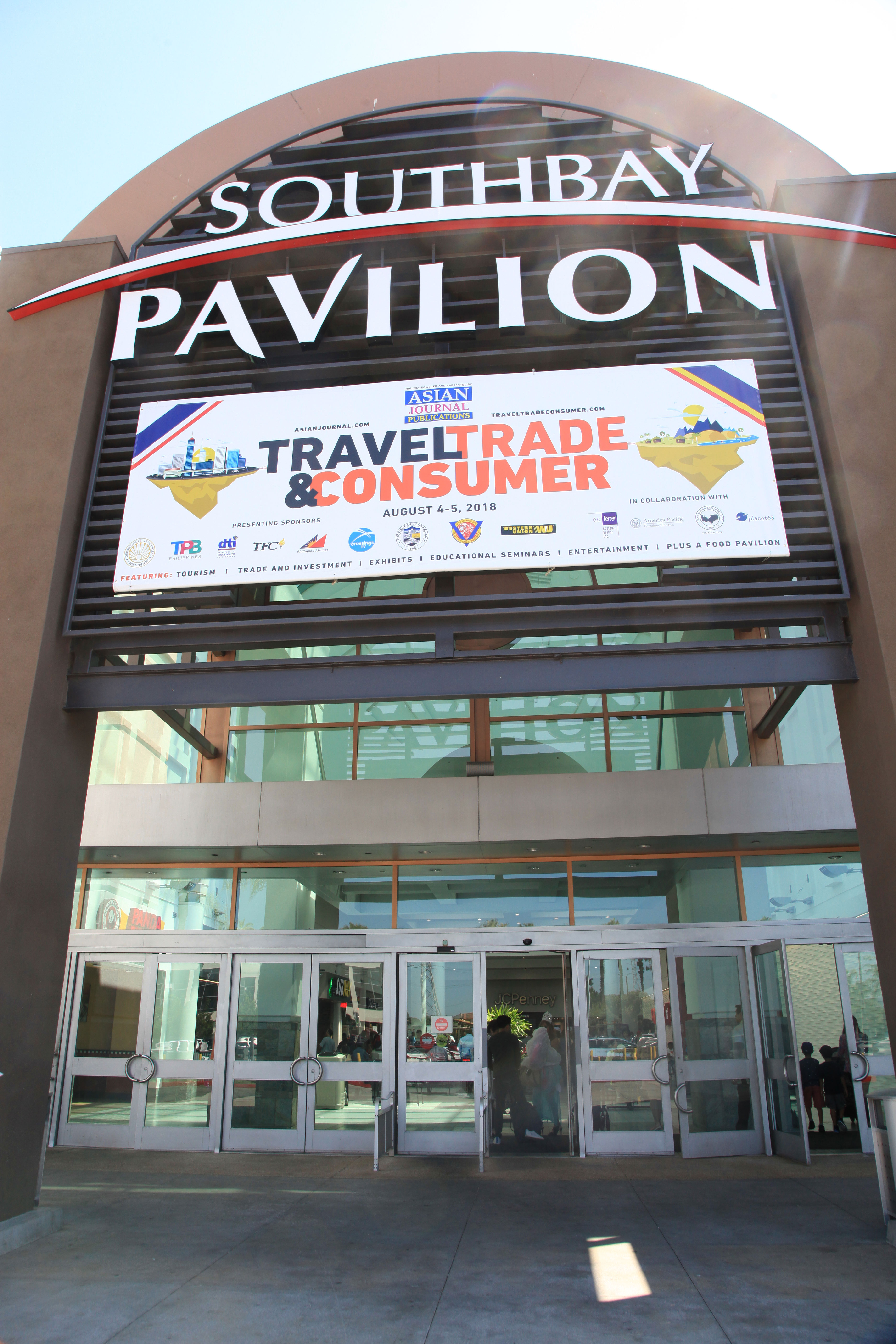 First annual Travel, Trade and Consumer roadshow a resounding success
The SouthBay Pavilion, located in the City of Carson which is home to thousands of Filipino Americans, was the location of the first annual Travel, Trade and Consumer Roadshow, which featured a lineup of Filipino and Fil-Am businesses, experts, entertainment and food.
THE bustling SouthBay Pavilion Mall in Carson became the apex of the Filipino-American community last August 4 and 5 during the Travel, Trade and Consumer Roadshow (TTC).

The event is the premiere foray of the Asian Journal into a more active effort to drive Filipino businesses into the forefront of U.S. enterprise. Project heads Cora Oriel and Roger Oriel welcomed around 30 participating companies to the TTC.
Present at the ribbon-cutting were City of Carson Mayor Albert Robles, Councilmember Elito Santarina, Deputy Field Director Riezl Pe Benito, and Commissioner Alex Cainglet; Department of Tourism attaché Richmond Jimenez; EC Ferrer CEO Eddie Ferrer; actor Mat Ranillo III; community leader Trinity Foliente; Philippine Airlines Area Manager Michelle Narvaez; Ferdinand Soriano of Planet 63 & B2B area host; former Mutya ng Pilipinas Rosemarie De Vera; SouthBay Pavilion General Manager Cheryl Roberts; and the Asian Journal's Editor-in-Chief Christina Oriel and Vice President of Business Development Raphael John Oriel. Philippine Consul General Adelio Cruz made an extended visit on the second day, spending many hours conversing with exhibitors and attendees.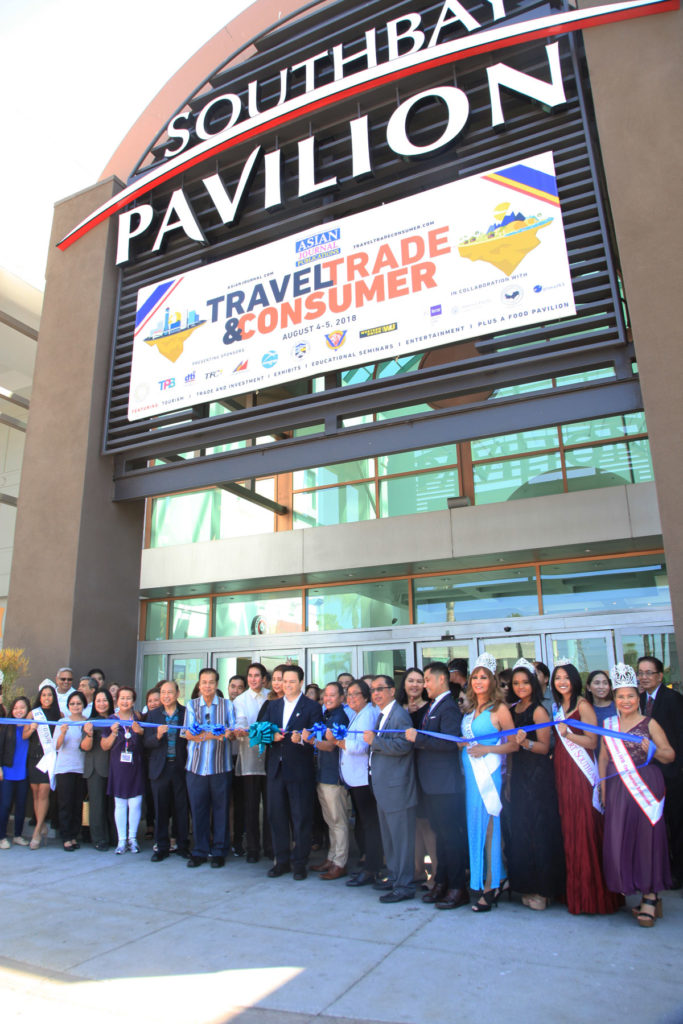 With foot traffic of around 30,000 on summer weekends, the four zones of the TTC attracted people to products and services at the Exhibitor Row, entertainment from the Mainstage, seminars at the B2B, and Filipino food at the Sari-Sari Food Pavilion located outside. The wafting aroma of pork sisig and chicken adobo drew people to the food trucks of White Rabbit and Neri's, and sago gulaman drinks from PopCupz and Hawaiian Shave Ice from TastyBlock. Mall-goers also received discounts to nearby House of Seafood.
Engaging the community were the raffles, with gift cards courtesy of the Asian Journal and promotional items. The round-trip ticket giveaway from Philippine Airlines, which after the first Saturday raffle, announced a surprise second ticket, which was raffled off on Sunday. Los Angeles Area Manager Michelle Narvaez delivered the good news that guests had another chance to win a trip to Manila. First winner Gerry P. will also enjoy a hotel stay courtesy of the Department of Tourism. The second PAL ticket winner is Erlinda P., along with gift card winners, Lydia D., Marieta L, Susana B., Bobby C. and Aerwin B.
Mall-goers were treated to the wide variety of Philippine-sourced products on display which aside from the requisite handicraft products, showcased new inventive products. Nutridense's Rice Mongo Curls attracted quite a crowd, and IC Green's car engine display drew attention to the company's main product, an oil additive that increases efficiency while being eco-friendly.
Philippine-sourced products were made possible by the Pangasinan Provincial Board in cooperation with EC Ferrer Customs Broker and Asia Pacific Shipping, with support from marketing company Planet 63 and the Pangasinan Brotherhood. The delegation that flew in from the Pangasinan included Maria Lourdes E. Utanes of the Provincial Treasurer's Office, Provincial Board Secretary Atty Verna N. Perez, Maria Luisa A. Elduayan from the Provincial Tourism and Cultural Affairs Office and Benita M. Pizarro, Provincial Planning and Development Coordinator.
Lay Bare Salon, one of the largest franchises in the Philippines, was one of the more popular booths due to the free eyebrow threading service. Women flocked to the green and pink booth, which was busy throughout the two days of the TTC. Owner Fiona Hilario also gave a presentation at the B2B that Lay Bare is open to franchising in the U.S., where its hair removal services are already available at two branches in Los Angeles.
Also available in the Exhibitor row were sign-ups to the U.S. Army, the California National Guard and CSI Professionals, an employment placement agency and unions like the Los Angeles County Filipino American Employees Association (LACFAEA). Information for starting a business was also available at the Small Business Administration's booth, with representatives of the Women's Business Center run by PACE, a local non-profit that aims to give tools to develop sustainable businesses.
A wealth of information was available for various interests such as real estate (Premier Asia Pacific Real Estate and Development/Lombard by the Bay, Megaworld), TV and cable (The Filipino Channel, Spectrum) and Chambers of Commerce (FACC-GLA and COFACC). Lombard By The Bay was represented by Rene Cinco, president and CEO of Premier Asia Pacific Real Estate,  Susan Gross, country manager of Lombard by the Bay and architect Pach Cansana. Victory Cars, PNB Remittance Bank and Western Union's engaging wheelspin promo attracted mall-goers for discounts and promo items. Filipino favorite Skyflakes many flavors were on display at Monde MY San.
The Mainstage was graced by numerous local artists, but notably by two television programs. The National Asian American Coalition's "Owning A Piece of America" had as guests Dr. Tess Mauricio and Dr. James Lee. A fashion show with garments from F21 Red featured the Love of Country Ambassadors. Models of all ages grazed down the catwalk to music by DJ Josh Evangelista, and showed off their talents in singing and playing musical instruments.
Artists who enthralled the audience with their music were saxophonist Ner De Leon, singers Annie Nepomuceno, Jona Peralta, classical tenor and actor Glenn Fernandez, Chris Venegas, Kenneth Laurente and Nathan Plantilla, Alvin Reyes, Louisa Tampi, Francesca McNellis, Maikee Pronda, Michael Keith, Bing Martin, and guitarist Ric Ickard. Event Coordination staff of Music Arts Events Inc. kept everything running smoothly (Padsy Padre, Maan Co, Jay Robleza and Joshua Simon) along with emcee extraordinaire Nep Gonzales, who was joined by Suzanne Perez on day 2.
Eagerly awaited was the appearance of Atty. Michael Gurfinkel, the star of Citizen Pinoy. The star lawyer gamely answered questions from the audience as the stage was bathed in sunlight from the atrium. Such is the dedication of the famed attorney, who amiably posed for selfies from the audience pre- and post-taping of the program.
On the other end of the mall were business talks and seminars, hosted by Ferdinand Soriano. He lined up speakers such as Sarita Jackson of the Global Research Institute of National Trade, Eddy Sumar of ERS Consulting, and Pellson Lau who spoke on export financing, among other business presentations by exhibitors.
The entire weekend proved to be an endeavor that brought business many leads and brought them exposure to the public. Organizers declare that next year will be bigger and better to provide more resources and opportunities for Filipino entrepreneurs, travelers, and more! (AJPress)
Facebook Comments