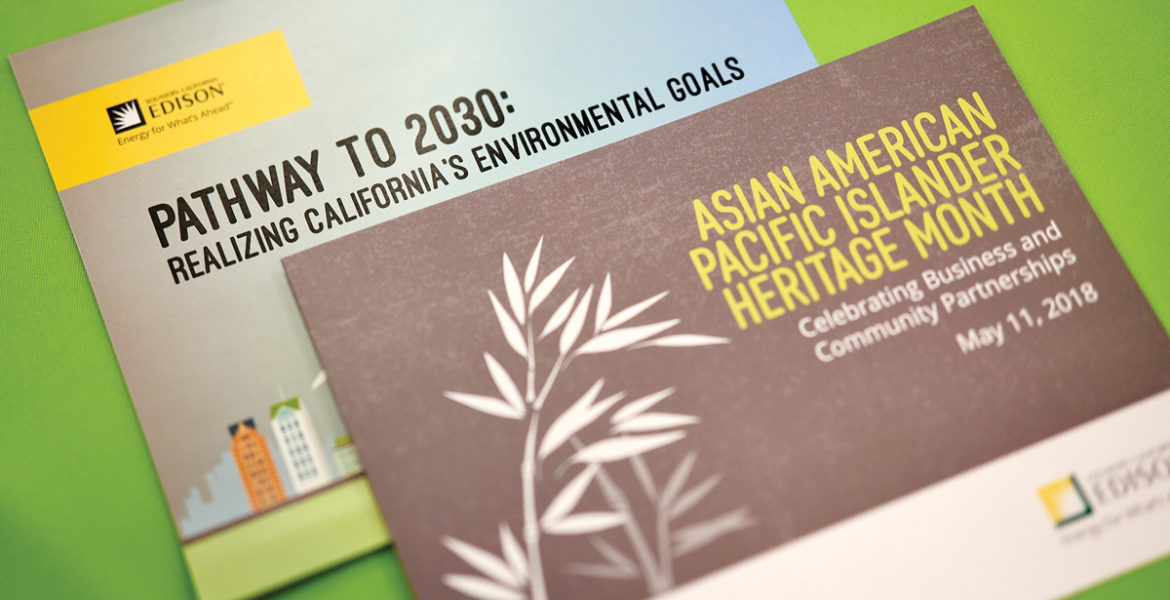 WITH May as Asian Pacific American Heritage Month (APAHM), Southern California Edison (SCE) held its annual celebration on Friday, May 11 in Garden Grove, California, wherein the company highlighted the contributions of the APA community and business partners. 
In 1978, former President Jimmy Carter signed a joint resolution designating an annual week-long celebration, and in 1992, former President George H. W. Bush extended the celebration to a full month. 
At SCE, it has been commemorating this month with a luncheon and award celebration for the past 13 years. The program was emceed by Bill Imada, founder, chairman and chief connectivity officer of IW Group. 
This year, it gave three awards: the Diverse Business Enterprise Award to Cho Estrada Communication and the Energy Efficiency Participation Award to 99 Ranch Market. 
"We're really honored to be recognized for energy efficiency. What we did to get this award is reduce our carbon footprint and energy use by installing LED lights as well as changing the racks and shelves in our stores to have a cooling refrigerant," Megan Yu, who is on 99 Ranch Market's marketing team, told the Asian Journal. 
The Community Partnership Award was given to Center for the Pacific Asian Family (CPAF).
"We are the only domestic violence and sexual assault shelter in SoCal that specifically has cultural services for the Asian American and Pacific Islander community," Donna Tang, outreach and education coordinator at CPAF, said. "It's such an honor to be recognized by SCE…it means a lot to our staff and survivors to have this community to support us in that way." 
Before the luncheon — featuring predominantly Vietnamese and Chinese dishes — Wing Lam and Ed Lee, co-founders of Wahoo's Fish Taco served as the keynote speakers. Imada asked the brothers several questions about how they began their fish taco restaurant, which they said was because they noticed how many taco stands didn't serve fish. 
"The opportunity to talk and meet other Asians is amazing. For [SCE] to sponsor and recognize pretty much the future of California — this market is so big — I'm glad they're doing outreach, and not for just one specific group of Asians but in general, for everywhere," Lee told the Asian Journal. 
Wahoo's Fish Taco will mark its 30th anniversary this year with 60 locations across the U.S. and Japan, and are expected to open five new stores later this year. 
The brothers also highlighted some of their challenges and advice as business owners, as well as the importance of giving back, which they learned from their parents. 
"Not everyone can be an entrepreneur. But Wing and I are lucky…I wish our younger brother can come out and speak to the crowd because once you see him, you're going to understand how Wahoo's really, really worked," Lee added. "I always tell people to team up and if you're really good at marketing…and find people who can offset what you're good at. The one thing that Wing and I can't do is run this company so my little brother does. Every entrepreneur should find a good CFO."
Garden Grove Mayor Steven Jones, SCE CEO Kevin Payne, and SCE's Senior Vice President of regulatory affairs, Caroline Choi, also gave remarks. 
"Giving back is part of who we are as Edison employees. We partner with local non-profits and look for encouraging ways for our employees to give back by volunteering in the communities where we live," Payne said.  
Edison International, the parent company of SCE, announced in April the names of the 30 high school seniors awarded $1.2 million in scholarships. Each Edison Scholar receives $40,000—paid over four years—to further their academic pursuit of science, technology, engineering or math (STEM) fields at a four year accredited college or university. Ten of the scholars are of APA descent.
Facebook Comments