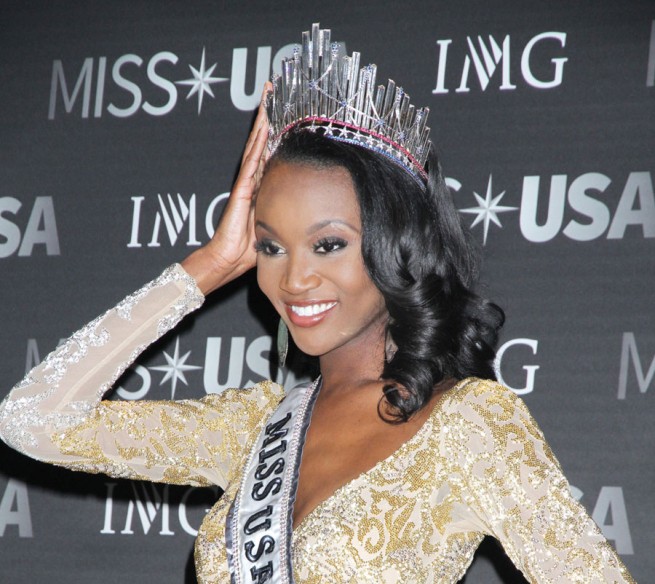 LAS VEGAS—On Sunday, June 5, 52 gorgeous ladies walked across the stage of the T-Mobile Arena in Las Vegas to vie for the Miss USA crown.
Unlike the previous years, this year's pageant featured an online search for a 52nd contestant, naming her "Miss 52."
Miss District of Columbia, Deshauna Barber, won the coveted crown during Sunday night's ceremony. Barber, a 26-year-old IT analyst and Army Reserve logistics commander, brought the entire arena down during the question and answer portion by responding to the recent decision by the Pentagon to open up all combat jobs to women.
"As a woman in the United States Army, I think it is an amazing job by our government to allow women to integrate into every branch of the military," she said as the crowd erupted into applause.
"We are just as tough as men. As a commander of my unit I am powerful, I am dedicated and it's important to recognize that gender does not limit us in the United States Army," she answered instantly.
Last Sunday's event also featured performances from The Backstreet Boys and Chris Young.
Olivia Jordan, Miss USA 2015, passed down the crown to Barber, who will now be residing in New York with Miss Universe Pia Wurtzbach.
For Pia Wurtzbach saying goodbye to her former roommate was not easy.
In Pia's Instagram post to Olivia, she described the latter as a "true representation of a Miss USA."
WME/IMG owns both Miss Universe and Miss USA. Barber will move to the New York apartment provided by the Miss Universe Organization.
In a separate Instagram post, Wurtzbach told Barber: "Welcome to the family. See you in a few hours as we fly back to New York to your new home."