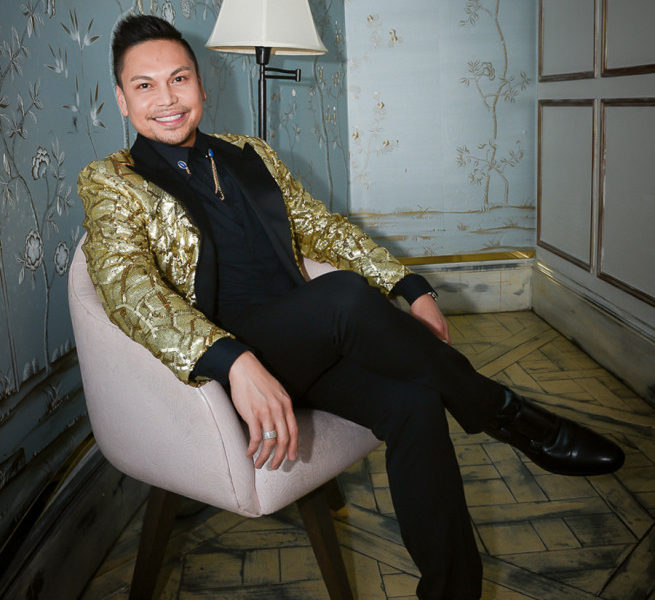 Producer receives fourth Daytime Emmy nomination for 'The Talk'  
The glitz and glamor of Hollywood can be captivating to many, but reaching that level of success is not exactly an easy feat.
For Marc Anthony Nicolas, breaking into the entertainment industry is still very much surreal.
The Filipino-American is best known for his work as producer for CBS' "The Talk" and host of his own talk show "The On Your Marc Show," which debuted on TFC's Lifestyle Network last summer.
"It's so unreal to me that I'm the first Filipino host to interview Hollywood celebrities," Marc told the Asian Journal. "Sometimes I pinch myself."
And not only does he have experience behind and in front of the camera— he is now a radio personality for a station called AM1300 WMEL in Florida. As co-host every first weekend of the month, he promotes his shows and dishes on the latest happenings in the celebrity world.
It may seem like a lot on Marc's plate, but he shared, "if you have multiple dreams, you'll do anything in your power to make them come true. Honestly, I want to work at each job with 110 percent."
"The Talk"—whose hosts include Julie Chen, Sara Gilbert, Sharon Osbourne, Aisha Tyler and Sheryl Underwood — aired its 1,000th episode this week and "The On Your Marc Show" recently wrapped up its season 2.
But the celebrations don't stop there: Marc has been nominated for his fourth Daytime Emmy.
The 42nd Annual Daytime Emmy Awards will be broadcasted live on Sunday, April 26 at 5 pm PST, and will be hosted by Tyra Banks, whom Marc worked with as a producer for "The Tyra Banks Show."
"It's an honor to be nominated. Not a lot of people can be nominated for an Emmy. 'The Talk' is actually going up against 'The Ellen DeGeneres Show,' 'Live! with Kelly and Michael,' and 'The Wendy Williams Show,'" Marc said.
Unlike other talk shows, however, "The Talk" is a live show and discusses up-to-date and current topics.
"What I've learned is that we don't have to poke fun at celebrities to make great television. Television can be entertaining just by talking amongst other people and getting each other's opinions as well," he said.
Rather than promoting gossip and putting individuals down, Marc takes a different approach of bringing more positive and uplifting stories to television.
"I love to uplift people and surround myself with people who uplift me."
Though he has been nominated for the past four years, he still recalls his first nomination and that excitement wherein he "felt like a little kid [admiring] the big statues and the red carpet" and was in the presence of other talk show hosts and celebrities.
"If I do win the Emmy, I'm actually going to give it to my father because he and my mom migrated from the Philippines and left their family and friends to have a better life for me and my sister," Marc shared. "Everything I do is for my mom because if it wasn't for her, I would probably have a different life."
Marc and his family migrated to the United States when he was 4 years old, like many Filipinos, in pursuit of more opportunities. He saw his parents financially strapped and working double jobs, which motivated him to push even harder.
"Nothing was handed to me on a silver platter. I was born to parents that were financially struggling," he said. "My life wasn't given to me. I just had to work hard at it."
Following his parents' standards, Marc became a pharmacy assistant, but "knew in [his] heart that [he] wanted to become a television producer" one day.
After struggling for a few years to make connections in the entertainment industry and taking on jobs as a waiter, Marc gained a slew of experiences as a production assistant and casting recruiter, until finally getting a shot to produce for "The Tyra Banks Show," and then "The Talk."
"I'm the same person as I was 10 years ago," Marc said. "I haven't changed. The only thing that has changed is my knowledge and love for the entertainment industry."
"The On Your Marc Show" doesn't solely focus on Hollywood — some notable guests this season included Lance Bass (who taught him the 'Bye, Bye, Bye' dance), Christina Milian, Sarah Gilbert, and Tia Carrere — but also teaches celebrities a little something about Filipino culture.
"I taught Olivia Newton-John how to speak Tagalog, like how to say 'maganda ikaw' and 'mahal kita.' With Carnie Wilson from Wilson Phillips, we talked about Filipino cuisine and our favorites. I instill in these Hollywood celebrities a piece of Filipino culture," he said. "In the entertainment industry, there are hardly any Filipinos. I'm the only Filipino out of 275 people who work on 'The Talk.'"
"When we're done taping, I want the celebrities to say, 'wow what an awesome talk show.' and I want them to learn about the Filipino culture as well."
Another advocacy on his show is helping others realize their dreams because he, too, was once in their position. On his website, onyourmarcshow.com, there is a section called "Marc Your Dreams," where viewers can send him a message about their goals and what they want to accomplish and he will try his best to help them.
Though he gets hundreds of emails a day, he makes an effort to reply to all of them.
Last year, he had a Filipina based in the Philippines intern for "The On Your Marc Show."
"We flew her in from the Philippines to West Hollywood so she could learn and be more knowledgeable about the entertainment industry. I wanted her to go back to the Philippines with that on her resume to help and educate her for her future. At least she now has some sort of experience," he shared.
He also paid for a Filipino photographer attend a photo fair because he couldn't afford it.
One day, Marc hopes to become the "Filipino Ryan Seacrest" because he has experience hosting, producing and being on the radio, and also write an inspirational book to make people proud of who they are.
"I don't know what I did to deserve [this success] but I must have done something right because for me, as a Filipino who grew up with nothing, I now have something to offer to the world. I have a platform and voice to make people happy and smile. As long as I make at least one viewer smile, then I've done my job," he said.
(www.asianjournal.com)
(LA Weekend April 25-28, 2015 Sec. B pg.1)
Facebook Comments