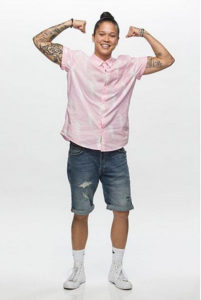 FILIPINO-American footballer Kaycee Clark was proclaimed the winner of the 20th season of reality TV show "Big Brother."
Winning via a 5-4 vote, Clark closely beat out fellow finalist/houseguest Tyler Crispen to win the $500,000 prize on Thursday, September 27.
Clark shared that she would use the money she won to help out her family. Born to a Filipina mother and an American father, Clark's parents met in the Philippines while her father was traveling in the Navy.
Clark also became the first lesbian winner of the CBS reality series.
"Being full lesbian, with tattoos and into sports I was just different than what they've seen in past seasons," Clark said in an interview with The Hollywood Reporter. "It's so huge to be the first lesbian to win the game. It still hasn't hit me," Clark added.
Clark won by incorporating a social gameplay that she worked to her advantage. She remained calm amidst the stress blowing up during the entire competition.
"Just as a person I am really calm and laid back and it takes a lot for me to blow up. That's what helped me throughout the house. But I wanted to blow up when I knew people were lying to my face. There was so much I wanted to say, but I knew that I had to bite my tongue. Less is more and you don't want to blow up," Clark explained.
In an interview with Parade, the 30-year old professional football player emphasized the importance of being true to oneself in order to survive all throughout the game.
"Be me and not lie and do too much. If you do too much, there's even more work trying to backtrack. Make this easy, be who I am, and stay loyal. The house was already crazy. And whatever happens from there, cool, we'll move on and figure it out," Clark said.
Clark also noted that it is also important to care about the people around her. Despite the intense competitive vibe, she remained genuine to the other houseguests.
"I think it's huge. I genuinely care about people; I love people. I knew the houseguests felt that. That's who I am, being true to myself, being loyal, and being Kaycee. Being happy, being positive. The other houseguests were going to feel that," Clark said.
Clark's attitude might be one of the few reasons why the other players voted in her favor. She won the votes of fellow houseguests Bayleigh Dayton, Angie "Rockstar" Lantry, Faysal Shafaat, Scottie Salton, and Sam Bledsoe.
"It was huge that I could simply be me, and I didn't hide anything. It made it easier. I like things to be simple; I don't like to be extra. Let's just keep it simple, make it easy. I wanted to stay as loyal and true to myself as much as possible. And I wanted to stay low from the very beginning. It's crazy how everything worked out as how I wanted to play the game," she added.
Clark also won five of the last six Power of Veto competitions. She gained a remarkable hold on the late phase of the game thus tying the record for most Veto wins in a season. Among the other record-holders were Big Brother All-Stars' Janelle Pierzina, Big Brother season 8 runner-up Daniele Donato, and Big Brother season 19 runner-up Paul Abrahamian.