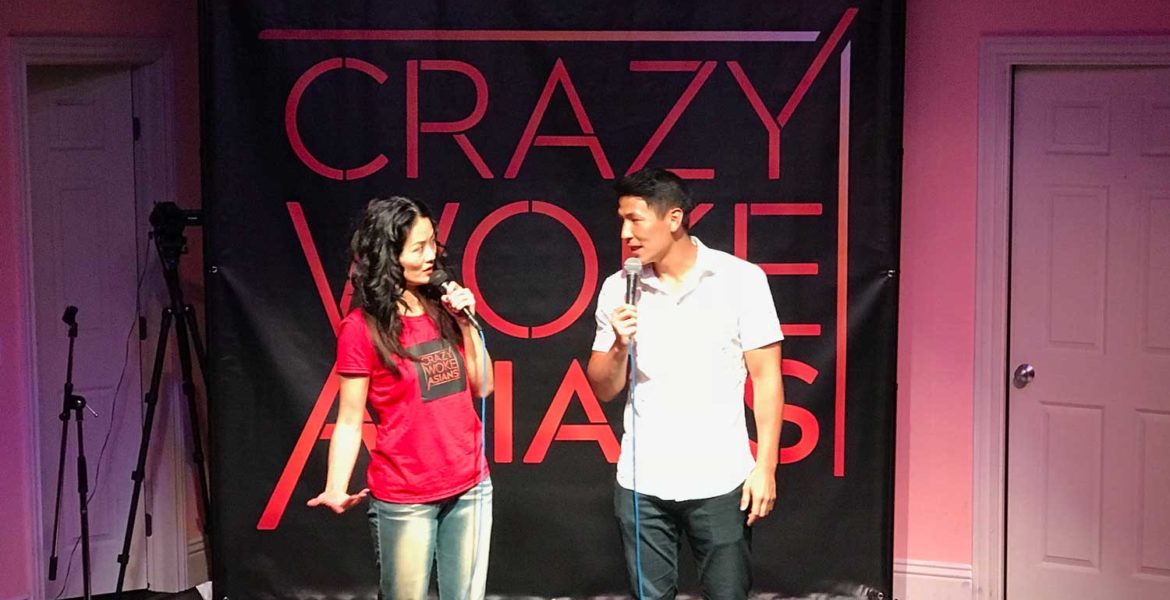 As diversity heightens in entertainment, Asian comics make their way
ON Sunday, July 29, a crowd of people gathered in the courtyard of the Santa Monica Playhouse, awaiting "Crazy Woke Asians," a comedy show with an all-Asian lineup.
It was a sold-out night and the crowd was majority young Asian creatives who were chatting about pilots they were writing, auditions they were preparing for and short films that they just wrapped.
Historically, Asian writers, actors, filmmakers and musicians weren't visible and, for the mainstream audience, they simply didn't exist. For decades, Asian creatives have fought against the homogeneity of the entertainment world that severely limited the opportunities for people of color.
The world of comedy is no different. The opportunities to thrive as an Asian comic have been limited to minor, often stereotypical Asian roles on sitcoms and films. But as the push for diversity grows stronger, comedians in the Asian-American community are seizing the opportunity to create their own mark in the industry.
Hosted by comedians Kiki Yeung and Jason Cheny, "Crazy Woke Asians" strives to expand that influence and brighten the spotlight on the characteristics that make Asian comedy so special.
As it often is, socio-political topics — the #MeToo movement, the Trump administration and ethnic identity and being a person of color in America in 2018 — were heavily discussed and poked at throughout each comic's set.
The fetishization of Asian women was brought up in a lot of sets, including Atsuko Okatsuka, whose fiery set garnered the most cheers.
Citing a study that said that Asian women are the most desirable, Okatsuka remarked, "So, men prefer Asian women…why? They say we're quiet, obedient and docile, and to those men, I ask: have you ever even MET an Asian woman? Try walking into an Asian woman's home without taking off your shoes and see how docile she is."
In the wake of the successful summer blockbuster flick "Crazy Rich Asians" (which features the first all-Asian cast since 1993's "The Joy Luck Club"), there has been a major push for various entertainment avenues to shed more light on Asians in show business.
Most people's first exposure to Asian American comedy was in the early 1990s when Margaret Cho rose above the ranks in comedy, opening for Jerry Seinfeld, appearing on a Bob Hope special and a frequent guest on "The Arsenio Hall Show."
But most people know the premier Korean-American comic from the short-lived 90s sitcom "All-American Girl." (Audiences wouldn't see another Asian sitcom cast until 2014 with ABC's "Fresh Off the Boat.")
Joseph Herbert, also known as Jo Koy, is a half-Filipino American comic who got his start on BET's "ComicView" and in television specials like Jamie Foxx Presents: Laffapalooza!" and comedy festivals like Just For Laughs in Montreal.
Appearing in small pockets of the world of entertainment, AAPI comics existed as tokens. We all know Margaret Cho, Jo Koy and Aziz Ansari, but it wasn't until the last few years that Asian comics have come into mass prominence, creating and starring in sitcoms, films and Netflix specials.
Mainstream comedy, in particular, has been a racially homogenous arena, but big guns like Ali Wong, Ronny Chieng and Hasan Minhaj who have been hacking it out for years and have just recently come into prominence, ushering a new wave of Asian American comics in the stand-up, sitcom and improvisational comedy realms.
Room to Improv, an Asian American and Pacific Islander (AAPI) improv comedy troupe, energized the room with high-octane skits and classic improv exercises like "Do Ron Ron" in which players create a rhyming song based on an audience-suggested word.
Room to Improv was established in 2002 by Elvin Lubrin through the Festival of Philippine Arts and Culture (FPAC), which needed a comedy show to present at its yearly festival, and to offer AAPI aspiring actors and comedians a space of their own to hone their craft in a communal, team-building environment.
"Confidence is something that many Asian actors struggle with when they go on auditions, and that's something that we try to work on here, to hopefully, help us be more introspective on that front," Filipino-American Earl Baylon, artistic director of Room to Improv, told the Asian Journal in a conversation with the troupe after the show.
Though the cultural landscape of entertainment seems to be shifting to more diversity and representation, especially for AAPI creatives, the nature of the industry is still individualistic, especially in the world of comedy where competition among stand-up comics, especially comics of color, is the wild west, according to Maikiko James.
"It's very isolating, it's so competitive and it's why things like #MeToo have happened," James shared. "Like there's only one spot at the table for us, so you tell yourself, 'I'm going to put myself through all this bullshit in order to succeed, but there is none of that with this team and the community we perform with.
And this is how Hollywood should be. Hollywood shouldn't pit us against each other, and rather than have us fight for the one Asian role, expand the opportunities for Asians so we can all sit at the table."
Crazy Woke Asians will host another show on Sunday, Sept. 30 at The Three Clubs in Hollywood.
Facebook Comments