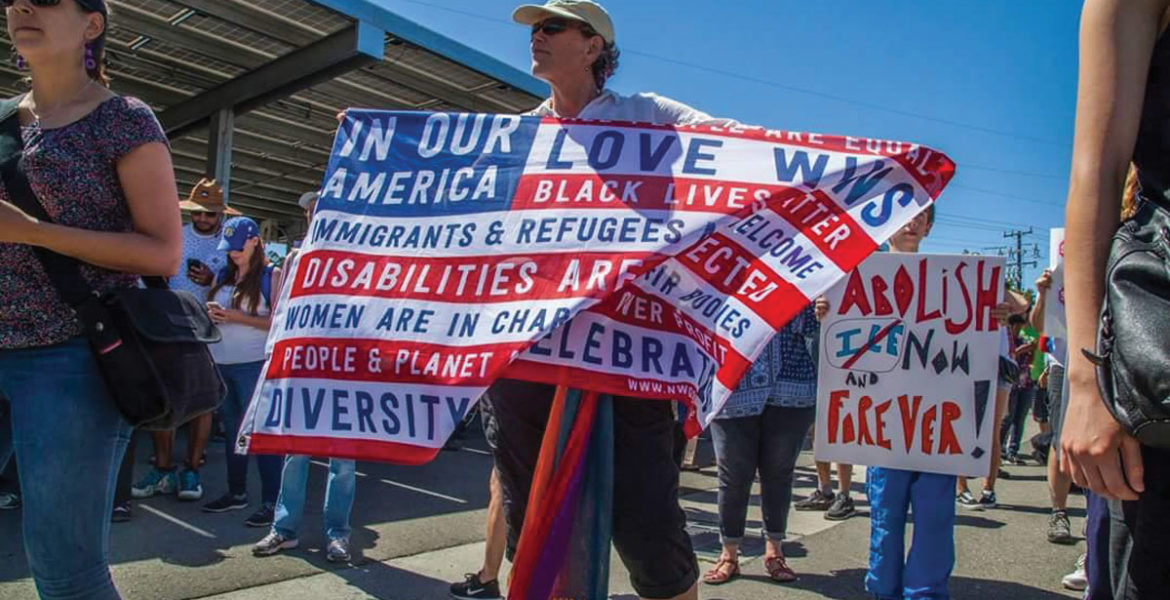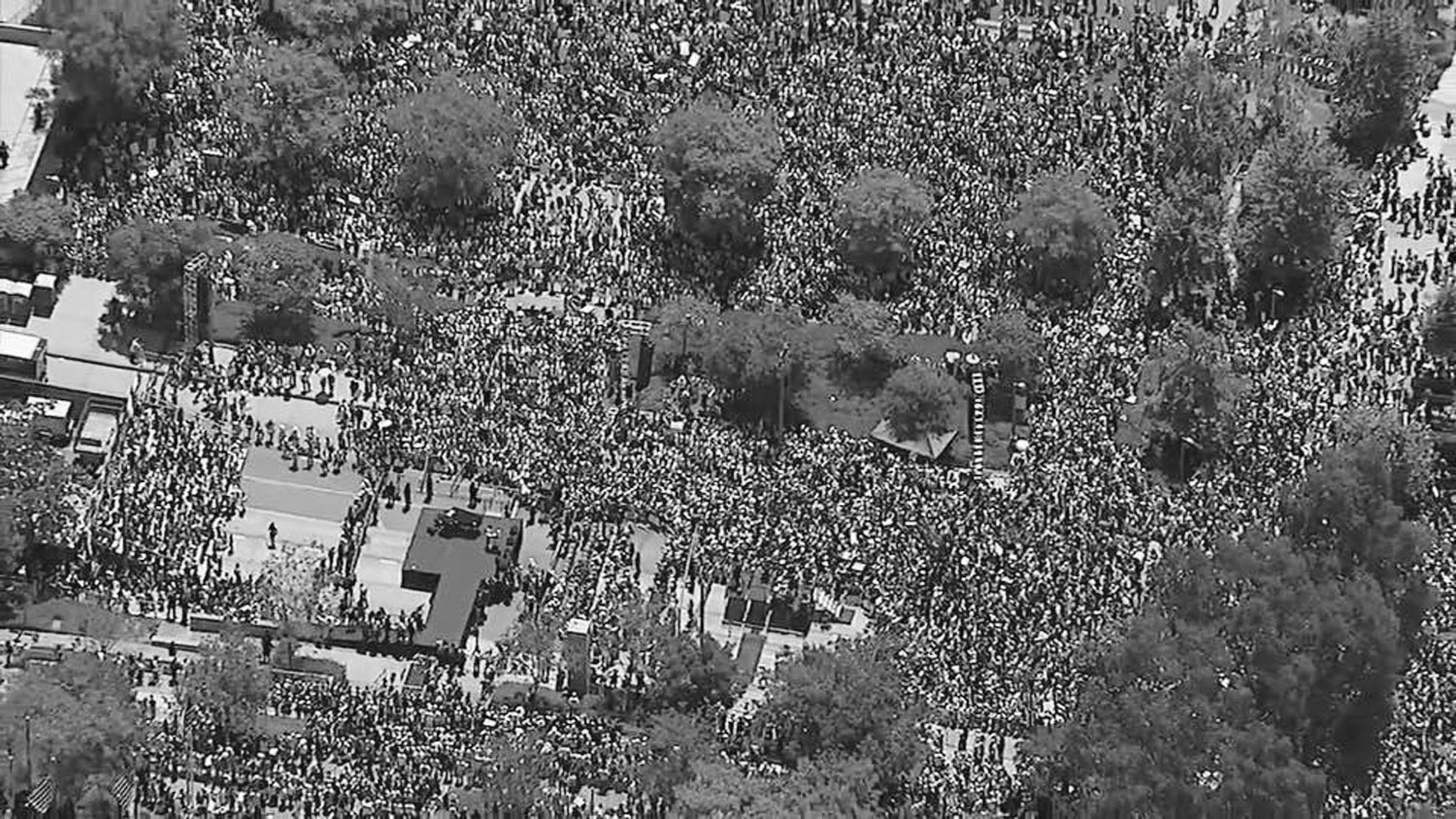 Gratuitous cruelty to children from the 45th US President's zero tolerance policy met with national resistance and humanitarian initiatives
Prosy1BW
An estimated 70,000 people gathered in Downtown LA on Saturday, June 30 as part of the nationwide immigration protests. Photo courtesy of LA Mayor Eric Garcetti's Facebook page
"Love is who you are. When you don't live according to love, you are outside of being. You're not being real. When you love, you are acting according to your deepest being, your deepest truth. You are operating according to your dignity."- Richard Rohr, founder of the Center for Contemplation and Action in New Mexico, 2018.
"Always take sides. Neutrality helps the oppressor, never the victim. Silence encourages the tormentor, never the tormented" – Elie Wiesel
"Stop pretending your racism is white nationalism." "It is un-American and grossly inhumane, brutal and unconscionable." "It is unspeakable, gratuitous cruelty, that even animals in the wild or domesticated are not capable of doing." "Take a look at young birds, do you see them nurtured?" "As part of a pack, cared for by God?"
These were some of the broadcasted messages from news programs' coverages of rallies to resist the family separation of over 2,300 children.
On Saturday, June 30, over 700 rallies were held in 50 states, and photos were shared on social media and publicized by major newspapers.
Take a look at "Unaccompanied: Alone in America" by Linda Freedman, a short video clip of four minutes and 20 seconds that depicts young children appearing before an immigration judge.
When asked if they know a lawyer, they simply say no. Even the face of the judge changes, formal to empathetic and seemingly teary.
And why not? These are very young children whose important work is to play and who in their right mind would compel them to court hearings? They have no mental capacity to understand the court proceedings. How absurd can our present federal government be to require unrepresented, young children to appear in courts?
These children's experiences would forever be marked by gratuitous cruelty and trauma, permanently scarring them for life.
It is even made more difficult as some of these children speak in indigenous languages, and not the mainstream version of the Spanish language, spoken by most.
NBC broadcasted a border supervisor, in conversation with a reporter on June 30, that there is a policy to separate the children from their parents when they get to Southern Border. He said, "It is to make the parents afraid and not to cross the border to America."
A reactive move, isn't it? When in fact, he also said that border crossings have decreased, whereas, during President Bill Clinton's time, NBC reported 500,000 crossed this border a year to now, 26,000. It has been decreasing since Pres. Barack Obama's tenure that the crossings have averted, but a new humanitarian crisis of separating children was created by Trump's zero tolerance policy towards migrants at the border seeking asylum.
 A U.S. president with no moral center
The New Yorker's Margaret Talbot wrote: "The policy of separating children from their parents at the Southern Border was the purest distillation yet of what it means to be governed by a President with no moral center."
On June 19, over 600 Methodists accused Attorney General Jeff Sessions of child abuse, racial discrimination and dissemination of doctrines contrary to the United Methodist Church and filed a canon law complaint.
Talk to relatives, neighbors, community friends, and the reported news of toddlers and small children in foil blankets inside cages will likely raise their blood pressures, as yours.
"God please take care of this president. His evil actions exceed our human capacities," a friend said.
She is not alone; four living former first ladies have the same outcry.
On June 19, the New York Times reported that four living former first ladies condemned the Trump border policy.
Laura Bush wrote, "Our government should not be in the business of warehousing children in converted box stores or making plans to place them in tents cities. These images are reminiscent of the Japanese American internment camps of WW II, now considered to have been one of the most shameful episodes in U.S. history."
"Every parent who has ever held a child in their arms, every human being with a sense of compassion and decency, should be outraged," Hillary Clinton wrote. "We should be a better country than one that tears families apart, turns a blind eye to women fleeing domestic violence, and treats frightened children as a means to a political end."
What makes this unprecedented is we have had four living former first ladies join their voices as one, to speak against separating children from their families. Even Melania Trump tweeted that she believes that the rule of law should be followed, but governance must be done with the heart.
Yet, Sarah Huckabee Sanders continued to lie in her official capacity, and claimed falsely: "Frankly, this law was actually signed into effect in 2008," to which the New York Times reported: "No law actually requires that families be separated at the border. Pres. Trump ordered the stiffer effort last month."
Still unconvinced that there is a White House policy of family separation?
A community member shared that parents are at fault, kidnapping their children to travel to the borders. Can you imagine what mentality and heartlessness one has to believe these lies? He was not joking.
Sessions claimed it is biblical to take actions to protect the American borders, prompting this response from Fr. James Martin, "It is not biblical to treat migrant and refugees like animals. It is not biblical to take children away from their parents. It is not biblical to ignore the needs of the strangers. It is not biblical to enforce unjust laws. Do not use the bible to justify sin."
Nearly 750 resistance rallies in 50 states
USA Today on June 30 had reported: "Hundreds of thousands of people turned out from coast-to-coast Saturday in 'Families Belong Together' rallies to protest the Trump administration's 'zero tolerance' immigration policy and implore their fellow citizens to turn out to vote in November's midterm elections. While the thrust of the near 750 marches and rallies was to defend the 2,000 children separated from their parents at the U.S.-Mexico border, the tone was decidedly political."
David Bacon, a photographer posted on Facebook: "A demonstration of 3,000 people outside the Richmond Detention Center, where immigrants are incarcerated before being deported. Part of a national day of protest, called Families Belong Together – Let Our People Go, people called for ending the separation of immigrant mothers and children, and the detention of immigrants in centers like that in Richmond."
I asked his permission to publish the photo for this column, as it captures the national sentiments of non-separation of families. He agreed.
Separation of families, intentionally done with callousness and mercilessly, have created these visceral reactions.
The New Yorker wrote on June 30, "Protests, like Saturday's against Trump's zero-tolerance immigration policy, allow a person's individual croak to melt into a collective scream."
In that collective scream, we reclaim our human dignities and we hear our spirits alive and understand the yearning for the same freedoms as those refugees who come to the U.S. borders.
They simply want to feel safe, as gangs have made it impossible to live their daily lives.
One Honduran friend of mine, whose mom and sister still live in the country, described that the gangs pester folks daily: "You are in a bus, they take your watch, or if you own a small store, they impose a $5 fee on you, and that is your whole day's earnings. Life in the land has become dangerous, that anything outside of the land presents a hopeful, brighter future for families."
Their lives on land have become dangerous that they dare to cross the borders, the waters, ride the trains, and go to the U.S.-Mexico border, as in Texas, so they can apply for asylum.
Instead, their children are taken from them, many of whom are under 6 years old. After they are separated from their parents, the latter are detained or deported back to countries like Honduras, Guatemala, and El Salvador.
Parents and children travel using human coyotes (smugglers) to whom they pay their life savings to be transferred through a series of transports, taking three weeks and when they reach the Southern Border, they apply for legal asylum.
But instead of processing their asylum claims, they are apprehended, the kids are deemed unaccompanied minors, as their parents have not yet attained legal status.
Kids are then taken from their parents, on the pretext of giving these children a bath, but the children are shipped to places, 2,000 miles away from their parents like New York. Do you sense double or triple doses of cruelty here?
We are not this America: We are better than this
Nana, a 95½-year-old woman who has seen U.S. presidents change 15 times to this current one, wondered when will "The Law of Karmic Debt kick in for this 45th U.S. President?
She has seen Barack Obama, George W. Bush, Bill Clinton, George Bush, Ronald Reagan, Jimmy Carter, Gerald Ford, Richard Nixon, Lyndon B. Johnson, John F. Kennedy, Dwight Eisenhower, Harry Truman, Franklin D. Roosevelt become presidents in her lifetime, since she was 10 years old.
She added two Kennedys have been assassinated in her lifetime. I wanted to add Martin Luther King and even Malcolm X, but she switched the conversation on how her heart bleeds for these children.
"We are not this America," she added. She describes that her heart is for the migrants, as she and her family had to wait for their resettlement into America, when no countries would accept Jews as immigrants in the late 1920's.
How did we get here, America?
In his interview with Chris Matthews, University of Notre Dame President Rev. John Jenkins said, "Families are fundamental blocks to a society, when the state intervenes, it strikes at our values. The rhetoric about these people is demeaning and treats them as animals. You can think what you want about immigration reform but you have to start at decency, you have to treat them with decency!"
But, who stands to benefit from detaining these children? Are foster parents who are paid handsomely per month when these children are placed in their homes by the government? The immigration lawyers? The federal government in imposing hefty bond fees to claim their children?
The New York Times reported on June 19 that $458,000,000 would be spent to detain these children.
"Currently Southwest Key has nearly 5,100 children in 26 shelters in Texas, Arizona and California, accounting for nearly half the unaccompanied minors being held in facilities all over the country. Most of them are older children who weren't taken from their parents but instead tried to cross the border on their own," The Associated Press reported on June 27.
The report added, "The nonprofit organization has booked $458 million in federal contracts during the current budget year — half of what is being handed out by HHS for placing immigrant children who came to the U.S. unaccompanied or were separated from their families after arriving."
Humanitarian initiatives
The American people responded swiftly with mercy and compassion.
On June 28, a 6-year-old Atlanta boy sold lemonade and made $13,000 to benefit these separated children, CBS.com reported.
Here in Los Angeles, Keep Families Together Rally & Toy Drive was organized on June 23 at the Federal Bldg. in Westwood; Christine Oshima agreed to share a photo she took. Thousands attended.
As of 7:15 p.m. on July 1, a fundraiser initiated by Charlotte Willner and Dave Willner on Facebook weeks ago has raised $20, 578,199 from 533,587 folks to reunite an immigrant parent with their child, which included nearly a hundred Filipino-Americans donating.
As of 7:36pm, it grew to $20,578,724 from 533,594 folks, an increase of $525 from seven new donors in 21 minutes. The funds raised would benefit RAICES, which "will directly fund bonds to allow parents to reclaim their detained children. This group will ensure legal representation for every separated family and every unaccompanied child in Texas' immigration courts." Their current goal is $25,000,000.
Janne Martin-Godinez, a 7-year-old Guatemalan girl was reunited with her mother after nearly a two-month separation.
"She and her father were detained at the Arizona border in mid-May, a week after her mother had arrived with her baby brother. The family fled their home in western Guatemala because they were threatened by gang members demanding money from them. Martin-Godinez, 29, a nurse, said she was also threatened by a supervisor at the clinic where she worked," The Washington Post wrote on July 2.
Meanwhile, the Trump administration changed its zero tolerance policy to the indefinite detention of families while their asylum claims are processed.
The 45th president's administration has yet to demonstrate its respect to human beings regardless of national origins. After all, he took an oath,with his hand over a Bible, to uphold the U.S. Constitution, which provides equal protection to citizens, resid ents and immigrants, as all are deemed "persons," entitled to a full measure of human rights and should not be presumed to be criminals.
Perhaps, Mr. Trump needs to learn lessons from 8-year-old Diego, "who came up with his own signs for his first public protest: 1) Don't separate families 2) Don't make kids cry, make kids happy 3) Broken Families = Broken World 4) We all need  = rights 5) Free children and the world will be happy and 6) Help free kids." Thanks to Cheryl, his mom, who allowed his messages to be shared.
#SouthernBorder #Immigrants #UnaccompaniedMinors #Refugees #NotoFamilySeparation #FamiliesBelongTogether
* * *
Prosy Abarquez-Delacruz, J.D. writes a weekly column for Asian Journal, called "Rhizomes." She has been writing for AJ Press for 10 years. She also contributes to Balikbayan Magazine. Her training and experiences are in science, food technology, law and community volunteerism for 4 decades. She holds a B.S. degree from the University of the Philippines, a law degree from Whittier College School of Law in California and a certificate on 21st Century Leadership from Harvard's Kennedy School of Government. She has been a participant in NVM Writing Workshops taught by Prof. Peter Bacho for 4 years and Prof. Russell Leong. She has travelled to France, Holland, Belgium, Japan, Costa Rica, Mexico and over 22 national parks in the US, in her pursuit of love for nature and the arts.
Facebook Comments