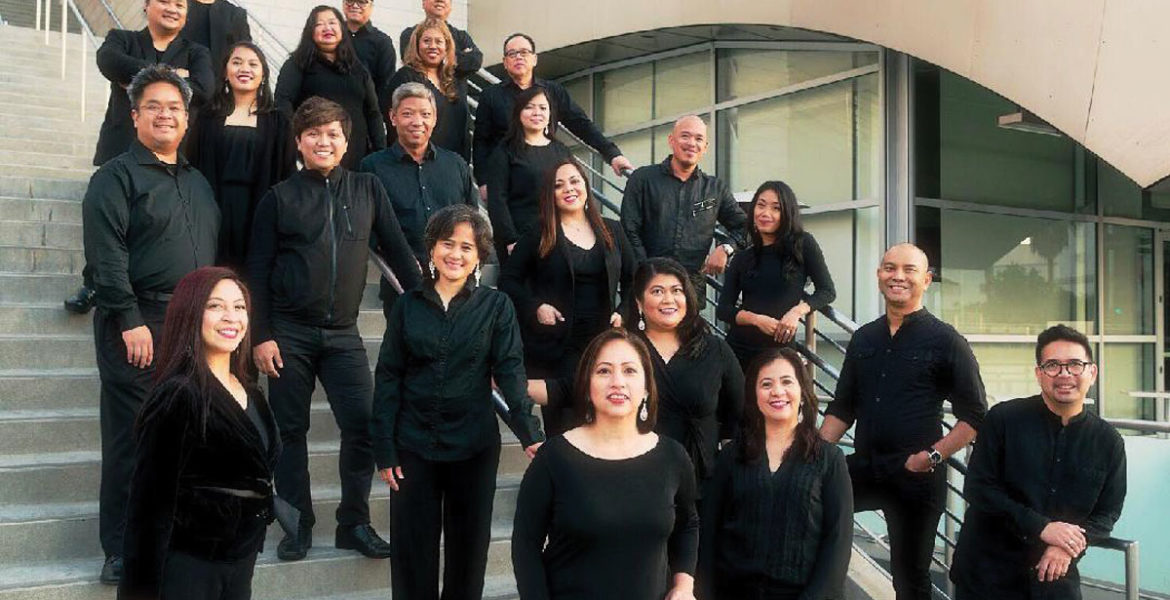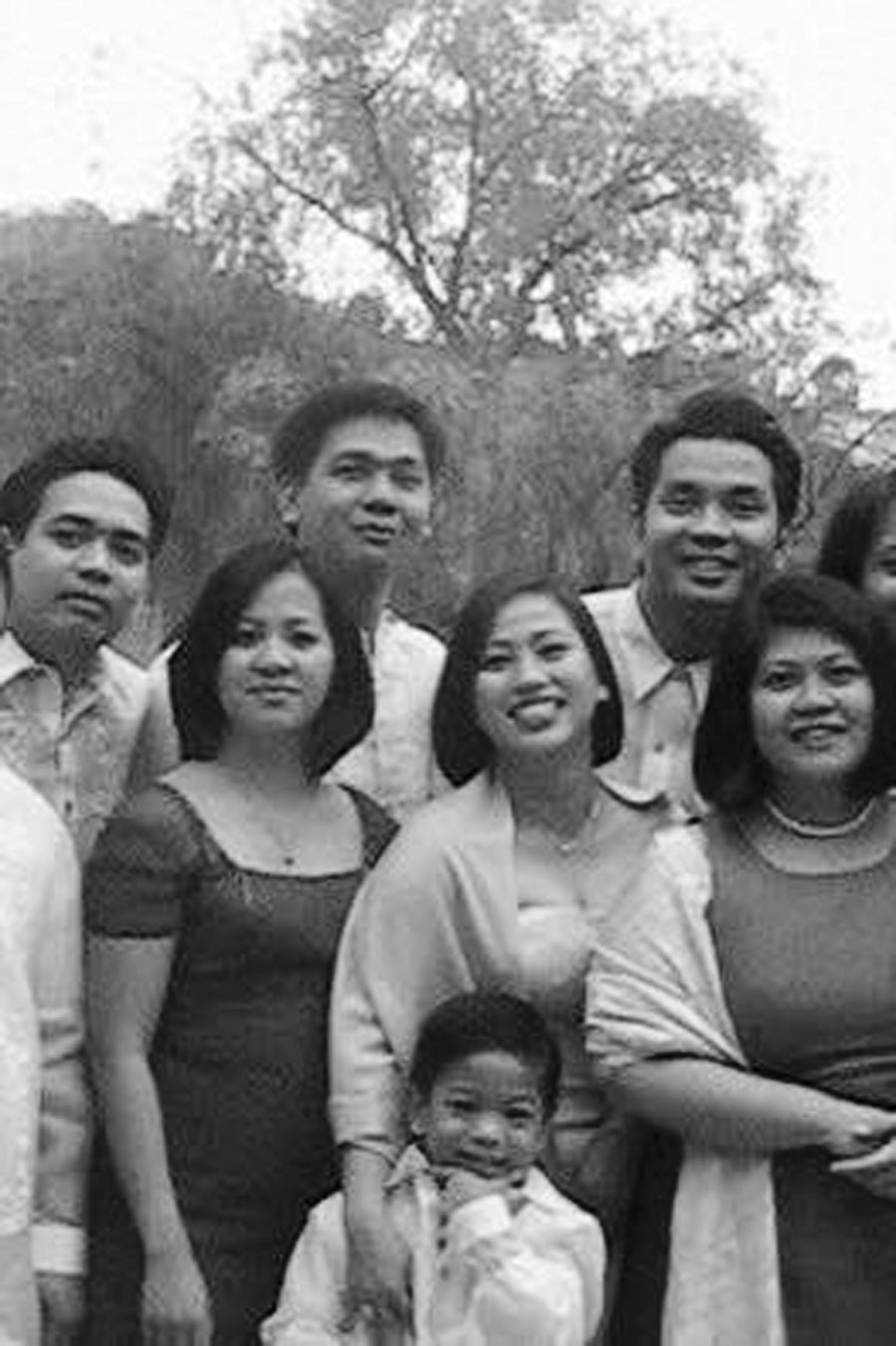 Philippine Chamber Singers-LA' s heart-cramping Original Pilipino Music overflows with love for country, family, friends and musical heritage
Founding members of PCS-LA during from their first wedding gig: (From L-R, back row) Gelo Francisco, Dale Francisco, Dino Padallan); (From L-R front row): Anna Hurn, Marivic Belo Francisco, Ana Burog. Photo courtesy of Ana Burog
Philippine Chamber Singers-LA' s heart-cramping Original Pilipino Music overflows with love for country, family, friends and musical heritage
The Philippine Chamber Singers-LA (PCS-LA) will perform at the Walt Disney Concert Hall on Friday, August 17. Members include sopranos: Marivic Francisco, Charmaine Normandia, Kit Buhion, Annie Jeanette Dwight and Ana Hurn; altos: Ana Burog, Lisa Ulanday, Apple Nazareno, Jennifer Morelos, Judith Guerrero and Kim Bautista; tenors: Louie Ulanday, Noel Anzures, Hero Emolaga, Aris Canlapan, *Oscar Pantaleon Jr., and *Gerry Francisco; and bass: Dino Padallan, Dale Francisco, Medard Obida, Dennis Quiambao, and Novem Cabios. (*Indicates guest singers)  Photo courtesy of The Philippine Chamber Singers-LA
(Part I of II series)
"The only thing that makes life worth living is the possibility of experiencing now and then a perfect moment. And perhaps even more than that, it's having the ability to recall such moments in their totality, to contemplate them like jewels." – Paul Bowles, The Spider's House
In two series, I will be writing about the founders of the Philippine Chamber Singers-LA (PCS-LA), their immigrants' journey of survival, their courage to pursue their dreams and their boldness to sing in world-class stages, their inner self-worth to believe that they are worthy of those perfect moments of being a harmonious vocal group.
When I asked what propelled them to seek spaces at Carnegie Hall, Hollywood Bowl and Disney Hall, their collective refrain is "Why not?"
Ana Burog, Gelo Francisco, Dino Padallan, Emman Miranda and Dale Francisco, all founding members, came one summer to this writer's home. What was planned as an hour interview stretched to six and half hours, with this writer making dinner for all to share and rehearsal for three hours at a West Hollywood Church, a few days later.
"Pangit ka na, pangit pa ang boses mo (You are so ugly, so ugly is your voice too)," said Dino Padallan's third-grade teacher. Would you be able to sing again, after these wounding words? Would you be traumatized at a tender age of 9 years old, with yet-to-come emotional intelligence?
Padallan suffered trauma from this teacher's cruel words that it took two mentors to build his confidence and hone his musicality, along with his youthful efforts.
Gloria Aldana, a teacher declared: "You will be the cantor for every mass," and a cantor was valiantly born.
Rodel Bugarin, a geometry teacher, offered to mentor Padallan, after he saw him win a Yamaha singing competition. He mentored Padallan while at Don Bosco Makati during his high school years. Padallan became Makati's representative to the Don Bosco singing contest and won.
As karma would have it, one of the judges was the erstwhile third-grade teacher. Padallan mustered his nerve to approach this judge and said, "Do you recall saying how ugly I was and even uglier, my voice?" It made for quite a redemptive moment as the teacher-judge cried while looking at a winner, now standing up to this trauma-inflicting, mean bully, aka a teacher.
Padallan overcame that challenge, only to be tested some more. Just as his work authorization visa was about to be approved, he was laid off. With no savings to fall back on, and without an employer to sponsor him, he relied on his faith in God and the goodness of his fellow kababayans (countrymates), Ana Burog and Gelo Francisco.
Burog helped him secure a part-time job, while Francisco sustained him with lodging and food. It took working six part-time jobs, seven days a week, subsisting on only five hours of sleep to survive and reapply for his green card, which cost $2,500 per application.
Today, he is grateful he has a green card and works full-time, and even more grateful for the PCS-LA's members who became his safety net.
Los Angeles is the quintessential La-La Land
Folks dream big to perform in Hollywood. You will find here a beautiful waitress waiting for a callback from an audition. As you converse with her, she hands your food, and perhaps even sing a few verses for you. Impressed?
Equally impressive are PCS-LA' s members who overcame their obstacles as immigrants and are now full-time professionals, with some holding jobs unrelated to music, while caring for their families, but quite focused in creating musical spaces to share their musical talents. They believe that these gifts are God-given and must be shared with others for God's glory.
LAPhil.com described the group as a "dynamic, diverse, and decorated group of Filipino singers," which performs at the Cathedral of Angels in Los Angeles, bishops' special events, and even invited by LA Philharmonic's preeminent conductor, Gustavo Dudamel,  to perform with LA's musicians at the Hollywood Bowl and now, Walt Disney Concert Hall for their Hibang Sa Awit (Mad About Songs) Concert on August 17.
As you know, Disney Hall is reserved for masterful artists; the last Filipino artist to grace this stage was Lea Salonga in July 2008. Lea , if you recall, created the role of Erzulie (goddess of love) in the latest Tony Award-winning play, "Once on This Island," a role that she performed from Dec. 2017 to June 2018 in New York.
PCS-LA performed their first Disney Concert Hall concert in 2014, marking their 10th anniversary to almost two thousand-strong audiences.
With "iconic silver sails" in its exterior, a beautiful garden designed by LA's finest landscape architects, one of whom is Larry Moline, including a mosaic rose cup in ceramic, its interior boasts of a "transparent, light-filled living room for the city opening onto the sidewalk," and its website reveals, "its fir-lined Douglas interior are 2,265 seats in a vineyard seating style, with a sound amplification and sound distribution technology costing $2.2 million.
This time, PCS-LA's Friday, August 17, concert at Disney Concert Hall is dedicated to Original Pilipino Music (OPM).
"OPM refers to the popular music from [the] 1960s to the present, [which includes] Kundiman, an art song, [sung] more in the classical genre. They share a similar element – works by a Filipino composer," Emman Miranda, PCS-LA's resident conductor, explained.
The August 17 concert will include composers like Ryan Cayabyab, Willy Cruz, George Canseco, Ruben Federizon and Robert Delgado.
The mere mention of Ryan Cayabyab has become synonymous to excellence brought about by two decades of teaching musical theory at the University of the Philippines and more than a decade of mentoring students to harness their talents in songwriting, composing and performing. His name parallels the growth of the OPM industry in the Philippines, with much of his compositions sung by celebrities and featured in commercials, film scores and television shows. He has performed flawlessly for King Hassan II of Morocco, King Fahd of Saudi Arabia, King Juan Carlos and Queen Sophia of Spain, Queen Beatrix of the Netherlands and U.S. President Bill Clinton. In 2013, he was bestowed the Papal Award, Pro Ecclesia et Pontifice for his compositions of religious music.
George Canseco composed songs that were sung by Basil Valdez, Zsa Zsa Padilla, Martin Nievera and Pilita Corrales. A popular composition was "Child," the English version of Freddie Aguilar's signature song "Anak." You will hear a Basil Valdez medley in this August 17 concert.
It takes a village and family to nurture musicality
Just about everybody in the Francisco family is a musician. Much like Andrea Morricone — an Italian composer-son of Ennio Morricone, who speaks with a sense of certainty, in sharing himself "as perhaps already swimming in music," while in the womb of his mother, Maria and listening to his father, Ennio who played the trumpet — Anthony Angelo "Gelo" Francisco has similar roots of "swimming in the musically-gifted womb" of Herminia, a coloratura (soprano skilled in opera), his mother, and listening to Gerardo, his father, a singer.
Francisco related how his father, Gerardo, was born into his own family of means, that his father took piano lessons. He sang at the Mandaluyong Polyphonic Society (MPS-top choir of the city), performing at exclusive Cardinal's events. At MPS, he met Herminia and they became a couple, giving birth to the youngest, Gelo, who has four older siblings, all with gifts of musicality.
As the youngest, Gelo had years of listening to three of his four siblings perform in MPS' events, while Gerry, another sibling, performed as part of the De La Salle Greenhills' Kundiranan group.
"I watched my two other siblings join intercollegiate competitions and perform while at UST," he said.
Francisco was steered away from music and instead, persuaded to take up nursing to follow in the footsteps of a sibling who is a doctor. Francisco learned music by osmosis, ouido, and acquired his innate talent by ear.
After two years of nursing, music became compelling. Gelo auditioned at the UP College of Music and became part of the famed UP Madrigal Singers, where he met Emman, who became a founding member of PCS-LA.
UP Madrigal Singers was founded in 1963 by the National Artist Prof. Andrea Veneracion. The group has been to several countries to participate in international competitions and brought home the top prizes from global competitions. To this day, they continue to reap global awards.
Gelo and Emman credit Veneracion as their mentor who taught them self-discipline, how to sing and produce good music in harmony, and how to be respectful and respectable citizens of the world.
She inculcated in them the group discipline that rehearsals are a must, as that is where they would learn how to make music as a group, how to make music together and become harmonious voices.
As part of UP Madrigals, Emman and Gelo not only brought home the prized awards but also learned the art of pakikisama. the Filipino concept of hospitality and fellowship, a shared feeling of solidarity and trust that imparts a sense of warmth, and an abiding feeling that we are linked in human heart and spirit. The term comes from the words paki, meaning "please" and sama, meaning "coming together for the sake of harmony.
It is a cultural trait of finding oneself in harmony with others, by offering to do chores, to exercise self-restraint not to simply do "what I want" but to do "what is right" by all members.
"I learned to cut someone's hair, or do laundry and even cook," Francisco shared.
"I learned self-discipline," Miranda added.
Gelo, PCS-LA's creative music director, sings exceptionally well, both with his voice and his hand. He is a tenor, sometimes a baritone, frequently at consulate's events, the cathedral's, and choice community events. He performed the lead role in The Romance of Magno Rubio's play staged in Singapore and also at the Ford Amphitheater in Los Angeles.
I asked the founding members what are PCS-LA's code of conduct and their acquired lessons in life. In their own words, they appear below:
1.    If there is a challenge, that is personal character development. Keep moving forward with faith in God.
2.    Put the group's interests first: grupo muna bago ang sarili ang mananaig. (Group first, before one's self-interests prevails.) The organization is bigger than the individual endeavors, although the organization is made up of individuals.
3.    Commitment is key. Individuals decide if our group's reputation is good or bad – it is not so much that the individual singer is good as it takes a lot for a choral group to sound well. Commitment is the deciding factor, as all are welcome, provided each person commits.
4.    Respect for each other – many of us are good, but we all respect one another, we even finish each other's sentences.
5.    Every member believes we are here to promote our Filipino culture, we as Filipino-Americans also contribute to our heritage of music.
6.    Rehearsals are sacred grounds. It is where the magic happens. Sometimes we are students, too, not just teachers. When we dissect the music – this is where we are making music together. This is where we get the sound, and as a choral group, it is imperative that we sing together, this is how we attain our highest level of standard or even surpassed it.
7.    There is no sight-reading, for when we do, there is no emotional investment and no nuances in the way we sing. If with more rehearsals, the clarity of sound is achieved, along with the timbre, style and pitch.
8.    Even if one is the best singer that we have, it does not exempt that singer from rehearsals, because nobody is indispensable.
9.    A professional singer gives life to the song. There is no competition in the choral group, we make music together, we are here to make the sounds together, not to pound our notes, "hindi buga ng buga" (not to simply sound off the highest volume), but to achieve together the body, the texture, the dynamics, the tone, and timbre.
10.  In solo practice, you learn the music by yourself. In rehearsals, we discover more what the music is about, we get to explore what the music can offer us, but first, a basic commitment is a must from all of us.
Gelo — aka "Tatay", the father of the group — synthesized the group's wisdom: "If it takes a village to raise a child, the same with a community; it takes a country to raise a choral group. In California, this state is a good nurturing ground for communities to come together. When we sing, we represent our country, our family, and our community. We assert our identities through these projects. That's why we can do this and we are not held back by how difficult it is, but how possible it could be. It is a testament of how [to be] positive, how giving is, and through our faith, our commitment to our craft becomes a test of character of each individual. Gaano ka katatag? How tenacious are you? How determined are you? Ganito ang tunog diyan – kaya iyan, mas mag-enjoy kami this second time. (This is the sound. We can do this. This time, this second time around, we would enjoy it more.) Why? These are gifts of the Holy Spirit and we are here to share these gifts."
* * *
Prosy Abarquez-Delacruz, J.D. writes a weekly column for Asian Journal, called "Rhizomes." She has been writing for AJ Press for 10 years. She also contributes to Balikbayan Magazine. Her training and experiences are in science, food technology, law and community volunteerism for 4 decades. She holds a B.S. degree from the University of the Philippines, a law degree from Whittier College School of Law in California and a certificate on 21st Century Leadership from Harvard's Kennedy School of Government. She has been a participant in NVM Writing Workshops taught by Prof. Peter Bacho for 4 years and Prof. Russell Leong. She has travelled to France, Holland, Belgium, Japan, Costa Rica, Mexico and over 22 national parks in the US, in her pursuit of love for nature and the arts.
Facebook Comments