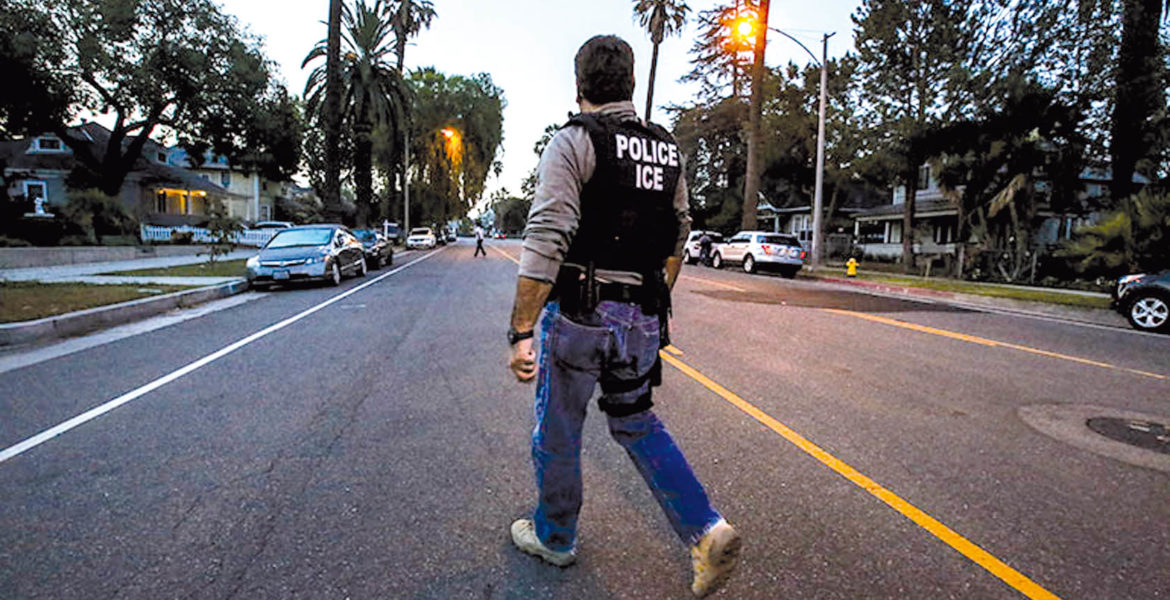 The Trump administration's drive to flush out and deport so called illegal immigrants has started to spark fear among Filipinos, according to a report from Los Angeles by ABS-CBN News reporter Steve Angeles.
While no Filipino has so far been picked up in raids by US immigration officials, volunteers working at the Pilipino Workers Center — which advocates for undocumented Filipinos — told Angeles the fear is real in the Filipino community.
It does not help that President Duterte has said he would not "lift a finger" to help Filipinos in America who would be affected. Filipino community leaders told the ABS-CBN reporter they felt bad about President Duterte's position. They contrasted it with Mexico's more sympathetic reaction to help their citizens who find themselves in trouble with US immigration.
Filipino "green card" holders or legal immigrants, as well as Filipinos with tourist or other visas, should not have problems at US airports. The controversial Trump order stopped by the courts does not include the Philippines among the seven countries covered by the travel ban.
There are, however, those who think it is only a matter of time before Filipinos start getting closer scrutiny. The increased activity of ISIS affiliated groups in the south, including much publicized kidnapping and beheading of Western victims, is giving our country unwanted international notoriety.
According to an analysis by CNN, more than 2.73 million non-immigrant and immigrant visas were issued by the US State Department to citizens of countries that were either labeled "terrorist safe havens" (the category of the Philippines), "state sponsors of terror," "nations where terror networks are based and operate" or "countries with active terror cells."
Of the 2.73 million visas issued, more than 235,000 were issued to Filipinos, the second highest number among those on the list. These people are on top of the 3.4 million Filipino immigrants already living in the US in 2013, according to the 2010 US census.
Many of us consider America a second home. Many Filipinos have relatives there. Cities like Los Angeles and San Francisco on the West Coast, New York on the East Coast and Chicago in the MidWest can make us feel like we never left home.
Indeed, Manila does not seem so far away on the other side of the vast Pacific Ocean because stateside Pinoys can follow the latest Senate hearings aired live on The Filipino Channel or TFC. They can also watch a somewhat sanitized version of TV Patrol, minus most of the gory police stories. The Pinoy community is so large that ABS-CBN has a newscast specially designed for them, Balitang America.
It is easy for a Filipino in America to forget he is in a foreign land. Everything we miss from the home country can be bought in Asian or Filipino stores, including the dried fish or "tuyo." One of my US-born grandsons loves his "stinky fish" for breakfast on weekends. We also brought adobo, Jollibee and Gerry's Grill there.
We assimilate well. Indeed, many Filipinos forget their US citizenship papers do not change the color of their skin. A blue passport does not change the shape of their nose. Yet, many start acting and thinking like they have become white Americans and look down on their fellow Pinoys, Hispanics and African Americans.
In many cases, our kababayans brought bad habits with them to the US. "Crab" mentality, for instance, is alive and well among US Pinoys.
Our lack of unity is evident in many of our Filipino-American communities. I have been told that many Filipino associations break up because two or more people feel they should be its president. Filipino associations along regional lines are also prevalent.
Ted Laguatan, a veteran Filipino lawyer in San Francisco, describes the appalling situation of how "some Filipinos, who are legally here — are so willing to denounce and demonize out of status fellow Filipinos who work so hard and send regular remittances to their families in the Philippines. These hateful selfish types are the kind who sometimes even report to ICE out of status Filipinos. Shades of the hooded 'makapilis' during the Japanese times in WW II."
Ted continues: "…some Filipinos and others in the first immigrant group who acquired their immigrant visas relatively easily expect everybody else to come to the United States like them. They express so much antipathy for those who are here illegally.
"They support harsh immigration laws and policies and even wish out of status fellow Filipinos and undocumented others to be deported. They demonize undocumented immigrants falsely, accusing them of taking jobs from US citizens or receiving welfare funds (which is not true as the undocumented are not qualified for these funds). They show no compassion for their fellow human beings.
"Filipinos who are in unlawful status often work hard at different jobs and are able to provide food, shelter, health care and education to their families back in the Philippines with their regular remittances. They also contribute so much to the Philippine economy. They deserve much respect, admiration and support."
I share the view of Ted that the Philippine government should be more committed to helping them. While many Philippine embassy and consulate personnel are well meaning, they cannot provide the needed competent expert legal advice on immigration matters.
We ought to take the stance of the Mexicans who retain expert counsel to help their citizens. After all, the T-N-Ts are part of the Filipino diaspora or overseas Pinoys who send home much needed foreign exchange for their families that benefit the country's economy as well.
We constantly laugh at the T-N-Ts, forgetting they are kababayans  who brave the unknown to give their families a better life they can't get by staying home. They are modern day heroes to their families and to the nation.
The hands-off attitude of President Duterte is unfortunate. Just because they are in the US rather than in the Middle East, they are also overseas Pinoys who help boost our economy and deserve the nation's gratitude and help. American-based Pinoys account for a third of OFW remittances.
The statement of the Department of Labor urging the T-N-Ts to just go home and they will receive assistance from the government is nothing but a press release. Of course the T-N-Ts know government cannot deliver on the promise. That's why they became T-N-Ts to begin with.
For as long as our economy is unable to address our high level of unemployment and underemployment, our people will seek greener pastures wherever they can find it. Helping them is not necessarily condoning their illegal act. As Filipinos, they have the right to seek the assistance of their government if they get into trouble. It is also in the Philippine culture to help kababayans in need.
Post Valentine joke
A cockroach's last words to a man who wanted to kill it: "Go ahead and kill me, you coward. You're just jealous because I can scare your wife and you cannot!!!"