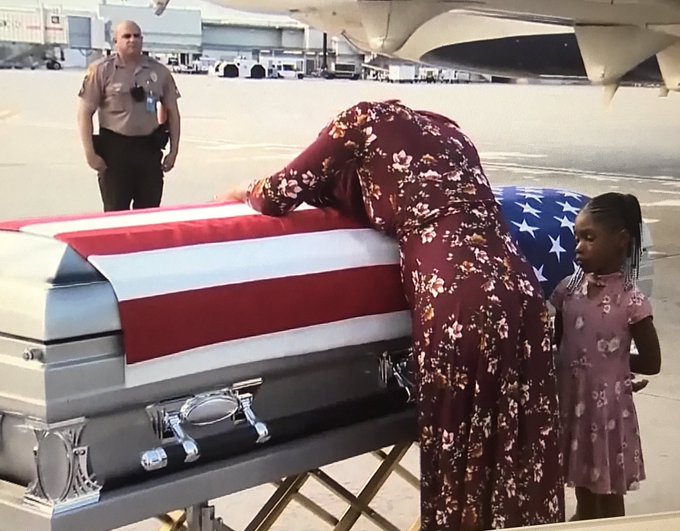 Could our American President Donald J. Trump be missing something? I mean something real. Something physical. Something psychological. I believe he is.
When after 12 days he finally acknowledged that we lost 4 precious souls in an ambush in Niger, Africa. The largest number of military deaths in one battle incident since he was sworn in on January 20th of this year, he drops the emotional ball.
These were 4 American Green Beret Soldiers. But more importantly, these were sons, husbands, brothers, uncles… and three of them were fathers. Imagine the heartbreak those surviving family members are feeling.
On Monday, October 15th, he was asked by the press if he has contacted the families of the fallen soldiers, he said he wrote letters, but was vague about whether he would call. Although he says he likes to usually do both. Then of course he tried to deflect criticism by saying Barrack Obama didn't call families. Which is incorrect.
The next day he called the family of 25 year old Sgt. La David Johnson who was the married father of 2 with one on the way. As his wife, Aunt and a U.S. Congresswoman, who is family friend, were en route to the airport to receive Sgt. Johnson's remains Trump called. Along with his condolences to the family, he said "you know that this could happen when you signed up for it. But it still hurts." It still hurts? It's just beginning to hurt for this family and will change the lives and destiny of his wife and 3 children. "BUT it still hurts". PLEASE! He never mentioned La David by name, he kept referring to him as "your guy." No Mr. President he was OUR guy. He gave his life for OUR country. After the call, his grieving widow Myeshia said. "And the worst part of it "he didn't even remember his name."
So, back to my original point. What is our President missing? I truly believe he lacks Compassion and the ability to be compassionate. Webster's Dictionary defines it as sympathetic consciousness of others' distress together with a desire to alleviate it.
You can call it the compassion gene, or the caring bone. Whatever you say when you feel people are not kind on a regular basis. Especially to others in need of a kind word or understanding.
Compassion comes from a specific part of our brain. Mary Helen Immordino-Yang and colleagues at the Brain and Creativity Institute, at the University of Southern California studied strong feelings of compassion for social and physical pain in others. The neuropsychology of the brain's compassionate emotions in relation to others has effects on the prefrontal cortex, inferior frontal cortex, and the midbrain. I truly believe our American President lacks the neurotransmitters or electricity in the brain to stimulate compassionate feelings and behavior. Sad isn't it? That this is the man who is supposed to be our country's 'Consoler in Chief'.
But we shouldn't be surprised. Trump has shown his contempt for anyone who isn't currently kissing his ring, or showering him with praise. In 2015, he said he didn't think Senator John McCain was a war hero. McCain was captured by the enemy in Vietnam, beaten, tortured and imprisoned for 5 years. Trump said "He's not a war hero. He's a war hero because he was captured. I like people who weren't captured." Wow Mr. President.
Hmmm, maybe Mr. Trump could have been nicer to the Johnson family. But he likes soldiers who DON'T get killed.