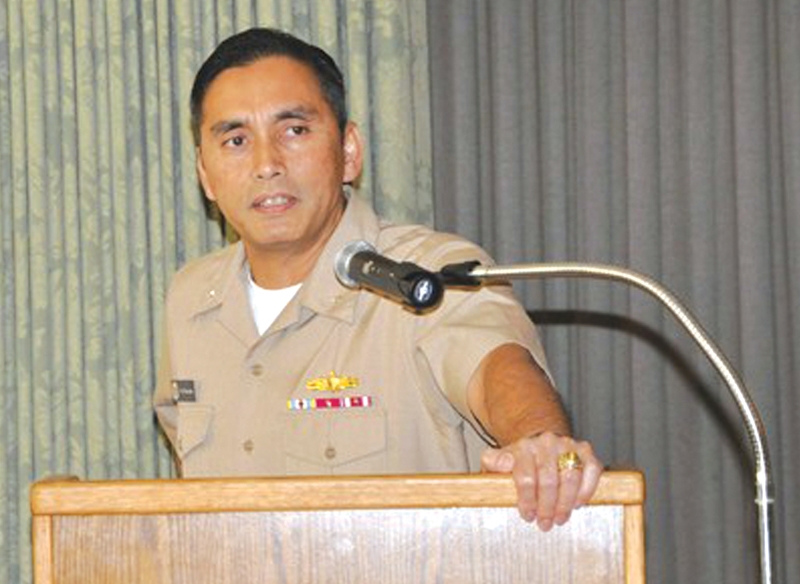 ROLE models, education, and being part of groups are the keys to success, said Filipino-American Rear Adm. Victorino "Vic" Mercado, vice director of Strategy, Plans and Policy for US Central Command.
US Central Command (better known as CENTCOM) is one of 9 combatant commands in the United States military which promotes cooperation among nations, responds to crises, and deters or defeats state and non-state aggression.
Mercado spoke recently as part of the Naval Surface Warfare Center, Port Hueneme Division's Asian American and Pacific Islander Heritage Month event at the Ventura County naval base.
The theme of his talk was about leadership, according to the Ventura County Star.
Mercado said he became the man he is today because of great leaders and Asian role models he looks up to.
Role models
Growing up in Oxnard during the 1970s, there weren't many Filipinos and Asians around. Asian or Filipino American groups didn't exist like they do today, he said.
So he sought role models and leaders in the Asian American community, people whom he could relate with.
One of those positive role models was the late great former Hawaii Senator Daniel Inouye.
A World War II veteran, the Japanese-American Inouye is well-known in the Filipino community, having championed the rights of Filipino WWII soldiers, until he passed away last year.
Inouye was a Medal of Honor recipient, represented Hawaii as a Senator for 9 terms, and will be hailed as one of the greatest Americans of all time.
"He was a lieutenant in the Army and fought throughout Europe, putting his life on the line to save others," said Mercado, according to the VC Star.
"He lost his right arm and was later awarded the Medal of Honor, the nation's highest military decoration."
Tough road
Mercado told the audience that as an Asian American, it's been a tough road. There aren't many Asian American officers and that's why Inouye was such a great role model. Inouye was a hero at a time when Asians weren't respected, Mercado said.
There are a lot of Asian Americans enlisted in the US Armed Forces. However, there aren't a lot of officers.
But don't be discouraged, he said. He's one of the few Asian American officers.
"You need to have people to look up to," said Mercado, "and there are many good Asian role models in the Navy."
Education and career
Mercado is a graduate of the US Naval Academy in 1983, Mercado holds a master's degree in Systems Technology in Joint Command, Control, and Communications from the Naval Postgraduate School in Monterey.
He's completed Air Command and Staff College, and is a graduate and a Commandant's Writing Award winner from the Joint/Combined Warfighting Senior School at Joint Forces Staff College.
He is also a former Commander-in-Chief, US Pacific Fleet, Shiphandler of the Year award winner, according to his bio.
According to the US Navy, his decorations include the Defense Superior Service Medal, the Legion of Merit Medal (2), and various individual and unit campaign awards.
A renowned warfare officer, Mercado's assignments have included being aboard USS Leftwich (DD 984), USS Valley Forge (CG 50), USS Antietam (CG 54), USS Curtis Wilbur (DDG 54), and commanding USS Decatur (DDG 73) during Operation Enduring Freedom – Afghanistan and United Nations sanctions on Iraq.
He subsequently commanded Destroyer Squadron 21 with additional duties as sea combat commander for the John C. Stennis Carrier Strike Group.
(www.asianjournal.com)
(LA Weekend June 15-18, 2013 Sec A pg.10)