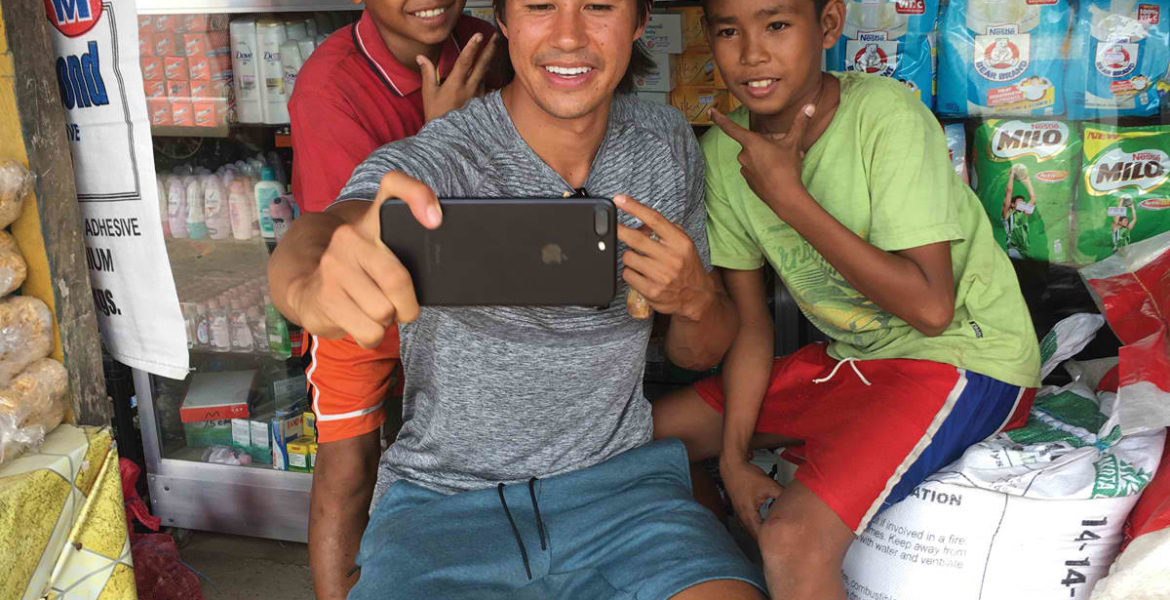 In nearly three years, Garrett Gee and his wife Jessica have traveled to 45 countries and have been on over 150 flights with their two toddlers in tow, digitally documenting the adventures along the way as the "Bucket List Family.
Their travels have been widely followed on platforms like YouTube and Instagram, as they've spent days in places such as Nepal, Greece, Indonesia, and Germany.
For Gee — a 28-year-old Utah-native who is Filipino from his mother's side — a trip that continues to be memorable was in 2016 when the family was en route to Turkey as political unrest transpired.
"We were on the plane so we weren't connected to the Internet and didn't hear anything about  the unrest in the air. By the time we landed in Turkey, the U.S. government had put an alert, like evacuation warnings for Americans to get out of Turkey as soon as possible," he told the Asian Journal in an interview. "There was no flight to get us out so we were stuck in Turkey for 24 hours during the evacuation. We were terrified and we didn't sleep that night. Just going through something that scary and emotional really made us closer."
However, the family ended up staying in Turkey for five days, during which they realized that the country "wasn't a scary place" that the media had been portraying it as.
"When people ask us 'who are some of the nicest people and cultures in the world?' We have an ongoing list but number one for… the nicest, most affectionate and loving people in the world are the people of Turkey. So that was a big life lesson to us as a family, you can't really judge people based on what you hear or what you hear in the media and the rumors. You have to find [out] and learn for yourself," Gee said.
Lessons like this are what continue to drive the Bucket List Family and the invaluable real-life education that their young children are receiving, being exposed to different cultures and customs around the globe.
From tech to travel 
Gee and Jessica had met in Russia as missionaries serving the Church of Jesus Christ of Latter-Day Saints and married in 2009 while both attending Bingham Young University (BYU) in Utah.
As a freshman at BYU, Gee founded Scan, a QR code-scanning mobile app. Four years later, the app was acquired by Snapchat in 2014 for $54 million.
"There are some weird thoughts that come into your mind when you sell your company, especially when it's for a lot of money. There's kind of a lot of soul-searching during that time," Gee recalled, noting that he didn't want to spend his earnings on material possessions like a house or car as young families were doing. "And one of the things that I realized, I had the fortune, opportunity and position for whatever I want to do next in life, like how I want to live my life, where I want to live my life, what career, what industry."
That led him to "pick an industry [he] was absolutely passionate about" — one that allowed him to pull away from sitting at a computer all day and instead use that time to spend with his growing family.
From there, the Bucket List Family was created in 2015 — an online journal (blog, YouTube, and social media accounts) that follows Gee's global adventures with wife Jessica ("Settie"), daughter Dorothy, and son Manilla. At the time, Dorothy and Manilla were 3 and 1, respectively.
The family sold all of their belongings for $45,000, which funded six months of travel to places like Thailand, Australia, Tahiti and Hawaii. The money — an undisclosed amount — Gee made from the Snapchat purchase hasn't been used for any of their trips and remains in a savings account.
"Living as a travel journalist has enabled me to all day, every day be together with them," he said.
In their travels, the family of four focuses on three aspects: adventure, culture, and service. At the end of 2015, they were able to cover LASIK surgery for five individuals and helped build a school in Nepal in 2016.
Another one of their missions is to debunk the idea that travel has to be expensive or that you need to pack a lot of possessions when going abroad.
"Along the way we figured out there are tons of things you can do to save money and be more frugal as you travel. And you don't need that much stuff, so we tried packing in a more minimalistic way to the point where now as an entire family, we just have the two bags that we travel with, which is more than enough," Gee said.
He added that vacations don't necessarily mean eating out every night, going to theme parks or on pricey tour groups.
"Our favorite way to travel is to experience something local and a lot of that means going to the smaller cafes or the farmer's market, just going to the park and doing the things that local people do like going to the beach. Most of the things are free so when you do it that way, traveling is very affordable," he said.
Now with a sizable online following — the Instagram account reached 1 million followers in late January this year — the family partners with brands to get trips sponsored, which Gee said was one of their goals once the $45,000 ran out. Last summer, the family won Disney's 30 Stays in 30 Days contest which granted them a month at Disney World, staying at a different hotel each night and exploring the four theme parks and two water parks.
In raising two young children in a hyper-connected world, the Gees hold standards about privacy, what they share, and not using technology excessively while on their travels. Instead of doing daily videos, they publish longer weekly videos, which lets them "be a regular family" and balance between documenting and savoring the present moment.
"Then we combine those [videos and photos] into one weekly video. So, you know, we don't have our cameras out too much more than the average family and then we have that kind of relief in our minds to live regular lives and keep our lives more private," Gee said.
As for safety, they are cautious about not posting in real-time.
"If we're posting on social media that we're at a current location, we always post delayed," he explained. "Nobody could ever find us or track us based on our location that we're posting online. But then that's our privacy, something you kind of give and take or you forfeit when you put your lives out there so much on social media. I think for us it's been finding that balance and drawing that line about how much we want to post on social media."
Discovering roots 
In 2017, Gee starred in a web series called "Discovering Routes," developed by ABS-CBN Global Studios, Myx TV and Go Button Media, in which he and his older sister Miristi (a yoga and dance instructor) journeyed across the Philippines to learn more about their Filipino heritage.
The idea came after ABS-CBN profiled Gee, and then reached out again and proposed doing a follow-up, documentary-style story.
"Everyone in the world has plugged into the Bucket List Family YouTube channel, and is familiar with Garrett the dad, Garrett the traveler, and Garrett the tech entrepreneur. Seeing him with his sister and interacting with his mom —  just seeing him in that space really reminds me that people are so multifaceted and that who Garrett has become today as a very special business person and travel adventurer is very largely rooted in how he was raised in his family and they're very, very wonderful people," Keesa Ocampo, executive producer of "Discovering Routes," told the Asian Journal.
The 20-webisode season, which was shot over 17 days and made its debut last September, featured stops in Coron, Palawan to visit the Tagbanua tribe and Kayangan Lake, harvesting rice at the Chocolate Hills in Bohol, and dancing to Bruno Mars' "Uptown Funk" alongside inmates at a maximum-security prison in Cebu. In the final episode aired in November, the siblings were joined by their mom, Mel Gee Henderson, in Iloilo to participate in the Pintados de Passi festival.
"Growing up really close to my Filipino grandma, I instantly felt a sense that I belonged in the Philippines. The more people I met and the more halo-halo I ate, I became convinced that the best things about me are from this culture," Miristi said.
In addition to it being his first immersive trip to the Philippines and feeling like he fit in spiritually and physically, Gee said the "one-on-one time" with his sister was "rare and unique" and strengthened their relationship.
Ocampo added, "The way that Garrett and Miristi are portrayed is exactly how they are. They're funny, they're compassionate, they are emotional and revealing, but at the same time, very adventurous and mischievous like that's exactly who they are. And on the part of the network, it's such an honor to be able to develop a very trusting relationship with them to create something that's entertainment but also very real."
As for a Philippines trip for the Bucket List Family, Gee said it's bound to happen, but it wouldn't be treated like any other trip.
"A lot of people ask us, we've been to 45 countries so far away, why haven't we been to the Philippines? The honest truth is because the Philippines is such a special place to me. I didn't want to make it just like one of the many countries we've visited. I wanted to give it special attention and special planning and special preparation. We're just waiting for that special time when we as a family can go and spend a really long time there," he said.
2018's bucket list
The family recently welcomed a third child, another boy in February.  Despite plans to find a house for the brief period that Jessica can't travel, Gee remarked that he doesn't anticipate their jaunts to wind down.
"We know that we're going to continue to travel because it's just become a part of who we are especially as a family," he said.
The newest addition to the "Bucket List" family was named Calihan ("Cali" for short), and already has an Instagram account with over 158,000 followers, as of this writing.
This past January, the family uploaded a close to 30-minute video answering commonly asked questions from followers, including what their 2018 will look like (Central America trips and trapeze lessons are among the plans) and how they'll educate their kids as they approach school age (leaning toward traditional schooling).
However, the parents agree that nothing beats what the children are learning through world experience.
"I wish every parent could be able to let their kids experience travel because during these developmental years, they're coming into a space emotionally and mentally, and it's just so cool that they're growing up not really understanding the differences of countries and nationalities. To them, it's just one big open world. I think it's been really special for them," Gee said.
At not even 30 years old — having achieved success in the tech industry and traveled to 45 countries — what else remains on Gee's "bucket list"?
"Now I think the next chapter needs to be me using those opportunities and gifting them to others, sharing them with others and hopefully enabling other people to do the same and make the most of their life," he said. "Just trying to serve others, you know speaking out humanitarian opportunities and charity opportunities. And then also hopefully inspiring others and empowering them to follow in our footsteps."
–
Photos courtesy of Garrett Gee/the Bucket List Family and Discovering Routes