These days, Maria Lourdes Baltazar — more often referred to as "Girlie" — spends a good amount of her time working at the Philippines' presidential Malacañang Palace.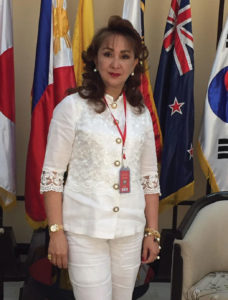 However, she did not grow up having political ambitions, despite being surrounded by it for a good part of her life.
"It's a lot of phone calls and answering emails.  And as much as I could, I would refrain from meeting people in mornings so I can focus on what has been the day before," Baltazar said of  her daily activities during a recent interview with the Asian Journal.
Born in Manila to an Ilocano mother and Visayan father, Baltazar was raised in the Zamboanga del Sur town of Molave which was founded by her grandfather, Bernardo Guillen.  Her father, Paciano Guillen, served there as mayor for nearly twenty five years. 
From Molave, she found herself in Cebu's Colegio de la Inmaculada Concepción for high school.  That was followed by university in Manila where she studied nutrition and graduated a dietitian, a profession she didn't really practice until becoming caterer to Malacañang under former President Cory Aquino, she admitted.  
But that wasn't the moment that drew her into the political sphere.  That moment came much later at the invitation of a close family friend by the name of Rodrigo Roa Duterte.
"They were very, very good friends," said Baltazar of the current president and her late husband Eulogio Baltazar, a graduate of the Philippine Military Academy who eventually rose through the ranks while assigned to Davao City.  
Her husband served as the city's commanding officer back when it was dubbed the country's "murder capital" — about the same time Duterte became mayor and vowed to make it a safer place.
For Baltazar who took on a rather traditional role of wife and eventually mother, she recalled following her husband everywhere he was assigned to, all while working as a jeweler on the side — manufacturing, exporting, and traveling to the United States.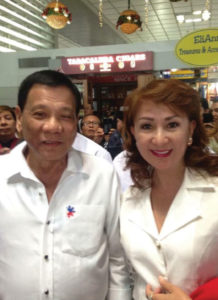 The 1970s and 1980s allowed the Philippines to be one of the few countries able to export jewelry to the states tax free along with India, Thailand, and Hong Kong, said Baltazar.  She took advantage of the situation, traveling back and forth between Manila and New York where she spent countless hours selling jewelry to hospital staff from morning, afternoon, and midnight shifts.
"I was working like crazy. I was like a walking store," said Baltazar, adding that the work was enough to give her family a comfortable life.
"The midnight shifts were the big time buyers and clients because they had extra pay for that slot," she shared, adding that many of her clients often allotted the extra income just for their jewelry purchases.
Baltazar and her husband first met Duterte in Davao where they stayed for over 20 years — way before Duterte became the country's president, and even before he became the city's mayor.
"President Duterte was only a fiscal then when they became good friends," shared Baltazar, adding that back then, fiscals were chosen rather than raffled like they are today.
"Then being good friends with Duterte, [with] all of these cases, he would tell his soldiers, 'Oh, drop it off with Digong'," Baltazar said, laughing reminiscently.  Digong is one of Duterte's many nicknames.
Just as her husband reached retirement, he then went back to work as the Department of Environment and Natural Resources provincial director in Davao Oriental where he vowed to be a stalwart of environmental issues — especially issues of illegal logging and illegal mining.
But in September of 2009, Eulogio was gunned down while eating at a restaurant.  Authorities began to suspect that the assassination was connected to his campaign against illegal logging and other sorts of environment damaging problems in the area.
Her husband was then buried at the famous Libingan ng mga Bayani, or Heroes' Cemetery, a final resting place for many of the country's military personnel, martyrs, and heroes.  He was given full military honors.  Also in attendance was mayor Duterte.
The tragic death of her husband naturally had a big impact on Baltazar who after happily spending time alongside her husband and his duties was suddenly presented with a new reality.
"After that, I really got lost," shared Baltazar.  "I didn't know anymore where I belonged."
Following his death, Baltazar continued to spend years working and traveling between the Philippines and the states, whilst still figuring out where to settle.
All the while, Duterte tried convincing her to stay home and serve the country.  Initially brushing it off, she admitted that the question of how she would be able to serve the country often came to mind.
"Of course in my prayers, I would be asking myself, 'How could I serve my country?'" she shared.  "But there was no answer yet."
That is until Duterte won the election and again called her up, sounding more convincing — offering her a position that would allow her to serve the country while still holding her dual citizenship.
Malacañang, Duterte, and "political will"
At the Palace, Baltazar works close with the country's national defense and military, bringing her full circle to her time spent alongside her husband.  Work now includes duties from meeting with foreign investors, to making sure projects like the development of the V. Luna General Hospital (also known as the Armed Forces of the Philippines Medical Center), or the modernization of the country's Armed Forces go smoothly.
The transition, she shared, wasn't too bad having been raised by a mayor as a father.
Having known Duterte from his rise to Davao's mayor of 30 years, and eventually the Philippines' 16th president, Baltazar said not much has changed about the controversial leader.
"You know, if there's anyone in the government — and you can very well say who has power, who was been bestowed to have that power and authority, and you would expect people to change — this one person didn't change at all," Baltazar said of her friend.  
"What you see is what you get.  And whoever he was before, it's still the same right now.  What changed is only the title," she added.
Since campaigning for office, Duterte has reached international spotlight with supporters hailing him as a political get-things-done rockstar, and critics seeing him as a notorious human rights violator.
"He is so passionate with work, he hates corruption, and he hates drugs," said Baltazar of Duterte who has become widely known for his controversial war on drugs.
He's also captured headlines through his brazen comments and actions towards women, which he's before stated was just his style.  Some mind it, and others don't.
"Well, that never changed too," continued Baltazar, again laughing.  "He's always been like that."
Other people Baltazar said hasn't changed?  National Defense Secretary Delfin Lorenzana.
"Still the same humble, sincere, passionate with work," said Baltazar.
Also unchanging is Customs Commissioner and long-time policeman Isidro Lapeña who her family also has known since the early Davao days.
But most have changed, she said.  
"You can tell.  Ay nako.  People that use to be very approachable.  Now?  Gosh.  To get an appointment, to get a minute just for a phone call, you can't even get to them anymore," she said.  "Power has gotten into their heads."
Of the challenges experienced by the current administration, big is the seemingly long standing issue of corruption.
"Since it involves people who are monied and powerful, no matter what you do, it gets to a dead end," said Baltazar.  "And you know, it's frustrating."
She gave the example of the nation's purchasing law in which explained corruption starts right at bidding.
"No matter how you convince the end user to choose the one with integrity and all that.  Ay nako," she said, using the Filipino expression of frustration.  The lower bidder is not always the best choice, she added.
Another issue she took was that of diminishing patriotism and integrity which she said could especially be seen in the country's younger generation.
"Even kids — they do understand what is lagay.  Can you believe that?" she asked.  
She added, "Unlike before when we were kids, we would kill for the president.  But look at people how they talk bad about the president — we only have one president who is not even going to last long."
"Why don't we all just support and be united for our country?," she continued.  "Ay nako.  Wala pa rin (Still no)."
She pointed out how schools in the Philippines no longer require kids to recite the Panatang Makabayan, or the country's equivalence to the U.S. Pledge of Allegiance which too has has seen its share of problems.
"We've lost it somehow along the way.  We should put it back," she said.
But there are of course many positives going on in the country, said Baltazar.
Among them is the administration's thrust to build more infrastructure and encourage new developments, as well as new modes of transportation.  The Philippines, she said, had been idle for too long, getting left behind other ASEAN countries.
Another big positive she said was the fact that the Philippines is now looking to tap into its own natural resources such as natural gas and minerals.
"We're rich in natural resources.  If only people don't steal it, we really have enough.  We have more than enough," said Baltazar, adding that the Philippines is one of the top gold producing countries in the world.
Then there's the president's dream of transitioning into federalism through his Consultative Committee (ConCom), which she said would be beneficial especially for the provinces of Visayas and Mindanao.
"Ever since, we've always been centralized.  It's always Manila.  And people — me, being from Mindanao — I can see that.  And I can really feel that we are so neglected down south," shared Baltazar.
Speaking again of Duterte, Baltazar further praised his leadership style which she said and as many of his supporters like to highlight, has left the Philippine streets quieter, safer, and free of alleged hoodlums walking about.
"Pwede naman pala (It could be done after all)," said Baltazar, a line often said by many of the president's supporters.
"Why didn't we do it before?" she asked. "Political will."
Life after Malacañang
Asked of her ambitions after leaving the Palace, Baltazar said she sees entering retirement as her next step.
"I'm not the political person," reaffirmed Baltazar.  "I'm speaking from being a government servant.  That's just about it.  No ambitions to run for any position.  I'm glad that finally that question of how to serve my country is here."
"I would happily retire as a grandmother.  I will do my apostolic job," she added, laughing.  She praised her three kids as being all hard working, just like mom.  All were able to study at some of the Philippines' top schools, as well as abroad in England.  
"And I would go back to farming," she added, saying she had inherited a nice farm in Zamboanga del Sur.  
"And maybe travel a bit.  Enjoy the retirement."