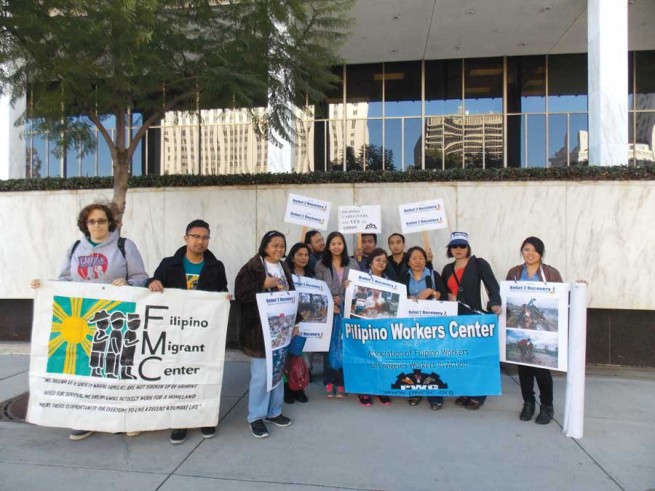 Urge Aquino to send formal request to Obama
LOS ANGELES – Filipino Migrant Center (FMC), Pilipino Workers Center (PWC) and Asian Americans Advancing Justice-Los Angeles (Advancing Justice – LA) joined forces outside the United States Federal Building in Los Angeles on Wednesday, December 4, to appeal for the granting of Temporary Protected Status (TPS) for undocumentted Filipinos currently residing in the United States, in light of the massive destruction in the Philippines because of the deadly typhoon.
Temporary Protected Status (TPS) is a temporary humanitarian immigration relief, which grants the nationals of designated countries living in the United States, who are unable to return to their countries due to armed conflicts and natural disasters.
TPS lasts for a period of 6 to 18 months and can be extended if conditions continue to support the designation.
Typhoon Haiyan (aka Yolanda), one of the most powerful storms in the world, hit the Philippines on November 8, bringing sustained winds of 195 miles per hour at landfall.
It was estimated that 6.9 million people were affected by the storm, displaced with no food and shelter. The death toll has reached 5,759 as of press time, according to Philstar.com.
Relief 2 Recovery
"This is a broader campaign. We all come here to show support and call upon the US government to approve TPS for Filipinos already here in America to help the Philippines recover and rebuild from the natural disaster," PWC Executive Director Aquilina Versoza said.
By granting TPS to Filipino undocumented immigrants (including tourist visa holders), Filipinos will be able to stay and work legally in the US (without fear of deportation), in order to aid their families in the Philippines, who were affected by Typhoon Haiyan, Versoza added.
Fil-Am organizations signed the Relief 2 Recovery letter to urge Philippine President Benigno S. Aquino III to send a formal request to the Obama administration for TPS of Filipinos in the US so they may be granted work authorization and protection from deportation.
"With the rest of the organizations and solidarity, we decided to sign a petition letter to the Aquino administration to take actions on TPS issue," Tiffany Panlilio, Advancing Justice – LA childhood arrival legal advocate, said.
PWC Associate Director Lolita Andrada-Lledo says that there are currently more than 1 million Filipino undocumented immigrants living and working as caregivers and nannies in the US, who may be eligible for TPS.
Eligibility for TPS
According to US Citizenship and Immigration Services, a person may be eligible for TPS if he fulfills the following requirements: a person must be a national of a designated country for TPS or a person without nationality,who last habitually resided in the designated country; must file for TPS status during the initial registration period; must demonstrate continuous physical presence in the United States; and must be a current resident in the United States.
There are eight countries currently designated for TPS: El Salvador, Haiti, Honduras, Nicaragua, Somalia, Sudan, South Sudan and Syria.
(www.asianjournal.com)
(LA Weekend December 7-10, 2013 Sec A pg.1)