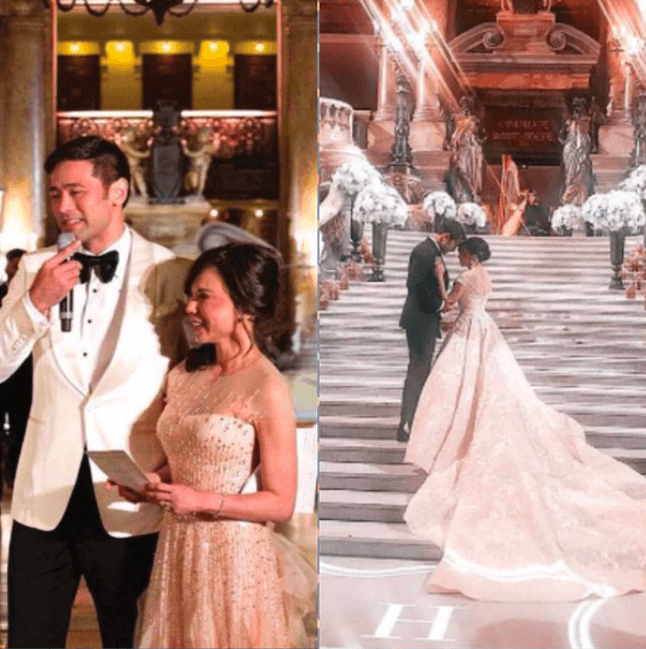 There's a well known proverb in Tagalog that's been said so many times yet its meaning still rings true: "Sa hinaba haba ng prusisyon, sa simbahan din ang tuloy." Loosely translated in English as, "no matter how long the 'road' seems, it'll still lead to one destination: the church."  Pardon my poor translation of the phrase but you get what I mean. If not, let me tell you about a couple who serves as a living testament of this proverb. They are no other than Hayden Kho and Vicki Belo.
I've known Vicki since 2005. She was Reflections' Woman of Year in 2006, a Fil-Am recognition event that I have been running for twenty years. She is known to many as Dra. Vicki Belo, the famous cosmetic surgeon and the woman who captured the heart of celebrity hunk Hayden Kho, who is now a born-again Christian and reportedly training to be a pastor.
Quite the transformation from being a former celebrity and a controversial figure (for not-too-good reasons) to a man who, and I quote, "gave [his] full commitment to the Lord (Jesus Christ)." Now it is not only to his Lord that he gave his commitment to. He recently committed himself to be a husband to Vicki, his girlfriend of 12 years and mother of his daughter Scarlet Snow.
The couple recently tied the knot in Paris following their civil wedding in the Philippines.
Around 50 local celebrities, most of them endorsers of Belo's beauty empire, flew to Paris to attend the event that was said to be the "wedding of the year." It was reported that the couple spent a total of P80 million for their grand celebration.
PEP online reported, "Among these are the P1.7-million first-class flight of Belo, Kho and their daughter Scarlet Snow to Paris; the P83,000 "donation" to their ceremony church; the two-day rent for the Palais Garnier's Grand Foyer at P11.6 million; Belo's one-week stay at the Ritz hotel's Coco Chanel suite at P1.35 million per night; the bridal gowns by Michael Cinco at P8 million; the rented chauffeur-driven luxury cars for wedding guests at P1.76 million for 48 hours; and the five-course meal at the reception starting at P16,000 per head for 250 guests."
The hefty price tag may feel like an exaggeration (and downright impractical) for some people but to family and friends (myself included) who have witnessed all the dramas and tribulations that these two have endured, it's the BEST way to mark the new chapter of their romance.
It was such a beautiful wedding as told by their guests. It may not be your typical marriage since the couple already has an adorable daughter to begin with but their relationship is no different from any typical "hanging by a thread" kind of relationship. It was marked with controversies, lies and infidelity.
I remember how these two started out as one of the most unlikely couples in the industry. For one, they came from different worlds – Vicki was formerly married with two kids, a successful business owner and a multimillionaire cosmetic surgeon and is many years Hayden's senior – who was a struggling doctor at the time and is from a middle-class family in Marinduque. Hayden was a former employee of Vicki Belo Medical Group when they fell in love and became lovers against all odds. One of the odds was the disapproval of Vicki's daughter Cristalle. Yet love prevailed and the two officially admitted their May-December romance in 2005.
In 2008, rumors surfaced that the two have broken up over a third-party issue, followed by the greatest test that they ever had to face which was the Hayden video scandal that also caused him to lose his medical license.
Though the public only caught wind of that specific break-up, some sources said that the two have broken up and made up so many times. The last break up was said to be the cause of Hayden's several suicide attempts. The relationship spiraled down and dragged both of them. You could say that it has to do with their age gap or Hayden's sudden fame and fortune when he tried showbiz, but nonetheless, it was a bumpy ride that they both had to hit the brakes on.
It was in 2013 that Hayden found Christ or, as he kept saying in his interviews, "Christ found [him]." In an episode of The 700 Club, Hayden shared his testimony of how he hit rock bottom and sought Christ through the guidance and teaching of a Christian evangelist named Dr. Ravi Zacharias. It was one of those moments when he saw the futility of his life and decided to commit himself to following Jesus Christ. He took a sabbatical from the limelight; in 2014 his medical license was reinstated, and a couple of years later, he was back into Vicki's arms once again. In 2016, the two officially introduced their uber-cute and doting daughter Scarlet Snow, whose name was taken from a bible passage in Isaiah.
Now that Hayden and Vicki have promised to love each other as husband and wife, I couldn't help but get emotional as I recall what they had to go through before they finally reached their destination. Like what our grandfathers would say, "sa simbahan din ang tuloy."
To Hayden and Vicki Belo-Kho, I have nothing but best wishes to you both. It was a bumpy ride alright but it eventually led to the fairytale wedding you both deserve.
***
Monet Lu is a Marikina-born, award-winning celebrity beauty stylist with his own chain of Monet Salon salons across Southern California and Las Vegas, Nevada. Ultimately, Monet is known as an all-around artiste who produces sold-out fashion and awards shows as well as unforgettable marketing campaigns. Monet is also the founder of the revolutionary all-natural beauty products such as Enlighten, your solution to discoloration . To contact Monet, please visit www.monetsalon.com or email him at monetsalon@aol.com