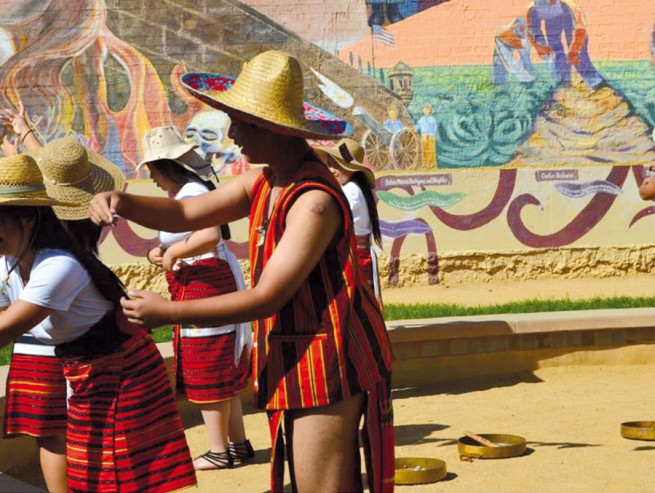 LOS ANGELES  -— Honoring the life and work of labor and civil rights leader Larry Itliong, the City of Los Angeles, Pilipino Workers Center, Larry Itliong Day Committee, FilAm Arts and the Los Angeles Neighborhood Land Trust will present the 2nd Annual Larry Itliong Day Parade & Festival on  October 22, 2016, from 10am to 2pm on 125 Loma Drive and Unidad Park at 1644 Beverly Blvd, Historic Filipinotown, Los Angeles, California. Free Admission to the event is made possible by event sponsors and a grant from the City of Los Angeles Department of Cultural Affairs (DCA) Arts Activation Fund.
In 2015, Gov. Jerry Brown signed AB 7 which proclaimed to annually observe every 25th of October as "Larry Itliong Day" throughout the State of California; and earlier in 2013 - AB 123 the Filipino American Farmworker Bill requiring public schools to teach about Itliong's life, work and vast contributions to California's civil rights and labor movement. By signing AB 7 and AB 123, Gov. Brown guarantees that Itliong's legacy of fighting for social justice and equality will be properly honored for generations to come. Both AB 7 and AB 123 was authored by Assemblyman Rob Bonta (D-Oakland).
"The accomplishments and contributions of Larry Itliong should be properly memorialized within the history and culture of the United States of America. Larry Itliong deserves proper recognition for his numerous sacrifices in the name of justice and the suppression of severely inadequate working conditions," AB 7 stated.
The bill also encourages all public schools and educational institutions in California to "conduct exercises remembering the life of Larry Itliong, recognizing his accomplishments, and familiarizing pupils with the contributions he made to this state."
Itliong, originally from San Nicolas, Pangasinan, migrated to the United States in 1929 at the age of 15, and worked as a migrant farmworker in Montana, South Dakota, Washington and California, where he saw the plight of other labor workers, especially Filipinos.
As a leader of the Agricultural Workers Organizing Committee (AWOC), Itliong is remembered for igniting the California farm labor movement in 1965, organizing an eight-day strike with 1,500 Filipino grape workers in Delano. The boycott called for increased wages and better working conditions for the farmworkers.
"Larry Itliong was one of the greatest labor organizers and leaders in California history," Bonta said in a statement. "He was a hero not only to the Filipino American community, but to all Californians and Americans who fought and continue to fight for socioeconomic and racial justice in our state and nation."
Dolores Huerta, who was recently inducted into the California Hall of Fame as an iconic social justice and labor rights activist, stated that she did not want to miss this historic opportunity to support AB 123. "The students of California need to learn that the sacrifices made by both the Filipino and Latino workers benefitted all Californians. AB 123 will ensure that the history is taught accurately."
Larry Itliong was a labor organizer and a giant in California farmworker union history. Led by Itliong, AWOC was the first to strike on September 8,1965 for improved wages and working conditions in Delano, igniting the great Delano Grape Strike the watershed movement of California's labor history. Initiated, strategized and invited by Itliong, AWOC and National Farm Workers Association (NFWA), led by Cesar Chávez and Dolores Huerta, converged to form the United Farm Workers Organizing Committee (UFWOC) with Larry Itliong and Cesar Chavez serving as co-directors, and the rest of the six-member leadership of UFWOC filled up with one more Mexican and the remaining three spots given to Filipino Americans: Pete Velasco, Andy Imutan and Philip Vera Cruz.  UFWOC led to the formation of the United Farmworkers of America (UFW).
The parade and festival will feature cultural performances and exhibits, a free film screening of the seminal documentary on Itliong titled: Delano Manongs by Emmy award-winning film-maker Marissa Aroy, a re-enactment of the Great Delano Grape Strike, and the inauguration of 'The Salubong' or 'El Encuentro' (when Larry D. Itliong and his fellow Filipino American farmworkers merged with Cesar Chavez and his fellow Mexican American farmworkers on September 16, 1965). This unprecedented unity across ethnic lines led to one of the greatest labor movements in American history; which will be highlighted in a street parade with "Higantes" (giant paper maché puppets) of Itliong and other historical, heroic and mythical creatures as well as figures directly sourced from the Filipino mural at Unidad Park in Filipinotown. There will be children's games and activities, a Filipino American Art exhibit (curated by Edwin Ramoran), a "Dambana ng Bayan" or Community Altar (the public is invited to contribute items and messages to their dearly departed at the altar), Filipino food, free Jeepney rides and a special guest keynote speaker.
The festival will also highlight civic engagement activities at the main festival grounds on Loma Dr with voter education, a Health Fair, Empleo Pilipino, interactive displays on the California Domestic Workers Bill of Rights campaign; and at Unidad Park (site of Larry Itliong Day of Service), with free tours of the mural, community garden and park.  The Larry Itliong Day Parade and Festival invites the public to participate in the celebration. To get involved as a food vendor, a sponsor, walk in the parade or enter your own contingent, obtain a booth, and become a volunteer, contact Eliseo Art Silva at eliseoart@earthlink.net or call Perla Santos at 213 268 3222.