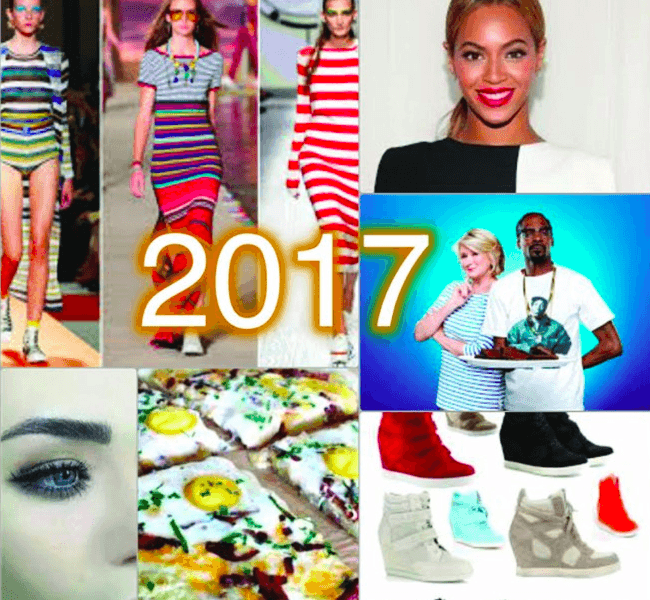 The year 2016 has been an interesting year in terms of fashion and lifestyle, which also means the fashion icons and newsmakers of 2016 had their moment. 2016 was a like retro year as it reeked of countless throwback trends. Our Instagram feeds were filled with people sporting chokers from the '90s, pins and patches, faux fur clothes, sock boots, bomber jackets and an 80s showdown of off-shoulder tops and dresses.
Now that we have said farewell to all of that, let's talk about who and what are trending in 2017, not to mention who and what are no longer relevant! Well, I read up and gathered some predictions for what's in and what's not this year. So far, it's looking to be a quite adventurous preview.
Celebrities and public figures
Obviously, Barack and Michelle Obama are out of the White House, but at least, they will not be out of Washington. Donald Trump will be our president and as always, a Twitter-favorite. Despite the Obamas' "irrelevance" this year, it's still highly likely for the Obamas to offer President Trump sound advice – that hopefully would not fall on deaf ears.
The Kardashian Saga – or their reality show at least – was in last year but it would be out this year and would be overtaken by cooking reality shows. One of which is VH1's "Martha and Snoop's Potluck Dinner Party." Sources say it is predicted to be a blockbuster as HGTV's Fixer Upper, starring the 2016's "dynamic-and-very-much-in couple" Chip and Joanna Gaines.
Entertainment
The Queen is IN! Beyoncé is definitely in, and thanks to her latest Grammy-nominated smash album "Lemonade," Lady Gaga is out as an outré disco queen.
The Enterprise says, "Streaming, meanwhile, is even more in than cable, because it's cheaper, it's wireless and it has 'Stranger Things.' ("Stranger Things" is in.) Netflix is of course the in streaming service, but Amazon Prime is catching up, or at least it was until it put on that awful Woody Allen show. Woody Allen is out. (Sorry, Woody.)"
Food
I hear that the fusion-style restaurants will spread its 'delicious' wings and land into the breakfast market. The food creators will be more experimental with their breakfast entree and offer us more than traditional omelets and breakfast burritos. Ingredients will be a mixture of Asian, Middle Eastern and African palettes.
Speaking of ingredients, some predict that the battle over sugary soda is going to be big in 2017, and since food waste had been an issue since forever, advocates in 2017 will continue searching for a way to make reducing food waste as automatic as recycling is in many places now.
According to an article I read, unconventional cuts of meat, such as oyster steaks or Merlot cut steaks, will be a key menu trend in 2017. Another article says that the quest for a meatless burger that actually tastes good will continue. In fact, a "bleeding" veggie burger was the latest effort made by Impossible Foods and is expected to sell out in Whole Foods in minutes this coming fall.
With all these stomach-grumbling predictions, foodies like me expect 2017 to be one heck of a food trip!
Beauty
2016 was a year of "less is more." I'm predicting that this coming year would be quite the contradiction. It's the year of color, bold and big hair and party looks from 1999 to 2016! And speaking of less: We will definitely be seeing less of tattoo eyebrows and faux freckles to give way to…(drum roll) "mircroblading," a new type of tattooing that gives you the appearance of thick eyebrows!
Fashion
If 2016 is year for hashtag #throwbackootd, then this coming year would be like an '80s resurgence.
A Washington Post article says, "It's less about the actual look of the '80s, and more about some of the ideas, So, for example, we can expect to see a lot of voluminous clothing with bigger proportions. Instead of skinny jeans, think slouchy trousers. Instead of ultra-tailored outerwear, think cocoon-like, floor-grazing overcoats."
I also read that Stripes are going to be in this 2017. According to Roopal Patel, fashion director of Saks Fifth Avenue, "Stripes [are] the equivalent to what a white t-shirt used to be back in the day. They have nine lives…" Sneakers will continue to be hip this upcoming year. I've no doubt in my mind that shoe designers will come up with different styles for every occasion. One cannot have too many sneakers, am I right?
There you have it; what's in and out this year! Yet, just like any prediction, we give room for other possibilities. Who knows, it could be the opposite of everything I just said. Either way, it's fun to watch how everything from lifestyle to politics change—or don't—every year.
All I can say is I look forward to what 2017 has in store for us. Join me as I welcome 2017 with a bang!
***
Monet Lu is a Marikina-born, award-winning celebrity beauty stylist with his own chain of Monet Salon salons across Southern California and Las Vegas, Nevada. Ultimately, Monet is known as an all-around artiste who produces sold-out fashion and awards shows as well as unforgettable marketing campaigns. Monet is also the founder of the revolutionary all-natural beauty products such as Enlighten, your solution to discoloration . To contact Monet, please visit www.monetsalon.com or email him at monetsalon@aol.com