THE hottest and latest trends and innovations in specialty food and beverage hogged the spotlight at the 2018 Summer Fancy Food Show, held June 30-July 2 in New York and dubbed as "the largest specialty food industry event in North America."
More than 2,600 exhibitors featured more than 200,000 products from across the globe. The specialty food industry reported an income of $140.3 billion in retail and food service sales last year, according to a new report from the Specialty Food Association and Mintel International.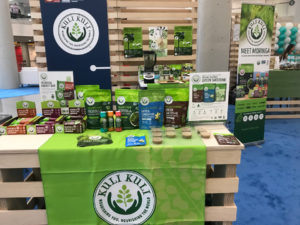 This growth spurt is attributed to the increase in interest and subsequent sales in fresh, refrigerated, frozen and plant-based categories.
"Plant-based is so enormous that it's almost not even a trend anymore; it's more of a movement at this point," said Denise Purcell, head of content at the Specialty Food Association. "Protein itself is still expected to be a big consumer driver. Jerky and meat snacks look like they're still going to continue to do well."
The SFFS has become famous for introducing new flavors and new formats of food.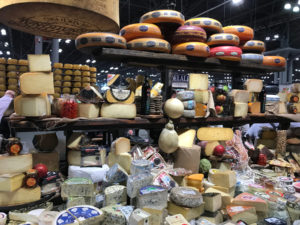 Plant-based foods are growing from a trend into an overall movement and walking around the packed Javits Center proved that this movement is gaining traction across different categories.
Among the most prominent plant-based products showcased were cassava and its byproducts, from cassava chips to cassava leaves chips and cauliflower and its many iterations from cauliflower rice to crisps and baking mixes. More cauliflower-based packaged products are hitting retail shelves, and are hailed as a carb substitute and beneficial source of vitamins and nutrients.
Also among the 2018 Trendspotter Panel picks are "Foods from the Philippines," describing more packaged products using authentic ingredients and flavors.
Mansi, led by Charles Medenilla, exhibited the new packaging of its product calamansi juice.
"We just launched this new look a few weeks ago and we're now up and down New York City with new stores and distributors. All the mainstream stores have it already like Albertson's, Safeway, Fairway," Medenilla shared.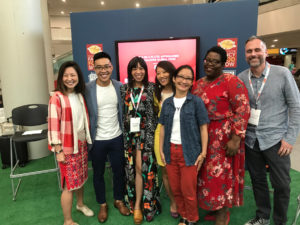 The panel also mentioned CJC Pit Barbecue, which highlighted its Lechon sauce, a traditional sauce made from pork liver, vinegar, breadcrumbs, and spices.
For years now, companies such as Profood International and Sun Tropics have been joining the SFFS to promote various Philippine fruits and juices.
The top five specialty food categories with the highest dollar growth from 2015 to 2017 were water (up 76%), rice cakes (64%), refrigerated ready-to-drink tea and coffee (63%), jerky and meat snacks (62%) and shelf-stable creams and creamers (62%).
"Beverages as a collective category are growing even faster than food categories, according to our new research," Purcell said. "At the show, we're seeing sparkling beverages and functional beverages especially."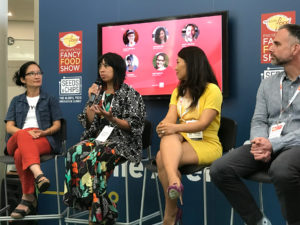 Among those we saw were sparkling coconut water drinks from various companies and like in previous years, we noted that most of them source their coconuts either from the Philippines, India or Thailand.
There were also sparkling cascara infusion, sparkling yuzu and a thousand and one versions of infused, and sometimes carbonated water.
We also noted an increase in the number of companies promoting products using ginger and turmeric, from bottled drinks and cocktail mixers to candies to tea. 
Then, there's moringa, more commonly known as malunggay in the Philippines. Moringa products were all over the Javits Center, from tea to chips, power bars, smoothie mixes and dietary supplements.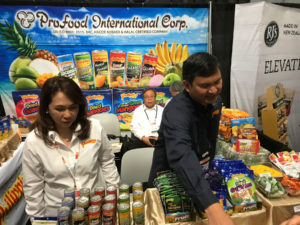 Moringa continues to be an emerging superfood trend in 2018 and consumers have finally begun discovering this amazing superfood moving the concept from niche to mass market.
Frozen moringa leaves, which are sold in various Asian markets, are essential in Filipino cuisine as it is used in dishes such as ginisang monggo and chicken tinola.
One company came up with ginger drinks infused with other flavors. Among the more interesting combinations that I tried and liked were the ginger mango turmeric, ginger calamansi mojito and ginger apple moringa.
The Korean pavilion had a couple of exhibitors that showcased products with calamansi as main ingredient such as juice in tetra packs and diet jelly. One of them said that they source all their calamansi from the Philippines.
A November 2017 Business World article explained that "calamansi is the latest food fad in South Korea, as health-conscious Korean women believe the Philippine lime is a good source of Vitamin C, and perfect for detox." Aside from juice and tea drinks, there are calamansi-flavored cookies and Peppero biscuit sticks sold online and in supermarkets in South Korea.
Also making it to the Trendspotter Picks are sustainability minded products as producers continue to bring products to market that incorporate principles of sustainability, and environmental and ethical awareness.
Solving for Sustainability: The No Bullsh*t Kind
Early this year, the Specialty Food Association entered into a new relationship with the Milan-based Seeds&Chips, an organization known for providing a forum for food innovators and startups to connect and collaborate. The organization produces the annual Global Food Innovation Summit, which draws thousands of speakers, exhibitors and visitors to Milan from around the world.
Ayesha Vera-Yu, co founder of Advancement for Rural Kids, met the organizers at the summit this year and discussed how her organization has been making an impact in the rural areas in the Philippines.
They invited her to curate and moderate the group's panel on sustainability, addressing challenges such as the growing world population, climate change, and the scarcity of resources.
Vera Yu asked the panelists what their thoughts were on food sustainability, saying that American consumers expect low prices as a result of government subsidies.
"We need to tell the story of why [good food] is costing more money and why you should spend more. It is a problem unique to the US that people are willing to pay more for higher quality products except when it comes to food," Vaknin shared.
She also suggested that corporations should put "harvest dates" on products rather than expiration dates to let consumers know when their food was harvested, while adding that a lot of food wastage happens when stores dispose of products as soon as their expiration dates occur.
Another panel, moderated by Paolo Espanola of Hidden Apron, was called "The World on a Plate: Approaches to Localizing Global Food." It gathered chefs like Yana Gilbuena of Salo Series and author of the upcoming cookbook No Forks Given and Caroline Shin of Cooking with Granny.
Facebook Comments