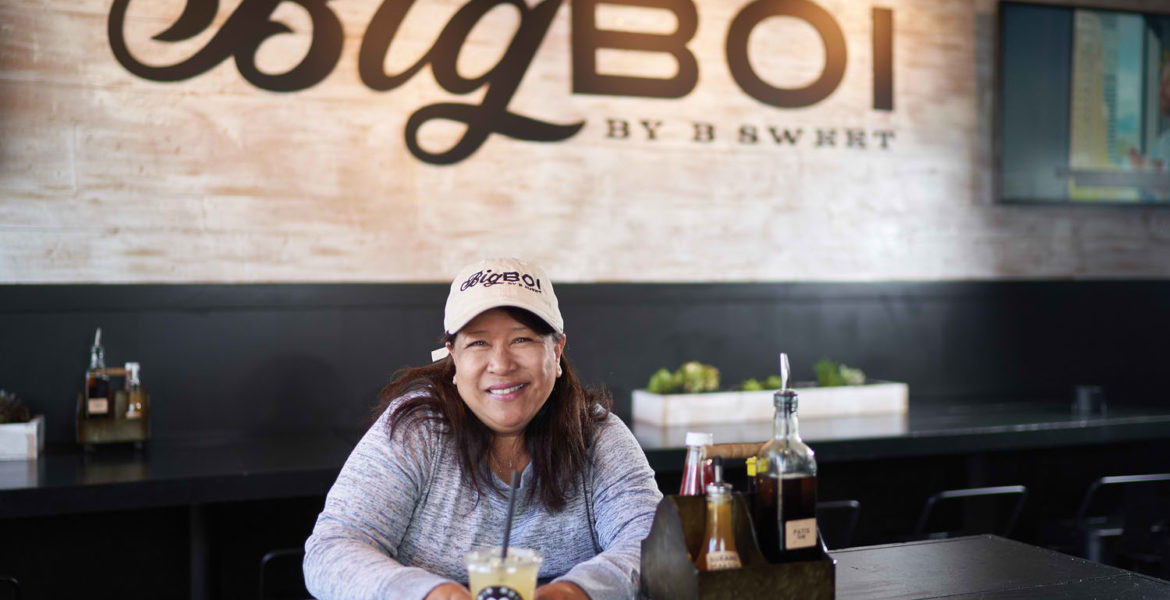 Sawtelle Boulevard in West Los Angeles is another haven for those with eager tastebuds and stomachs, as blocks are lined with sushi bars, ramen places, and Boba tea shops, as well as other selections from Korean to American cuisine. No matter the day of the week or time, many of the establishments often carry long waits.
The area — known as Sawtelle Japantown — has been home to B Sweet Dessert Bar for close to four years, a dessert shop founded by Filipina-American chef Barb Batiste.
Batiste recently sat down with the Asian Journal to talk about Big Boi Filipino, her latest fast-casual venture along the busy thoroughfare that opened in mid-January, just six stores down from B Sweet.
Batiste — who was born in Manila but grew up in the U.S. — has a background in graphic design and ventured into the world of desserts after developing a chocolate chip banana bread recipe on the side. Her experience includes serving as executive pastry chef at the Loews Santa Monica Beach and then head pastry chef of LA Art Gallery.
From there, her friend Kurt Steinitz became her business partner to launch her own venture that included catering, two dessert trucks, and eventually the brick and mortar store named B Sweet Dessert Bar that opened in 2014.
At B Sweet, Batiste has over the years infused sweet Filipino elements into menu staples like ube pan de sal pudding, halo-halo, and halos (pressed donut sandwiches using Magnolia ice cream).
"Growing up, I wasn't sure this was where I would be at 50 years old. It all led me to it," she said. "One thing I've noticed — I've been married for 31 years now — is that I've always cooked and baked. B Sweet started off with the chocolate chip banana bread and Big Boi just started out with whatever it is that my mom taught me to make, the lumpia and chicken adobo."
With Big Boi, it's her turn to show the more savory side of the cuisine.
"It was always in my heart and mind to do something with Filipino food," Batiste said. "What's nice is that it's about time Filipino food has become a bit more mainstream than it has been. There is a lot of Filipino fusion going around, which I have respect for, but it isn't what I do. I lean toward the traditional, classic foods that I grew up with."
The restaurant pays tribute to her late father, Angel, whose nickname was "Boi." She added, "In the Philippines, everyone has a Tito or Lolo Boy, whatever it is. I thought it was appropriate  — he was a big guy."
Beyond the name itself, how Batiste crafted the menu takes into consideration her father's favorite dishes but are "slightly healthier and leaner, without sacrificing the flavor."
She calls her menu "Filipino 101" as an introduction to the cuisine for non-Filipinos, as well as classics that Filipinos can find comfort in.
"People come in and say, 'I've never had Filipino food. I don't know what it's like.' It's so hard to describe because it's such a diverse cuisine. If you've never had it before, my staff and I tell customers to try the chicken adobo, garlic rice, and pancit and you'll love it," she said.
Big Boi's menu features "Bigz" (two items for $15) and "Smallz" (one item for $8) combo meals with the choices of chicken adobo, pork sisig, longanisa, pork tocino, BBQ skewers, canned meat (housemade Spam), or seasonal veggies. There are a la carte options such as lumpia shanghai, pancit bihon, sinigang (using daikon radish instead of gabi), and pan de sal with ube butter.
The portions are generous enough to be spread out into two meals or good for sharing.
"You can change the cuts of meats and [use] the less fatty meats but Filipino food has a little bit of that fatness in it — that's what makes it so delicious. I didn't want to take that way. I wanted to make sure that those flavors that my mom, lola, and aunts cooked are still in there with not having the 10 inches of fat," she described.
Batiste rolls out monthly specials to test and gauge the response to more complex dishes. This month of March has lumpiang sariwa with shrimp; past specials have been lechon kawali (but roasted, not deep fried) and mechado. Chicaron is available on weekends, while silog (add a fried egg) is an option on Sundays.
"I wouldn't call the menu items basic. Maybe to someone else, they may think 'When is the dinuguan coming? Or the kare kare?' The dishes with more complicated flavors that I'd love for people to try are coming and so we'll see how that goes," she said.
Being the only Filipino food establishment in West LA, Batiste and her team have been surprised by the reception not only from other cultures, but also Filipino Americans who have tried the food.
"The street really needed it. I think it was certainly something that was different from any of the restaurants here. It draws people. There's our Filipino community, which is larger than I thought on the Westside, who are really excited about this place," Batiste continued. "We want to open that up and share not just the food, but the pride that we take in our culture and heritage. The Filipino people are proud people and it makes me proud to be able to share that here on this side of town."
Spirit of 'salamat'
To her, one of the indicators that Big Boi is doing something right is when Filipinos come in and say it smells like their lola or mom's house. "Then I know I've done my job because that's the smell that I remember," Batiste said.
"To this day, my mom is 83 now and while she doesn't cook as often anymore, when I go into the house, that's what I smell. I wanted to create the space here on the Westside, not only to introduce people to our culture and our food, but also to create a space that felt like home. It's small and quaint, it certainly doesn't scream Filipino. It has my personal touch to things," she added.
Upon entering Big Boi, the decor is similar to B Sweet with a modern, wooden aesthetic; it doesn't look like the typical Filipino fast food, turo turo joint. But there are elements that bring in touches of Filipino culture — from the oversized spoon and fork wall ornaments to frames with handwritten Tagalog phrases (like mahal kita and kaibigan, among others).
There's a particular element that stands out at Big Boi beyond the food and it's the expression of 'salamat' (thank you), which can be seen on the wall, by the cashier, and inside all of the take-out containers.
"I always grew up and was taught to always be grateful and thankful for the things that you have, the people in your life, the food on your table, the food you serve and the food you cook. So 'salamat' to me is more than just a word. We teach everyone who's not Filipino that it means 'thank you,' but I feel like there is so much more about that word for me personally," Batiste reflected, showing appreciation for her craft, family, team and customers.
Customer service and taking care of those who patron and work with her are the "core of my success," she said. "None of it could be possible without people who support you, your customers, your clients that I've had for almost nine years. How can I not be thankful?"
Batiste said one piece of advice her father left her with is to "do what you love" and that has guided how she has run her businesses over the years.
"It's never about the money and it never has been for me. It's always been about the passion, putting it out there and having people know about it. That is the best way to support this movement that is now so apparent. If you are the chef or the owner of a business, to never forget that. To me, that's success," she said. "Of course, we all have bills to pay. You have payroll, rent, and all these things. But in spite of that, I wake up every day and I can't wait to go and cook the food and think of more recipes and what the next monthly special is going to be."
What's next for Batiste and her two shops? She exclaimed, "another one, sooner than later!" Perhaps in another side of town.
"It's been an amazing journey in such a short time. I always thought, 'I'm going to make this food, share it and really hope in my heart that I did it right and that people would love it.' But I never imagined how much love and support I've gotten and the comments that we get are heartwarming. It's been a lot to take in because again, we go back to the word 'salamat' and I've been so grateful," she said.
[Editor's Note: Both Big Boi and B Sweet Dessert Bar are closed on Mondays and Tuesdays, but are open other days from 12 p.m. to 11 p.m. (until 8 p.m. on Sundays) to catch the lunch rush and all-day weekend crowds.  Customers who dine at Big Boi can show their receipt at B Sweet for a discount.]
Facebook Comments