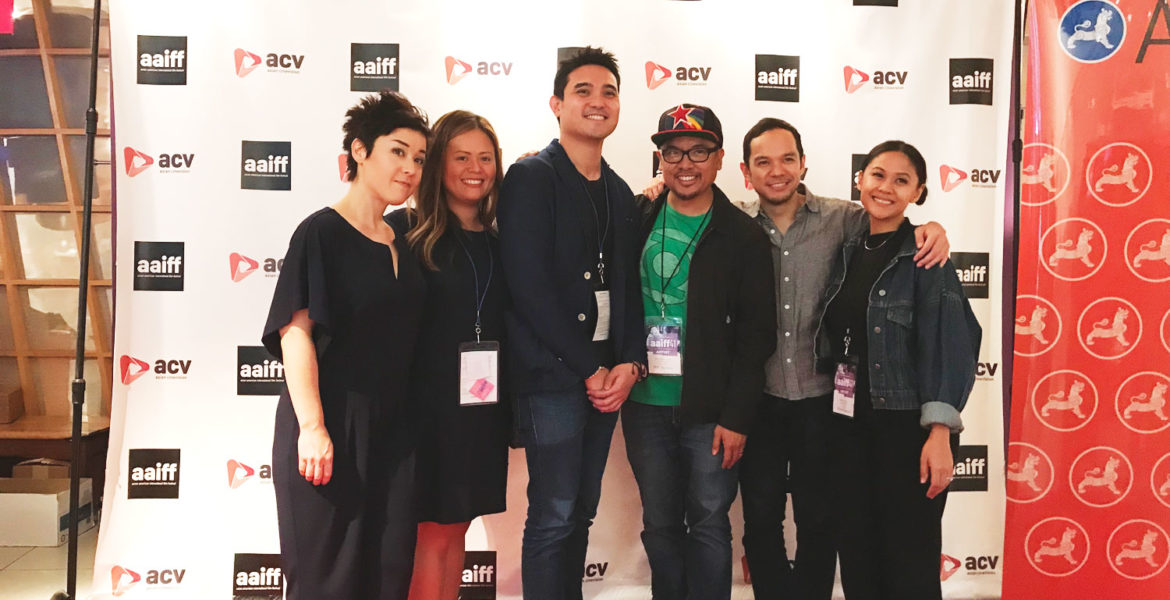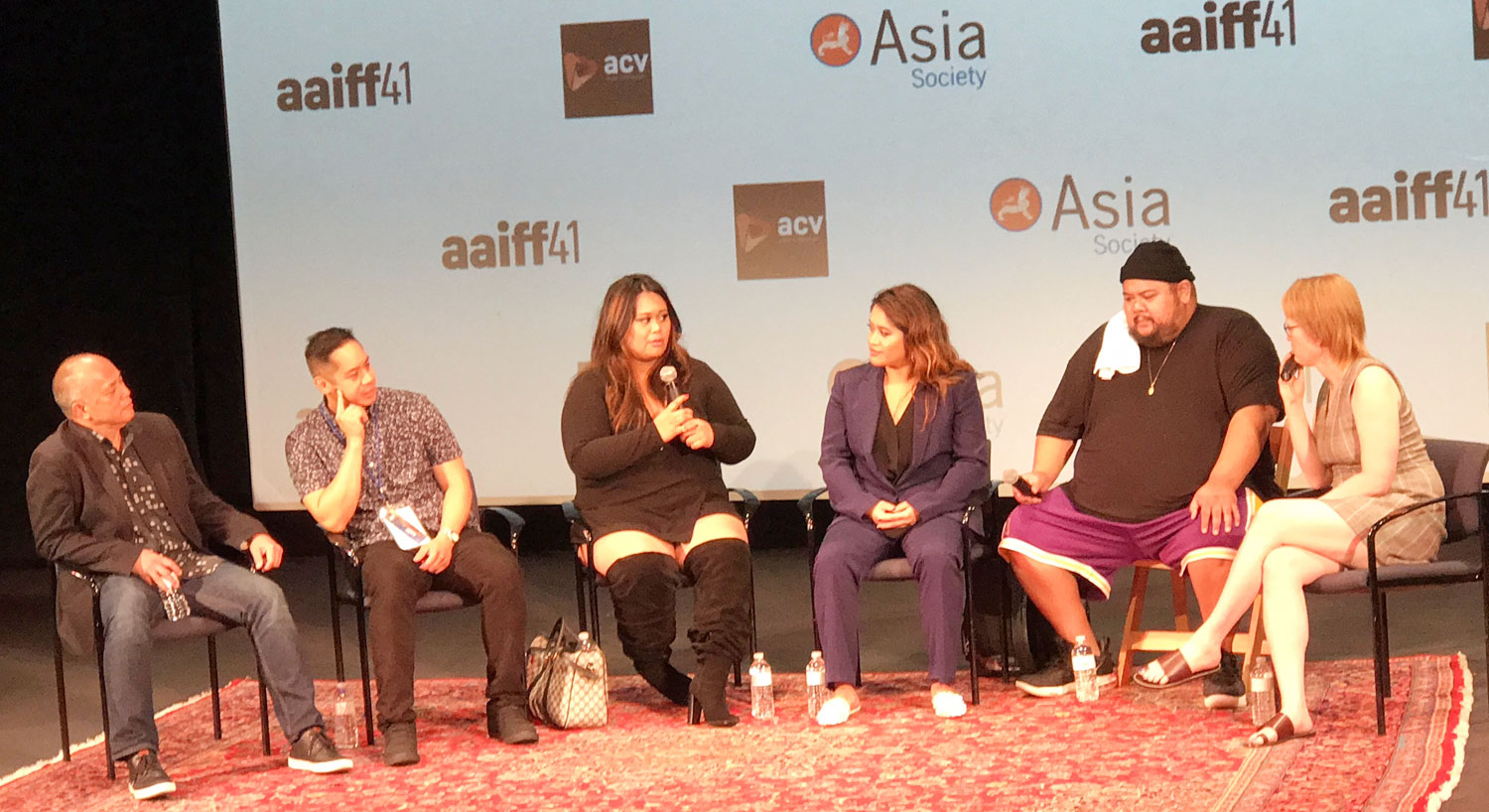 Hungry for more 'Bitter Melon,' 'ULAM: Main Dish' at the Asian American International Film Festival
IMG_7350-copy
Nicole Ponseca of Jeepney & Maharlika explain a point during the Q-and-A after the screening of ULAM. Also part of the panel were (from left) Rey Cuerdo, producer and cinematographer John Floresca, Ponseca, director Allie Cuerdo, Alvin Cailan of The Usual & Amboy and moderator Meredith Talusan.
A NUMBER of Filipino and Filipino American films made it to the 41st Asian American International Film Festival (AAIFF41), presented by Asian CineVision. As the first and longest running Asian interest film festival in the country, AAIFF41 screened13 narrative features, 10 documentary features, and 57 short films, representing over 14 countries.
"Bitter Melon" and "ULAM: Main Dish" were both screened on Saturday, August 4, the festival's closing night.
Prior to Ulam's screening was a showcase of traditional Filipino dances by the group Sining Kapuluan. Right after the screening was a Q and A with director Alexandra Cuerdo, producer Rey Cuerdo, restaurateur and cookbook author Nicole Ponseca, chef Alvin Cailan and cinematographer John Floresca, moderated by Meredith Talusan.
The after party had the guests enjoying Filipino dishes catered by Jeepney, Maharlika, Ihawan and Tama.
"The end goal is to promote Filipino culture. For me, that's what this is all about," director Alexandra Cuerdo told the Asian Journal. "I wanted to make the film for the community, so that young Filipino American kids could watch the film and see themselves and see these amazing role models."
Ulam is all about some of the chefs and restaurateurs who have helped Filipino cuisine gain more traction in the mainstream. The film made its world premiere last April at the San Francisco International Film Festival.
Cuerdo thinks it's our time.
Filipino cuisine in America has received amazing press from mainstream publications such as the New York Times and Los Angeles Times and people are now catching on to something we have known our whole lives.
It took Cuerdo and her team three years. They started production in August 2015. Three years later, the film is making its New York premiere after going through various festivals in the west coast.
 The best part about those three years was the fact that they were able to witness the growth of the chefs and the restaurants.
Lasa was just a popup when they started shooting. Now, it is on the Top Ten list of Food & Wine. Ricebar was only opened for three months, then six months in, he was on Bon Appetit's Top 50 list.
"It feels amazing and surreal, it is also a humbling opportunity to be able to show our film and show off our food in the biggest food city in the world, which is New York," she said. "It is true that Lola's cooking is the best cooking but now I want everyone to know about it."
The film has surpassed all her expectations since all she wanted then was to make a film that she would watch.
"For me now, at the end of our past screenings, we've had people coming up to us, crying and saying that the film changed their life, or that it was the first time that they've seen anything that made them proud," Cuerdo shared. "It makes me so proud at the end of the day."
The toughest challenge was the money, raising funds to start the film.
"That's why it took us this long, we had to finance it as we were shooting. We did small shoots and it was difficult. The chefs were all working chefs so it was all about the timing," she added.
Ulam comes at a time when mainstream America is noticing Filipino cuisine. Compared with its Asian and Southeast Asian neighbors, the cuisine has, for the longest time, been languishing in the cellar. Chinese, Japanese and Thai are already mainstream and in almost every major city in America; Korean and Vietnamese are following suit.
"There's a word for it, and it's kidlat," Cuerdo said. "Lightning struck and it was the right time. The food has been good all along and it was something we've always wanted to say."
The Filipino/Filipino-American chefs who are on the forefront now have paid their dues and put in their time as dishwashers, line cooks, sous chefs.
Chef Alvin Cailan articulated this when we interviewed him last year as he took over the Chefs Club Counter in Soho, after the highly successful popup of Eggslut in New York City.           
He repeated this thought at the Q and A after the screening.
"Fifteen years ago, some of us became doctors, lawyers, line cooks, prep cooks," Cailan said. "These cooks became sous chefs and chefs de cuisine for other restaurants. At some point, I asked myself why I was making all these money for this guy?"
It's not the easiest grind. He worked from 8:00 a.m. to 2:00 a.m. the following morning busting his butt. Like a lot of his friends who found themselves in the same situation, Cailan used what he learned after decades of experience in creating and crafting Filipino inspired dishes.
In this day of Smorgasburg and foodie markets and the rise of food trucks, starting small was a major option, something that Cailan did.
Those 15 years of experience show in the food these chefs prepare.
"Instead of creating restaurants to survive, like the previous generation before us, it has now become a passion. And when food becomes a passion, it translates to a lot more because you feel the food," Cailan added. "Now is the time where we just keep going, work harder, keep our heads down and show them what we have."
They have worked for, and alongside the greats in the kitchen. Some of them earned their degrees in various culinary institutions such as the Culinary Institute of America and the Institute for Culinary Education. A number of them have taken the plunge and opened their own Filipino restaurants.
"We were lucky to be in the right place at the right time to chronicle the whole thing. I'm happy that other people want to see the movie. That means they want to see us, they want us to succeed," Cuerdo said. "We don't think Filipino food is a trend. It is only now that Filipino Americans have been able to get the financing and money to open up their restaurants."
Ulam also paid tribute to the restaurants which paved the way to make all these happen.
"There's Cendrillon which is now Purple Yam and Purple Yam Malate, they are the pioneers. Amy and Romy really did the work before anybody was talking about it. That's why we want to herald that, honor that," Cuerdo said. "The same thing with Chef Andre Guerrero, he has been cooking in LA for 20 years. And all the mom and pop shops, the turo turo shops I went to growing up. Those were the places that the chefs we interviewed went to growing up."
She also explained that the reason why they profiled the restaurants included in the film was because they wanted to showcase the new restaurants.
"That doesn't mean that the old restaurants were bad, that means that there's more space for more restaurants to grow, and we're really showing the growth of the community," she said.
When she was growing up, Cuerdo and her family would go to West Covina to enjoy Filipino dishes and she also would savor their regular trips to the Philippines for the exact reason. She herself cooks and her favorite dish to cook is sinigang but her favorite dish to eat is kare kare (which takes forever to cook, she bemoaned).
"The other thing I like to cook is silogs, I still think they're the best hangover food. Longsilog is my favorite," she shared.
The young filmmaker also acknowledged personalities in the food industry who helped shine a light on Filipino cuisine in general.
"What Anthony Bourdain did for the Philippines is really cool because he approached it with a lot of respect. Same thing with the late Jonathan Gold. He approached it with so much respect," she said.
Mr. Gold actually did Ulam's first Q and A. He invited the film to the first Los Angeles Food Bowl last year, a food festival sponsored by the Los Angeles Times.
"When we got the call from the LA Times, we were all blown away. Jonathan Gold was a living legend, he is the first and I think the only Pulitzer Prize-winning food critic. The fact that believed before everybody else that Filipino food could cross over, that meant a lot. And the fact that he gave us that stage, that meant the world," Cuerdo said.
The film features some of the top chefs leading the movement: Alvin Cailan (Eggslut, Unit 120, Paper Planes), Nicole Ponseca & Miguel Trinidad (Maharlika, Jeepney), Romy Dorotan & Amy Besa (Purple Yam), Johneric Concordia & Christine Araquel-Concordia (The Park's Finest), Charles Olalia (Ricebar), Chase Valencia & Chad Valencia (LASA), and Andre Guerrero (The Oinkster, Maximiliano, The Little Bear)
"Bitter Melon"
H.P. Mendoza started writing the film way back in 1997, when he was 20.
"It was a very different movie back then, I wanted to be funny and I wanted to prove to people that I could handle the issues I had with my own family with humor because that shows how very mature I am. But the truth is, I wasn't very mature, because it was only funny, wacky," Mendoza shared.
Now in his 40s, Mendoza looks at the film from a different lens, a different perspective. He allowed himself to laugh at it and he also allowed the characters to cry and feel the emotions.
"Bitter Melon" is Mendoza's third feature film, after his projects "Colma: The Musical", "Fruit Fly" and "I Am a Ghost.
It is the story of a Filipino-American family of Ilocano descent who reunites for a Christmas party at the family home in San Francisco only to find out that Troy, the middle son, has been ruling the house with fear-intimidating everyone who lives there-including his mother, and even physically abusing his wife.
What starts as a fun holiday reunion turns into a darkly humorous crime scene as Declan, the youngest son, leads the family as they conspire on how to best murder the violent and abusive Troy.
The film was shot in 18 days. The main dialogues are in Ilocano, with subtitles.
It is a source of pride for him because he used to tell his family that one day, he'd use their family's dialect in a film he would do.
The film is quite timely with its message about domestic violence and how a family's cultural upbringing affects everyone's perspective about it.
Asked about the film's journey so far, Mendoza said that it has been great.
"What's been interesting is that the film came out during these politically charged times and way back when we were starting to shoot, I was told not to do a film like this in the time of the #MeToo movement," he shared. "I thought to myself, we're in a state right now where we should. This isn't about the MeToo movement and to shoehorn MeToo in this film is a disservice to the movement."
And as he said, it's a film about masculinity, about how men treat women, how men treat each other and how men need to change. It is also how the cycle of violence in a family creates monsters among its members.
"It feels uncomfortable. Our older generation would say it's not okay to talk about those things in public, nakakahiya," said Theresa Navarro, who plays the role of the Shelly, the suffering wife.
Mendoza, like in his previous films, wants his audience to be engaged and for this particular film, he said that midway through the film, the audience would start to wonder where their morals lie and ask themselves who do they side with.
The AAIFF is the film's third festival, after making its premiere as the Centerpiece Film of CAAMFEST, the San Francisco International Asian American Film Festival last May. It also screened last month at the Outfest in Los Angeles.
The film was previously called "He Ain't Heavy, He's My Brother" but expensive licensing fees prevented him from calling it that. He settled with Bitter Melon, after his least favorite food served by his family growing up.
He still remembers his mom telling him, "I know it's bitter, but it's good for you."
In the end, Mendoza hopes the audiences who see his film get provoked.
"It's an organic way for me to tie all of my preoccupations into one script: toxic masculinity, bullying, homophobia and domestic violence, all through the eyes of a Filipino American family in the quickly gentrifying Mission District in San Francisco," Mendoza said. "And amidst all this, I want to make sure you laugh, too."
Facebook Comments