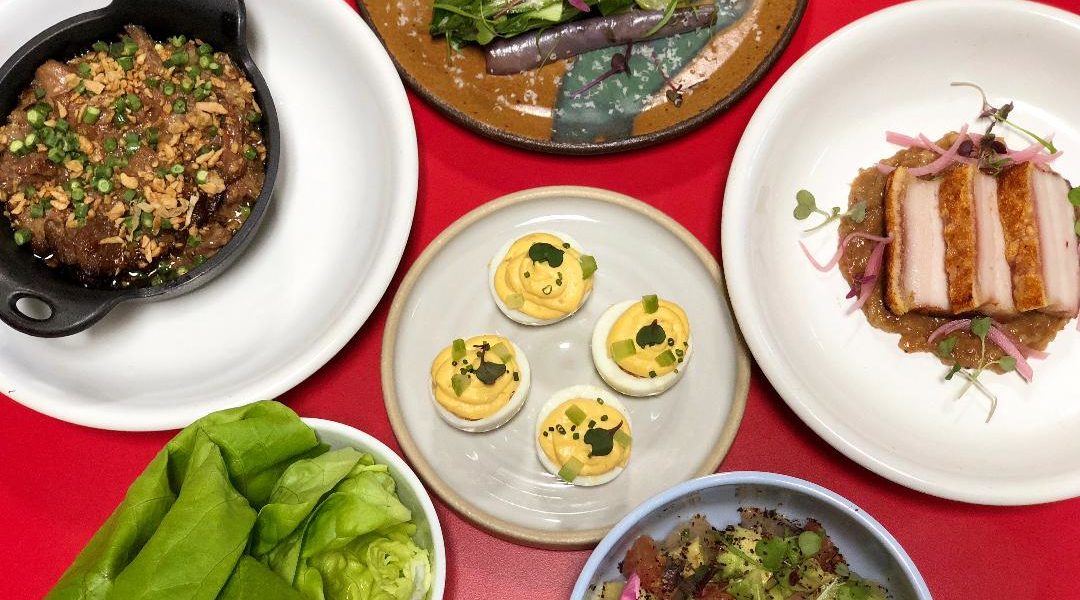 Palabok-inspired deviled eggs. Sea urchin on top of lumpia Shanghai. Lobster inihaw. Yellowtail sinuglaw.
These are some of the dishes you can find on the menu of Ma'am Sir, the latest restaurant by Filipino chef Charles Olalia, which opened its doors for dinner on June 13.
The fine dining chef — whose first venture entirely cooking his native cuisine was Rice Bar in Downtown LA — partnered with Wade McElroy and Russell Malixi (owners of Cafe Birdie, Good Housekeeping and Horse Thief BBQ) for this 1,800-square-foot restaurant along Sunset Boulevard in Los Angeles' Silver Lake neighborhood.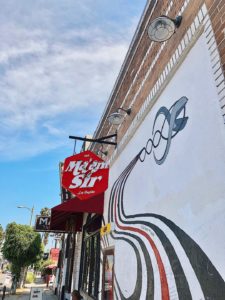 "The place felt right along with the team we have," the 34-year-old chef shared with the Asian Journal in a recent interview. "I feel that my partners are exactly what I've been looking for."
Ma'am Sir sits 60 in the dining room and 14 at the bar with decor — from the green palm front wallpaper with accents of pink to ivy hanging on the ceiling — that is meant for "guests [to be] transported to a tropical haven." The restrooms even have signs that say 'comfort room.'
Back in the Philippines, 'ma'am, sir' is a common greeting one can hear while in public, like at the mall or market.
For Olalia, the concept and name of the restaurant are rooted in "respect" and the hospitable spirit Filipinos are known to extend.
"It's what people remember when they visit the country. It's almost infectious," he said.
In a conversation with the Asian Journal back in 2015, Olalia shared how he came into the culinary industry.
Originally from Pampanga in the Philippines, Olalia, who is one of seven children, came from a family of doctors and was set for a path into the profession as well. However, he decided to take a break before medical school and ended up enrolling in a culinary program.
After completing the training, Olalia was 21 when he moved to the United States in 2005 because if he stayed in the Philippines, he "wouldn't be hungry enough to pursue a career." His first job was at the Ritz-Carlton in Half Moon Bay.
"In the Philippines, you have your parents and a certain lifestyle you're accustomed to but I knew that in order for me to be a cook, I need to survive and have that edge," he said in a previous interview.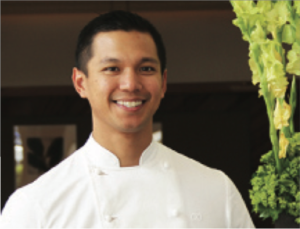 His background is impressive, with a résumé that includes Michelin two-star Restaurant Guy Savoy in Las Vegas, The French Laundry, Coi, Patina (where he spent four years rising up from sous chef to chef de cuisine then to executive chef), and mar'sel at Terranea Resort.
In 2015, he began hosting pop-up, family-style dinners under the name A'postrophe where he had the chance to cook dishes he grew up eating.
"This was my way of staking a claim in my own heritage and making it available to people the way I see it," he told the Asian Journal after one of his pop-up dinners, adding that he hoped it would push people to realize that "Filipino food is delicious."
The dinners eventually led to Rice Bar, a seven-seat, 275-square-foot space with a menu that features ulam like pork longganisa or chicken tinola in a bowl with rice. It has since become a favorite in the city and has received numerous recognitions, including a spot on food critic Jonathan Gold's 101 Best Restaurants list.
"It has to be something that you're passionate about and know very well because people will see through it. I've always seen that people who do food just because it's popular never last. But if you do food that is dear to your heart and it's meaningful to you, it'll show in the food," he explained.
Three years after Rice Bar's opening, Olalia has another restaurant to oversee but he believes it's his way of helping move the Filipino food movement in the U.S. "forward."
"It's hard, but it's nothing that I didn't expect. It's a push that only few will understand and only few are willing to do," he said of balancing both establishments.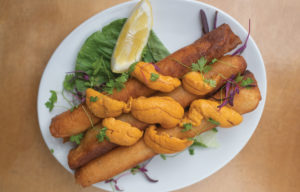 The menu of Ma'am Sir, which has a little over 20 items, is crafted "pica-pica" style, which are small plates meant to be shared.
The highlights — many of which blend American comfort food and Filipino ingredients and flavors — include lumpia Shanghai (which are stuffed with shrimp and lardo sausage and are topped with sea urchin), shrimp deviled eggs (palabok-egg salad and celery hearts), yellowtail sinuglaw (tomato, onion, avocado with charred pepper vinaigrette), and lobster inihaw (heirloom rice, taro leaf curry and galangal butter).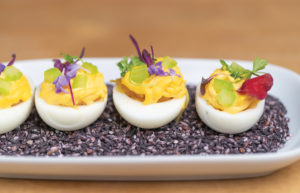 Of course, there are also beloved Filipino dishes, as interpreted by Olalia, like pork sisig, kangkong and mushroom adobo, crispy pork lechon, and beef peanut curry "kare kare." The pan de sal is freshly baked in the wood oven and is paired with salted butter and pandan curd.
The dessert offerings are banana bibingka (vanilla créme Anglaise and coconut macaroon) and Manila mango verrine (coconut-jackfruit tapioca and almond dacquioise).
To complement the food, Rafa DaCosta is in charge of the bar program, which offers cocktails like Oro, Plata, Mata (Laphroaig 10 year, Amaro Angeleno, Aquavit, Lillet Blanc and Fortaleza Blanco), Manila By Night (Stiggins' Fancy Plantation Pineapple rum, lemon, toasted coconut, señorita bananas, orgeat, champagne vinegar, xocolatl bitters), and Burlesk Queen (lemon juice, Cocchi Americano, Aviation Gin, Hibiscus and Mangosteen syrup topped with cava).
The entire eating and drinking experience is "based on party and beach fare —  easygoing, bright, interactive and never too over thought," Olalia explained. "We just want to please guests to the best of our abilities."
While Ma'am Sir is only open for dinner service six days a week for now (it's closed on Tuesdays), Olalia promises that lunch and brunch will come "very soon."
"Every time I open a restaurant, I always want to create a community," he said, whether it be just a casual night with friends or celebrating a milestone. "I'd love for people to make us part of their lives."
Facebook Comments