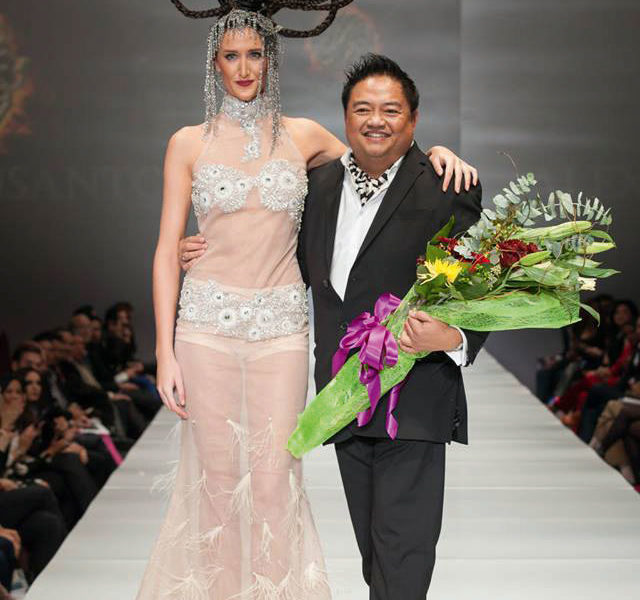 LOS ANGELES — Filipino fashion designer Alexis Monsanto had a monumental 2014, wowing fashion-forward crowds with his Spring/Summer 2015 collection.
On Nov. 18, 2014, Monsanto was the headliner of Fashion Houston Five (FH5) and kicked off the four-day event. Acclaimed designers and brands, including fellow Filipino Monique Lhuillier, Zac Posen, Herve Leger, BCBG, and Rebecca Minkoff, have showcased their work at FH5 in the past as well.
"I felt like the little David and they are the Goliaths," he said about the honor of being amongst the ranks of those designers.
Sponsored by Audi, FH5 drew fashion aficionados, as VIP tickets went from an upwards of $125. The West Hollywood-based designer flew out Houston a few days before his show to scope out the Wortham Center and iron out any kinks.
The Wortham Center "was the perfect venue for the collection," said Monsanto of the dramatic, high ceilings, 60-foot runway and 1,000 seats for the audience.
Monsanto appeared on "Great Day Houston" to tease what the city could expect from his show, or rather, full-scale interactive, multimedia production — a signature style of his shows; after all, Monsanto made headlines in 2011 by presenting the first 3D Fashion show during his Spring/Summer 2012 collection. A meet and greet event was also organized for him at the St. Regis Hotel in Houston, where tickets were $50 each.
The show, which took place on a Tuesday night, opened with a video, before models walked the runway with designs inspired by the Byzantine era, Roman Gods, Warrior Princesses and the HBO show "Game of Thrones."
"The audience was on the edge of their seats because they didn't know how to react," he said, adding that the city was "not used to the kind of shows I put on."
Highlights of his collection included: a see-through lace top with an accordion-pleated skirt and a headdress with fluttering butterflies; men in see-through hoodies and long pearls; a long black gown with cut-out sides, held together with clasps; a bright green leotard and flowing cape; a sheer, long dress with feathers and a globular headpiece.
"I design what to sell. I'm very conservative with numbers and very sensitive with my target market, I don't go over board. When I create a line or a capsule collection, I make it a point [that it is] balanced, functional, practical to wear and very production friendly," he shared.
A month before, in October, Monsanto was the closing show during Los Angeles Style Fashion Week, where he received a standing ovation. The collection caught the attention of Women's Wear Daily, an industry journal known as the "fashion bible," which wrote:
"Alexis Monsanto channeled the Roman Empire with a collection that was both sporty and dressy. He fared better with the latter with details such as accordion pleats, ruffles and a honeycomb weave, as in a chartreuse gown paired with a gold leather capelet — think vivid armor for a night out."
A native of Jimenez, Misaims Occidental, Monsanto knew he wanted to venture into fashion when he was around 12 years old. Though, in college he was pre-med.
"[On] the day of the board exams, I decided to walk out of [them]. I made a decision that I want[ed] by life back as an artist," Monsanto recalled, and subsequently moved to the United States to study fashion.
Mentoring and guiding aspiring fashion designers has also been a passion for Monsanto. He has given lectures at the Fashion Institute of Design and Merchandising, and takes interns to show them the ropes of designing and running a fashion line.
"Know your niche…wear different hats in the workplace and industry, design what sells, know how to balance
2015 has just begun, but awards season is right around the corner — one of the busiest times of the year for Monsanto and his atelier. His creations have been donned on the red carpet by celebrities, such as Drew Barrymore, Jessica Alba, Halle Berry and Charlize Theron. His favorite pieces that continue to stand out are the red Grecian gown and cape worn by singer Kaya Jones — who made the New York Times' best-dressed list — at the Grammy Awards in 2013.
For Monsanto, there are two tiers in the process that goes behind designing an outfit for a celebrity attending an awards show.
"I custom design the garment with the inputs of the celebrity's stylist or celebrity herself. I submit images of existing designs from a given direction of the wardrobe stylist. Then I will schedule a fitting a few days before and make alterations based on the fit," he described, noting that he gets a lot of custom orders because he treats his clients with "full service and integrity."
He also appears on KTLA to give trend projections and reviews on outfits at the Golden Globes and the Academy Awards.
"As an innovator and trailblazer, I would want to continue the fusion of fashion and technology through my shows," Monsanto remarked.
–
(LA Midweek January 7, 2015 MDWK pg. 3)
Facebook Comments