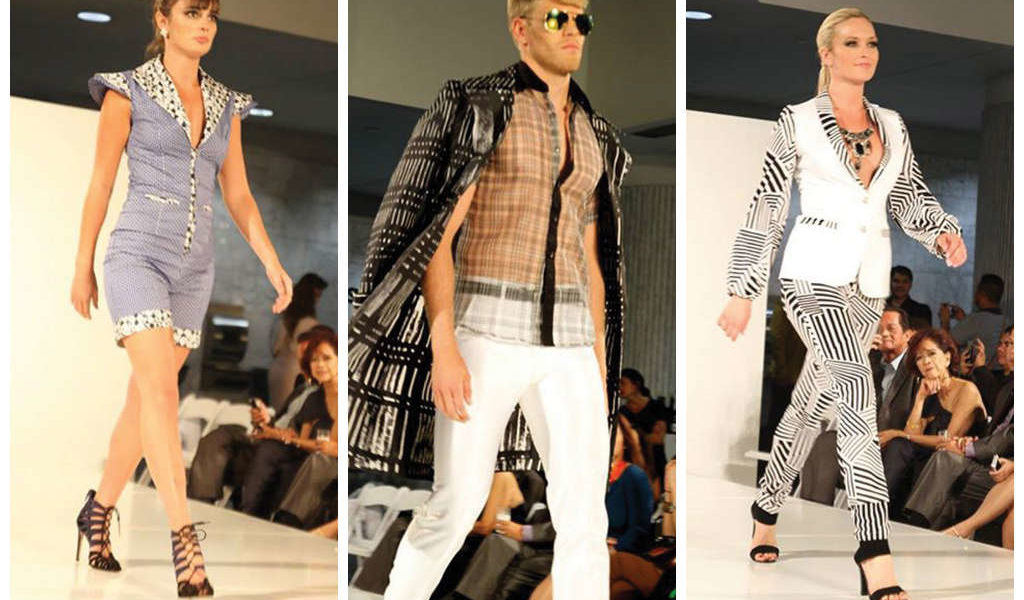 LOS ANGELES—Three Filipino designers debuted their Spring/Summer 2015 collections on Oct. 13 at the California Market Center in Downtown.
Hosted by the International Fashion Tour and the ABS-CBN Foundation, the preview runway show brought the designers to Los Angeles to tease a larger US tour to come next March.
Singapore-based Filipino designers Melchor Guinto and Charles Cua, founders of Azur Lapis Lazuli, brought 32 men's and women's looks to the runway. Both collections featured mixed prints, geometric shapes and monochromatic colors.
Both Guinto and Cua have architectural backgrounds, which reflect in the structured and geometric aesthetic of their designs.
In the men's line, black and white stripes and mixed shapes were the unifying theme. One look in particular stood out: a model clad in white pants, a sheer button down and a trench coat with black and white stripes.
For the women's line, Cua played on the traditional notion of professional wear, by presenting more modern pairings of blazers and pants. In one instance, pants were patterned and white stripes, matched with a white blazer whose arms were lined with the same prints as the pants.
Cua closed his collection with two floor-length gowns—one navy blue with jewels and an exposed back; the other a black gown with triangular studs.
Pia Gladys Perey, a Manila-based designer, previewed her line of 27 elegant, yet versatile gowns and dresses that are primarily sold in the Philippines, Australia, Dubai, New York and San Francisco.
"The brand is quite known for draping," Perey told Asian Journal. "It highlights the female form."
Perey studied philosophy and political science in college because she was being groomed to be a lawyer. However, when she was 20, she knew she wanted to pursue a career in fashion, and recalled her childhood observing clothing designs made by her grandmother, who was "the perfect picture of how a woman should be," according to the designer.
Though she did not receive formal fashion training, Perey worked at several fashion companies and opened her own factory that would manufacture clothing for other brands, before finally starting her own line.
"The line is a celebration of the real woman—what she goes through during the different stages in her life," said Perey.
Perey is no stranger to the fashion week scene, as she gained experience backstage at Mercedes Benz Fashion Week in Australia, then went on to debut in the US at Miami Fashion Week and an off-site show for New York Fashion Week in 2010. In 2013, she had a show during LA Fashion Week. The "greatest accomplishment" so far is representing the Philippines during World Fashion Week in Paris this past September, where she brought 30 pieces.
Her designs, which are subtly hued and are reminiscent of Greek mythology with the draping material, were inspired by her trips to a beach.
"I can't start a new collection without a trip to the beach—any beach. My line is very fluid and flowing," Perey added.
Further, Perey said that she has looked up to Halston, Nicole Miller and DFV for inspiration and now, at Rustan's Department Store where her line is sold in the Philippines, she is alongside those brands.
"My line has pieces that women can eventually pass on to their [daughters]," Perey remarked.
–
(LA Midweek October 29, 2014 MDWK pg. 3)
Facebook Comments