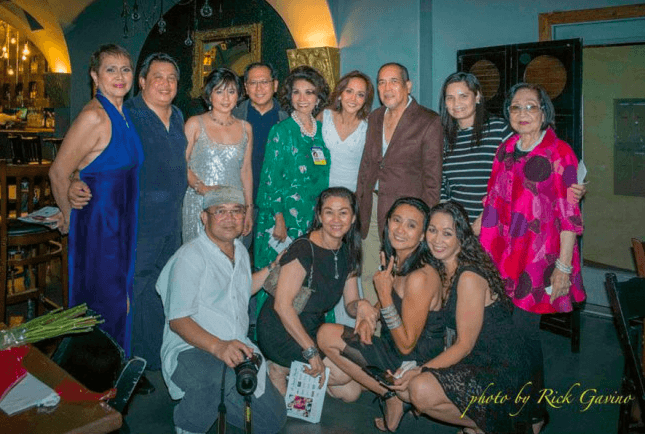 BEING a writer on the frontlines of culture and music, I am faced with the task of writing a piece that will not only tell about a performance, but the story behind the performer.   So with grace, tenacity and skill (which I sometimes doubt that I have), I start to dutifully prepare questions; and set aside shyness.
Just recently at the Table and Stage in Hollywood, I watch singer Ivy Violan perform.  It was almost like her performance made her more intriguing – her humor, a shifting array of her persona, and her ability to easily express herself emotionally.   It was also the willingness to share her emotions, experiences and memories—good and bad—that set the tone of an unforgettable evening.
Her sultry physique was probably overshadowed by her velvety voice.  Although she laughs and smiles, she also shares the sad moments of her life, as well the successes.  She remembers every detail of her past, when she was on top of the Philippine music industry.  Once the Queen of the ASEAN Song Festivals, Ivy said that once upon a time she made it.
I asked her where she gets her inspiration.  "From components of life…The best work I do has nothing to do with me…expectation could be a prison," she said, adding that she always had a tour plan.  For her, she tries to come up with the best repertoire.  Her manager, producer Rhea Espino—disciplined, firm and patient—made it all possible.  Ivy calls Rhea "friendship," her special sister in the faith she calls "family."
Ivy continued, "Music is always present, completely with a life of its own. When I tried composing, I realized the challenge is not to rush out and look for music, but to be quiet enough to hear the music, that's already there. Through the years my approach to being a professional musician has changed."
In 2012, Ivy had a freak accident that made her succumb to depression.  But she turned to her faith and church for support.  This ushered the beginning of a new journey.
"(That is why) in that accident, I did not know if I would able to work again.  But I found strength and sustenance from (the) Divine Grace.  So after more reflections and my renewed faith, here I am. I understood necessarily to take complete responsibility for our words and actions."
For her, the numerous awards from various local and international festivals are far less important.  "(But) I never really wanted them," she said and added, "I yearned for a simple, less complicated life, with service to God and fellow Christians above all.  Can you see, I think there's a whole congregation here…and that so gratifying."
In 1982, the 3rd ASEAN Popular Song Festival in Bangkok was one of the high points of her career, as she won the grand prize.  Today, Ivy vividly remembers that day.
"In my whole participation in the ASEAN Countries, that was the most competitive and heartbeat stopping.  It seemed all the best singers were there."  However, though the host country (Thailand) had a really good singer, it was Ivy that took home the prize.
"There was something more there, too. And I say this seriously—sometimes in victory is when you feel you're humbled.  Which puts you in a position where one is better able to be played by music," she shared and continued, "I also learned there is unarguably central tenet of Christianity.  Everybody is equal in God's eyes.  Distance does not decide, who is your brother or not.  Even then, I knew we were one.  The idea of grace, that is the reason I am a Christian."
When I asked her if that is her faith and belief now, she simply replied,  "Absolutely, Ms. Mylah. When I compose songs and create music that is coming in touch with God.  It gives people (something) to believe in.  Doesn't art give people a reason to be alive, to believe in? It is so spiritual."
It is heartwarming that God, faith, humility and simplicity is what reigns in her heart, in spite of all the awards she has received.  Thank you Ms. Ivy Violan for this interview.
Facebook Comments