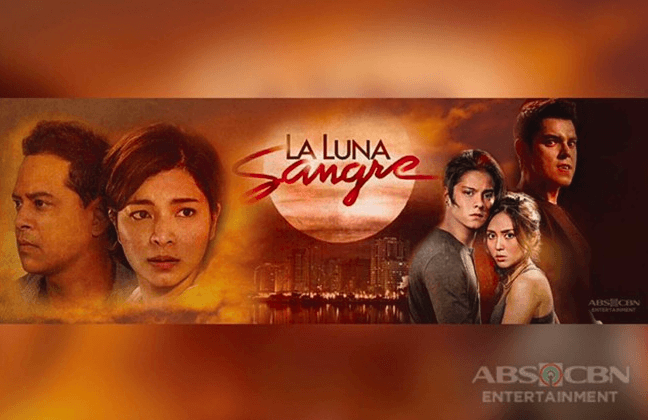 WE all know that aside from cheesy and a la Cinderella-turned-princess movie plots, Filipinos love horror, fantasy and folklores. It doesn't come as a surprise then when a TV series with such themes drive us crazy to the point of drooling in front of the television. However, it takes a certain mastery in direction and casting the perfect characters to achieve a rating of 33.9 percent in its first week, a feat that "La Luna Sangre" — ABS-CBN's newest serye — has gained without a doubt.
According to data from Kantar Media, "La Luna Sangre" hit a national TV rating of 33.9 percent from combined urban and rural homes, more than double the rating of its rival program — a local adaptation of a Korean series — which only got 13.8 percent.
"La Luna Sangre" revolves around the prophecy that happened during the 'blood moon,' which predicted that the offspring of the most powerful vampire and the chosen wolf will end the wickedness of the vampire imprinted with the cursed ink. This child is believed to be Malia (Kathryn Bernardo).
Malia survived an attack and was orphaned, which caused her to be raised under the care of other vampires and werewolves. They took them under their wing with hopes of her being the chosen one who is to save them from the impending doom. But then they begin to doubt Malia when she fails to show her powers upon turning 21 years old.
Out of shame, Malia chooses to leave her responsibility and bravely faces the world of mortals. There, she meets Tristan (Daniel Padilla), a young man who is hunting the vampire who killed his father. As their bond grows closer, it would seem like Malia could be the key to the justice that Tristan been searching for all these years. The plot thickens as the dilemma of Malia's decision of whether to return to her world (which she left behind) and re-embrace her destiny or continue her quest to be on her own and with the company of someone she might be starting to have feelings for.
"La Luna Sangre" is the third installation to the Internationally-acclaimed "She Wolf: The Last Sentinel" ("Lobo") and its sequel "Imortal." This epic saga about werewolves and vampires premiered last June 19 and instantly soared high on national TV ratings and topped the trending topics on Twitter worldwide.
Top-billed by the Philippines' premiere actors John Lloyd Cruz, Richard Gutierrez, Angel Locsin (who was nominated for Best Actress in the International Emmy Awards), and sought-after young actors Kathryn Bernardo and Daniel Padilla, the show is an amalgamation of folklore, love story, suspense featuring modern special effects and well-coordinated action scenes.
In a recent episode, Malia was caught in the middle of the jungle as she was confronted by a group of vampires. She had no choice but to fight these blood-sucking creatures using her instincts and speed.
Following her face-off with the vampires, she decided to change her appearance by cutting her hair short to deceive Supremo, the leader of the vampires played by Richard Gutierrez. Malia is on a mission to penetrate the vampire camp to avenge her family.
The show is heaping praises for the story and how the characters fit their roles so seamlessly. As one of the biggest Filipino series to air this 2017, "La Luna Sangre" did not disappoint in bringing us entertainment at its finest.
Everything in this series screams world-class and the Twitter-world stands by it. I wouldn't be surprised if the show gains praises internationally just like its successor. But until then, I'll be on standby for the upcoming episodes that are getting more exciting by the minute. .
***
Monet Lu is a Marikina-born, award-winning celebrity beauty stylist with his own chain of Monet Salon salons across Southern California and Las Vegas, Nevada. Ultimately, Monet is known as an all-around artiste who produces sold-out fashion and awards shows as well as unforgettable marketing campaigns. Monet is also the founder of the revolutionary all-natural beauty products such as Enlighten, your solution to discoloration . To contact Monet, please visit www.monetsalon.com or email him at monetsalon@aol.com
Facebook Comments