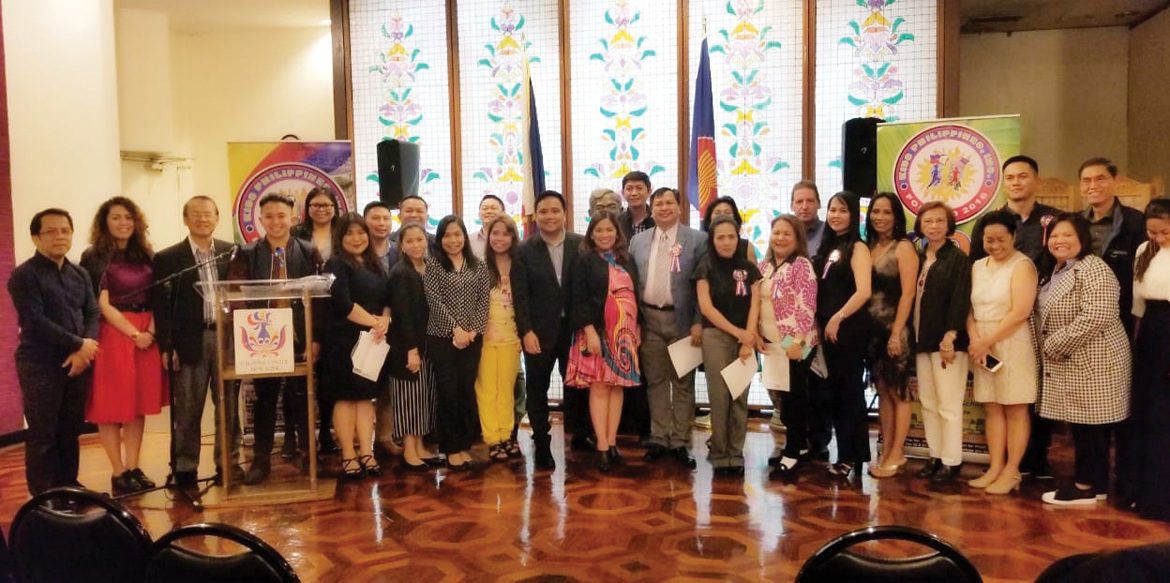 "This is the most opportune time where we are needed to fill up the huge barrenness that affects the lives of millions of less privileged children. Our assistance is judiciously on call. Let us not allow poverty to be wide-reaching while appallingly impacting our children's lifelong struggles. Pulling them out of their abysmal situation through educational support will free them from the bondage of illiteracy…and help them escape the cycle of poverty. These poor kids could be promising leaders of the nation…let's not abandon their potential development."
That was a significant snippet from Vince G. Gesmundo's heartfelt acceptance speech when he was inducted to the presidency of KIDS Philippines, Inc.-New York last Friday, May 18, 2018 at the lobby of the Philippine Consulate along Fifth Avenue.
"We often say: 'Poverty should not be a hindrance to success…' but what if there's really no way for a poor child to achieve the education he's deprived of? What if his family or relatives survive way beyond the poverty level and have no means to support his education at all? What if the possibility of going to school is irrationally impossible? Shall the helpless child just endure the ignorance and illiteracy he was born with sans appropriate support from people with munificent heart while others enjoy luxurious life style and opulence? Let us share a little of what we have! Let's open our eyes to the disheartening reality of life and respond to the echoes of our conscience," Gesmundo said, his rallying call that seemingly affected the preponderance in the audience.
KIDS Philippines, Inc., a 503 (c) (3) public charity with Federal Tax ID # 81-4193634 (that makes all donations tax deductible), was founded by Cherry Marmes Smyth with the main objective to encourage each child to become self-sufficient through proper education and become an asset to his country. Cherry, together with her husband, thought of a self-decreed mission to increase access to education, health care, and other critical resources to children, not only in her hometown but also throughout the Philippines where aid is needed.
"No child should be deprived of education!" was Cherry's challenging slogan.
The idea of establishing KIDS Philippines, Inc. (KPI) instantaneously came about following Cherry and husband Pete's humanitarian mission in Mindanao as part of her (Cherry's) duties after being crowned  2013 Mrs. Philippines-America. Pete, an Irish employed as Financial Analyst, was easily touched when he personally encountered the poor living conditions of school children. Having been deeply affected by the harsh reality of the depressing rural way of life, the generous couple directly constructed a scheme on track of initially funding the school expenses of at least 20 public school children in her place of origin in Tubod, Lanao Del Norte in Mindanao.
To help augment their financial capital to support the newly organized foundation KIDS Philippines, Inc. was officially launched via a successful 4-in-1 variety fundraising campaign on October 1, 2016. The  fund-generating event was made possible through the auspices of Cherry M. Smyth Productions, LLC and with the selfless benevolence and unmeasured munificence of Filipino folksinger Florante De Leon, singer-songwriter-record producer Eric G, singer-performer Kirby Asunto, Bob Lewis, the CMS Fashion Collection, the No Name Band, and other local talents. The newly formed KPI officers and volunteers were duly sworn in by Consul Arman Talbo.
In a short period of time and with due coordination with the Department of Education, KPI has granted scholarships to a little more than 450 young scholars from different towns and barangays: Aplaya Elementary School (Barangay Tagburos, Puerto Princesa, Palawan), Bless Tribal School (Barangay Mapurog, Bonifacio, Misamis Occidental), Sergio Mata Elentary School (Barangay Tubaran, Tubod, Lanao Del Norte), and Rufo dela Cruz Integrated School (Barangay Poblacion, Tubod, Lanao del Norte),
Several similar events ensued to continuously finance the increasing number of KPI beneficiaries. On January 28, 2017 the first Fundraising Formal Gala and presentation of KPI projects in the Philippines was held at Great Neck Country Club in Waterford, Connecticut followed by the maiden KPI Charity Golf Tournament on August 26, 2017 at Pequot Golf Club at Stonington, Connecticut, and on November 18, 2017 the first KPI Anniversary Gala was held at the Mystic Marriott Hotel in Connecticut that indubitably proved of the organization's dynamic advocacy with numerous supportive backing.
As KPI took its smooth-sailing flight several chapters came to existence. KPI-Rhode Island Chapter was officially recognized on May, 2017 with Hector "Bong" Garcia on the totem pole; on May 5, 2018 KPI-Massachusetts Chapter officers were sworn to office under the stewardship of Vina Jourdan, and just recently, KPI-NY with Vicente Gesmundo on the helm.
This year sixteen schools throughout the Philippines will enjoy benefiting from KPI missions: 1 in Puerto Princesa, Palawan (Aplaya Elementary School); 3 in the Bicol Region (Buraguis Elementary School in Legaspi City, Pag-asa National High School, and Barangay Rawis in Legaspi City); 1 in the municipality of Baroy (Paragon Christian School); 2 in Misamis Occidental (Bless Tribal School in Mapurog, Missamis Occidental and Sicot Elementary Schhool in Tangub City); 1 in Mountain Province with 39 students; 1 in Donsol, Sorsogon with 100 students; and 7 municipalities in Lanao Del Norte.
" KIDS Philippines, Inc. will continue to grow every year and eventually expand into every far-flung region in the Philippines with the help of our growing supporters and generous donors and benefactors. This is all about kids. It is all about these indigent and less privileged young but promising souls. We've only just started… yet we resolutely hope to last to be able to reach out to the most in need," Cherry stated with stanch pronouncement.
Meet KPI's founder and president
A beauty queen with a magnanimously generous heart, a dynamic community leader and organizer, an open-handed philanthropist, and an enterprising businesswoman (sole proprietor of Cherry M. Smyth Productions, LLC and CMC Collections, an in-house fashion boutique, and CMS Travel), Cherry Marmes Smyth is incredibly a renaissance woman. Independent with keen business acumen and an exquisite beauty that won't be left unnoticed Cherry was crowned 2013 PHOSSO's (Philippine Hearts and Hopes Society, Inc.) Mrs. Philippines-America.
The Lanao del Norte-born lady with charismatic appeal (now Griswold, Connecticut-based) never ceases to build lofty dreams not for herself but for others where help is considered necessary. Her altruistic and philanthropic ways easily create for her a gigantic image that made her stand much taller than what she actually is. Seeking to promote the welfare of others through generous donations and fundraising events, the indefatigable KPI founder finds joy and fulfillment having had accomplished her personal mission to her countrymen… together with the able support of her equally benevolent husband.
Almost in her full term (merely awaiting for the stork's delivery on the second week of June…as of press time) Cherry could still amazingly move swiftly and concerning… attending to the very detail of the NYC event while simultaneously (personally) attending and greeting every guest that arrived. Her worth-praising deportment at her state of pregnancy could only earn for her not only affirmative impressions but inspiring headship among new members, as well.
KPI-NY Officers
The simple but intimate induction of KIDS Philippines, Inc.-NY was spiritedly uplifted with a solemn invocation delivered by fast-rising singer Jerome Orillaza Robielos and the melodious vocal rendition of the most-in-demand chanteuse-recording artist Angel Ram.
After delivering his inspirational talk the Honorable Consul Arman R. Talbo, ably assisted by KPI Founder Cherry M. Smyth, ably swore to office the new set of officers of the New York Chapter composed of: Vicente G. Gesmundo,– President; Annalyn Constantino Beck –Vice-President; Dolores Verdillo Agda – Secretary; Cecile Duyongco – Asst. Secretary; Cecile Lai –Treasurer; Marites Lopez Songco – Auditor; and Raymar Maranan – Public Relations Officer.
A Filipino event, no matter how plain and simple, won't come to wrapping up without offering something to fill up the gut and quench one's thirst… and Sweet Habana (of coloratura soprano Kay Havana) catered a bountiful table of assorted one-bite finger foods and drinks courtesy of the newly inducted president. 
KIDS Philippines, Inc. is fast becoming one of the most reliable among the many youth-oriented organizations providing quality education to children in need… helping and guiding them reach full potential that they may be instruments to diminish, if not totally eradicate,  poverty in the next generation.
For comments and suggestions, please email to: gemini0646@yahoo.com.
Facebook Comments