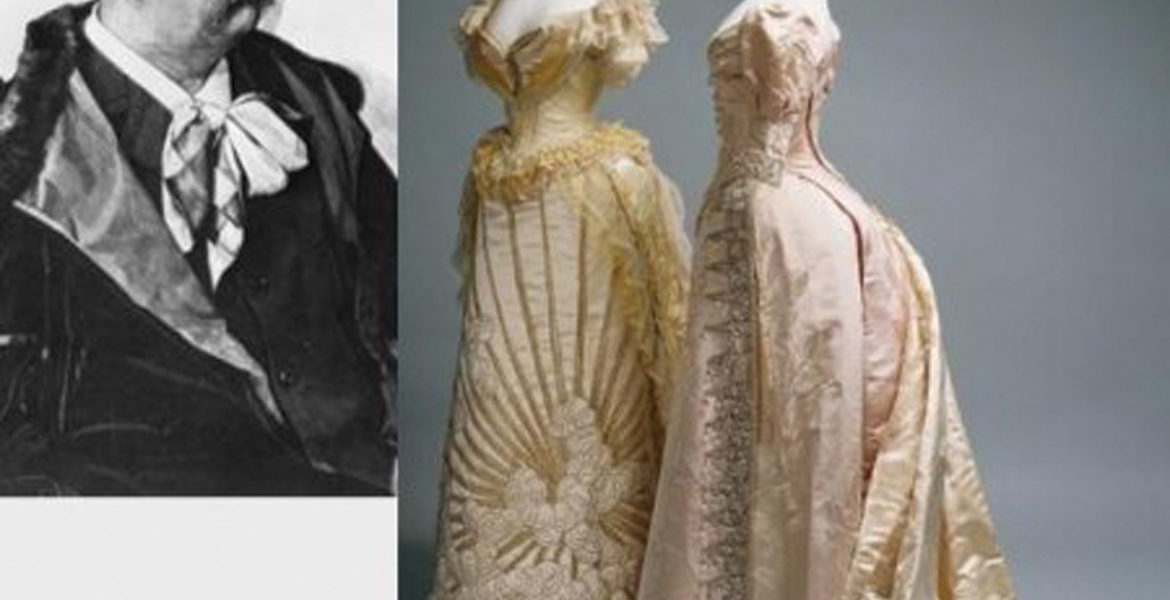 A well-structured face, a statuesque figure, and an ambitious drive are not sufficient factors to make one a model for modeling, per se, demands much more convoluted and tortuous prerequisites to make it big in this glamorously intriguing business.
Since the annual NY Fashion Week is merely in the offing and the fashion thrill unhurriedly builds up in the air, I deemed it but just timely to deal about this subject which every fashion conscious individual would be more than delighted to read and get oriented.
The accurate history of fashion remains obscure and ambiguously disclosed to this day even though the manners of dressing had existed right after the biblical paradise episode when "shame" came into awareness.
According to chronological records fashion caught social attention in Europe, particularly in Paris, during the early 1800s and its influence was solely credited to an English man named Charles Frederick Worth (1825-1898), who, at the age tender age of 12 had already been familiar with colors, texture, and quality of textiles. Having been employed as an apprentice at Swan & Edgar (London's popularly textile store) proved invaluable for it taught him priceless knowledge about fine textiles and exposed him to the luxurious tastes of the privileged class.
His aesthetic passion and innate creativity was even more developed when Worth left his present job in1845 for a brief stint at silk merchants Lewis & Allenby.
In 1847, the renowned Gagelin magasin de nouveautés (at 83 Rue Richelieu) which specialized in the sale of fabrics, shawls, embroideries and laces to privileged clienteles, hired Worth as a salesman. He quickly rose through the ranks and promoted to leading salesman in the shawls and mantles department where he worked with a young Parisian named Marie Augustine Vernet.
To say that Worth was an ambitious man would be an understatement for he was indubitably not only ambitious but intelligent, ingenious, and competitive. As a salesman for Gagelin, Worth experimented with different ways to present goods to potential customers. He would "save the best" for last and entice his customers in a manner that ensured a sale almost every time. To fully achieve the best of his creative designing skills, Worth persuaded Marie Vernet to model and showcase the shawls and other items to potential customers. Their symbiotic working relationship gradually developed into a romantic affair that made their jobs easier and inspiring.
Marie inspired his creativity and that in 1850 he began designing simple dresses for her that were meant to show off the wares and the best materials of the store. His designs stood out from the bespoke clothing that was the norm at the time. They were perfectly tailored and elegant in their simplicity. As he had hoped, clients began to notice her dresses which led to increased sales for the company.
As the special orders increased, Worth convinced his employers to establish a small dressmaking shop for him on the premises with Marie acting as his model. It was believed to be the first time that the sale of textiles and the art of dressmaking were operated side by side and the first time a man was the designer-dressmaker. Worth's name slowly became a byword in the fashion scene while the company grew simultaneously with him.
The man of the hour, Charles Frederick Worth, who would be later known as the Father of High Fashion and the Original Trendsetter and the world's First Live Mannequin, Marie Vernet, tied the knot in 1851 that made their partnership even stronger.
Around the same time, Gagelin Textile Company was sold and renamed Opigez & Chazelle. The firm decided to enter the Great Exhibition of 1851 held in London's Crystal Palace and included several of Worth's embroidered silk dresses in their exhibit. Worth's designs helped Opigez & Chazelle win a gold medal in the category of "upper clothing" that instantaneously expanded Worth's following. In 1855, another of Worth's designs was entered by Opigez & Chazelle in the Exposition Universelle in Paris.
As Worth's star continued to climb he realized that he would have to leave Opigez & Chazelle and branch out on his own if he was to achieve the success he dreamed of. Worth had lofty aspirations — he was determined to not only change the way people thought about fashion, but change the art of fashion itself.
Being on his own in Paris gave Worth more freedom to create more elaborate and fresh ideas that won for him not only affluent clients but the members of the royalties that patronized his House of Worth like Queen Victoria, Empresses Maria Alexandrovna, Marie Feodorovna and Alexandra Feodorovna of Russia, Queen Alexandra of England, Empress Elisabeth of Austria and Queen Alexandrine of Denmark; celebrities like Sarah Bernhardt, Lillie Langtry and Cora Pearl; and the women of America's most famous families, including Mrs. J. P. Morgan, The Vanderbilts, The Hewitts and The Astors.
Not only a fashion innovator, a couturier to the royalties, and the Father of Modern Fashion Shows, Worth was also known to be the first designer to attach his personal label to every piece he made.
The first fashion show
To drumbeat sales, a logical promotion was conceptualized. In the 1800s, "fashion parades" (defile de mode) periodically took place in Paris couture salons. Fashion shows debut every season particularly the Spring/Summer and Fall/Winter seasons. This is where the latest fashion trends are made. The two most influential fashion weeks are Paris Fashion Week and New York Fashion Week, which are both semiannual events… and not to forget the Milan, London, Sibiu and Berlin are of global importance, too. Tokyo and Manila cannot be far behind from staging their own Fashion Week.
The first American fashion show likely took place in 1903 in the New York City store of the Ehrlich Brothers. By 1910, large department stores such as Wanamaker's in New York City and Philadelphia were also staging fashion shows. During the 1920s, retailers across the United States held more shows and that in the 1970s and 1980s, American designers began to hold their own fashion shows in private spaces apart from such retailers. The Council of Fashion Designers of America was created in response to these shows which were centralized in Bryant Park since 1993 until its recent transfer to the Lincoln Center.
Fashion shows in the 21st century
The traditional fashion show format was completely revolutionized in the 1960s, coinciding with the rise of ready-to-wear (Pret a porte) and the gradual decline in couture clients. The discreet and relatively solemn couture showings were replaced by energetic presentations in unusual locations, with designers like Mary Quant and André Courrèges encouraging their models to abandon the traditional catwalk formation in order to embrace free-flowing movements.
Some designers have attempted to modernize the style and presentation of fashion shows by integrating technological advances in experimental ways, such as including pre-recorded digital videos as backdrops. During New York Fashion Week in 2014, designer Ralph Lauren presented his new Polo line for Spring 2015 in a water-screen projection in Manhattan's Central Park. Technological progress has also allowed a broader portion of the fashion industry's followers to experience shows. In 2010, London Fashion Week was the first fashion week to allow viewing of its shows through live streaming.
The rise of fashion models
When a model scores an exclusive for a fashion label it means that they have been picked to walk for that particular designer only. This might launch his /her career, elevate status in the fashion industry and 'guarantee' him/her spots on the world's best catwalks with an enviable paycheck.
Plump and heavy were in-demand during the renaissance as models for painters, model sizes had evolved as fashion trend progressed. Female models were standardized at least 16 to 21 / 5'9" to 6 ' with Bust of 32"-36," waist of 22" to 26" and Hips- 33" to 35." Male aspirants should at least be 5'11" to 6'2" and fit in a suit size of 40" to 42" with lean body without too much muscle unless pursuing fitness modeling.
Impressively, Aaron Frew was barely 5'7" while Kate Moss stands 5'6" yet they were given the opportunity to dominate the industry.
Modeling could be a lucrative job with a staggering pay (if you're on top) and a comfortably celebrated lifestyle. Some famous models that enjoy fame and fortune include Gisele Bundchen, Adriana Lima, Gigi Hadid, Hailey Baldwin, Bella Hadid,  Kendall Jenner, Cara Delevingne, Tyra Banks, Heidi Klum, Kate Moss, and the Top 5 Supermodels Claudia Schiffer, Cindy Crawford, Linda Evangelista, Christy Turlington, and Naomi Campbell.
The 60s saw the rise of stick mannequin Twiggy but the current trend gave way to the plus size models like Ashley Graham, Robyn Lawley, and Whitney Thompson, just to name a few.
Male models entered the scene during the early 60s and since created such big names like David Gandy, Matthew Noszra, Rob Evans, Sean O'Pry, Jon Ortajarena, and Miles McMillan although high paid male models had been ahead of them and gained prominence in mainstream showbusiness: Mark Vanderloo, Tyson Beckford, Noah Mills, Marcus Schenkenberg, Tyrese Gibson, Antonio Sabato, Jr. Shemar Moore, and Mark Wahlberg.
Models and modeling are here to stay for as long as society demands trendy clothing commodities and the necessary accessories that mix and match with them.
Photo credits: Posed by Beka Makrakhidze, Excelsa De Jesus, Andreia Gibau, and Leandro Baldemor
For comments and suggestions, please email to: gemini0646@yahoo.com.
Facebook Comments