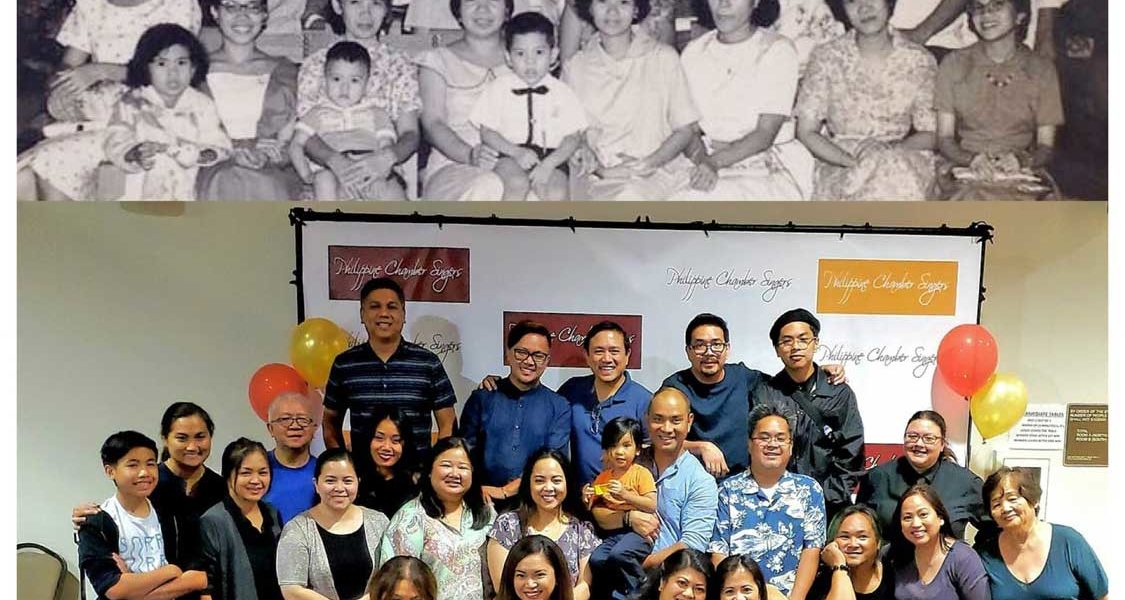 (Part II of II)
"THERE'S music in the air, waving, whistling. Whispering to me, backwards, giving it a chase. And if you turn it you couldn't even sing it. Maybe this tune is going mad in my head. There's a poem in the air, shouting, roaring. Dancing, rolling. But when you go together with your heart, you can't really catch the tune. Maybe this is how falling in love feels like, singing like crazy. What is happening to me? I'm stuttering, can't seem to speak.
I 'm trying hard to sing. But, I am tongue-tied, but, if you put sense to it, you can't really catch it. Maybe this is how falling in love feels like, That I want it so bad to make it a song."
– "HIBANG SA AWIT," originally composed for the UP Concert Chorus in the '80's, rearranged for the San Miguel Master Chorale and Philharmonic Orchestra and newly arranged by Ryan Cayabyab.
The Philippine Chamber Singers-LA (PCS-LA) concert on Friday, August 17 at the Walt Disney Concert Hall, had a theme, "HIBANG SA AWIT (Mad about Songs)," with a comprehensive program of 22 songs of Original Pilipino Music. It was PCS-LA's second concert at this well-acclaimed venue.
The concert featured 87 singers and musicians, which included Mon David, Kit Navarro, Ana Burog, Edward Granadosin, Marivic Francisco, and Noel Anzures in featured solos.
Song arrangements were commissioned from towering-in-reputation gifted composers from the Philippines: Ryan Cayabyab (whose name is synonymous to the growth of Original Pilipino Music Industry for 50+ years), Robert Delgado, Ruben Federizon, Monet Silvestre, John Pamintuan, Jude Roldan and Teresa Vizconde-Roldan, the latter two have developed children's choirs and taken them to tours abroad.
Much like the Roldans, Pete Avendaño has taken the Immaculate Heart of Mary's Children's (IHM) Choir that has won medals in acclaimed competitions in Glendale, California, Oregon and Ohio. The IHM choir has performed in Carnegie Hall in New York and joined choirs around the U.S. to sing for Pope Francis in Rome and will be in London in 2019.
During the Christmas season, IHM's choir has been featured on PBS, and has since been delighting audiences in LA. This year, they joined forces with the Precious Blood School's Choir to form a 50-strong choral group that took our hearts away with cute frontline voices, three feet in height, yet bold articulate voices which introduced the songs, having practiced them in a limited time after school, singing with gusto as one.
The diverse, over two thousand member audience at Disney Hall underscored the loyal base of Sopranos: Kit Buhion, Anne Jeanette Dwight, Marivic Francisco, Anna Hurn, Maria Christina Navarro, and Charmaine Normandia; Altos: Kim Bautista, Ana Burog, Judith Guerrero, Melissa Eugenio Gutierrez, Jennifer Morelos, Apple Nestle Nazareno and Lisa Ulanday; Tenors: Noel Anzures, Aristotle Canlapan, Hero Emolaga, Gerry Francisco, Oscar Pantaleon, Jr. and Louie Ulanday; and Bass: Novem Cabios, Dale Francisco, Gelo Francisco, Emmanuel Miranda, Medard Obida, Dino Padallan and Dennis Quiambao.
Gelo Francisco is their artistic director and co-founder along with Burog, Dale Francisco, Hurn, Padallan and Miranda, who is also its resident conductor.
Grace Mercado Ouano, an author, was impressed: "I have had the pleasure of sponsoring Philippine Chamber Singers – Los Angeles' [two] concerts now at the Music Center's Walt Disney Concert Hall. They are the Pilipino community's pride when it comes to representing Pilipino culture and arts in the mainstream scene. It is my first time to attend their event at this magnificent concert hall. And what better way to watch my first concert than by a Pilipino choir with an all Pilipino repertoire. I am really proud and happy that our community came out in full support for these talented performers. I thoroughly enjoyed the program that evening and judging by the warm and thunderous applause (not to mention standing ovations), the audience really loved the concert. They are a representation of what the Pilipino community in Los Angeles can offer – quality and a balance of culture and art in a melting pot that is LA, much like healthy, balanced and quality recipes that one can find in Foodtrients [a book I authored]. I salute PCS-LA in their endeavor to bringing out the best of Philippine music. Mabuhay!"
PCS-LA's program included Madz Men Alumni (Gerry Francisco, Oscar Pantaleon, Jr. Bong Imperial, Aris Canlapan, Edward Granadosin, Saunder Choi and Emmanuel Miranda), the Malaya Filipino Dance Arts and musicians Paul Concepcion (piano), Elson Trinidad (bass), Leonne Castellas (drums), Jonathan Frias (double bass), and Kendro Calica (pianist for Children's Choir.)  The well-amplified male voices of Madz Men came through and were much appreciated, and one cannot miss Edward Granadosin's solo.
"Since its inception in 2004, PCS-LA has been at the forefront of celebrating the joy and pride in Filipino musical talents in the midst of Southern California's multicultural and ethnically diverse tapestry. PCS highlights a century of classic and modern Filipino music created by some of the greatest and most accomplished Filipino composers," Consul General Adelio Angelito Cruz wrote in his program message. "PCS-LA is heir to a long tradition of Filipino university and church-based choirs wowing and moving audiences in almost every continent."
LAPhil.com described PCS-LA as a "dynamic, diverse, and decorated group of Filipino singers," that has performed at the Cathedral of Angels in Los Angeles, bishops' special events, and even invited by LA Philharmonic's preeminent conductor, Gustavo Dudamel to perform with LA's musicians at the Hollywood Bowl.
Cynthia Bonta, the mother of state Assemblymember Rob Bonta, who traveled from Northern California, raved about how "Gelo is a people's artist – one that acknowledges and showcases people's art. The children's choir and Mon David have arisen from the masses – nothing is elitist about them – their art is people's art as it connects with ease to a people's sensitivities. By sharing the stage, [Gelo] uplifts our Filipino identity and culture. The ease of delivery of such difficult music left us in awe. The transitional speeches personally connected with the audience in their simplicity and warmth of expression. With singers, conductors, instrumentalists showing their enjoyment as they performed truly deepened the audience's appreciation of the evening, [as mine]."
Music is their heritage and priceless inheritance
Nagbubungkal, nagtatanim, kumikinang (shoveling, planting, healthy vibrance) are features of hard work in growing crops.
But, what if those activities were applied in nurturing families and growing communities?
If one is born into music, what if someone aligned with that luck, applied himself in that path, keeping in mind the law of favorability, and that the Universe conspires to give us more favors to grow our luck?
Much like Andrea Morricone — an Italian composer-son of Ennio Morricone, who speaks with a sense of certainty, in sharing himself "as perhaps already swimming in music," while in the womb of his mother, Maria and listening to his father, Ennio who played the trumpet — Anthony Angelo "Gelo" Francisco has similar roots of "swimming in the musically-gifted womb" of Herminia, a coloratura (soprano skilled in opera), his mother, and listening to Gerardo, his father, a singer.
They became part of an erstwhile Mandaluyong Polyphonic Society's (MPS) and as the photo accompanying this article shows, Francisco's dad (bass) and mom (soprano), encircled in white, who with their group, performed at exclusive Cardinal's events in the Philippines. At MPS, Gerardo met Herminia and they became a couple, giving birth to the youngest Gelo Francisco with 4 elder siblings, all with gifts of musicality. A similar PCS-LA gathering with their families are in another photo.
Fast forward to this Music Center's Disney Hall event and we find Gelo Francisco's family integrated into PCS-LA as well, with wife Marivic (a soprano), in a featured solo, while their son, Joaquim Antonio Belo Francisco, (college-bound on his gap year) strummed the kalatong, a bamboo percussion instrument with Gelo. Both Joaquim and his father (Gelo) played the kalatong bamboo drums to a fast rhythm that provided the background to "TINIG NG LUPA," which earned a chorus of audience's bravos. We celebrated that we saw how the Francisco family rose as one, passing on the legacy inherited from Gelo's father and mother, and now Gelo and Marivic passing on their gifts of musicality to their first born, Joaquim, another professional artist born that night.
The integrity of passion and conviction to good music shows
Equally outstanding was the rendition of "ANAK," a popular song of Freddie Aguilar, with new arrangements from John Pamintuan. It was a solo featuring alto Lisa Ulanday, accompanied by Malaya Filipino-American Dance Arts and of course, PCS-LA.
Many Filipinos can sing "ANAK" as the tune is almost instinctive, having been born in the Philippines, a place where this song is heard in the plazas, musical halls, academic stages, television, and movies and like a prodigal son, one breaks off from family to grow independence and returns to home again.
To have a Filipina-American like Ulanday sing this in Tagalog, which is not her primary language, took a lot of preparations from her as to style, enunciating the words and vowels with the punctuated emotions, and of course, the sound dynamics.
She said, "I never thought simple words like 'gatas' (milk) could sound too aristocratic when I applied traditional choral singing vowels. I had to consciously add more 'y' in kamay (hand), so I didn't sound hoitey toitey."
"How did you prepare for this?" I asked her, one evening, after putting her own anak to sleep.
"First, I had to look up the translation for every single word as I only speak English and Ilocano. I probably know Spanish better than Tagalog because of four years of Spanish in high school. Next, I listened to Freddie Aguilar's original and it struck me as folk sounding, melancholic and really relied on the lyrics to get the message and the emotions out of the song. I looked at Pamintuan's arrangement next."
Note that she is describing knowing first the original, the traditional base of the song, before the new arrangement that is born out of the original with new twists.
"The new arrangement is more staged, it could easily be a song for a musical. I thought half of these folks wouldn't understand or hear the lyrics I am singing either because of a language barrier or distance from stage. I worked on performing as I would in a musical like Les Miserables, like Aida, like Miss Saigon. When the female lead sings her heart, her angst and anguish alone overtook the stage with that spot. I looked at it from that angle since I would not have the concert with microphones to help me get the message across.
And of course, the message is universal, I have been the child and now I am the mother. I totally get it," she reflected on her artistic process.
Indeed, Lisa got it as the audience, who gave her a resounding chorus of bravos. We got it that she communicated why ANAK has become "arguably one of the most popular songs in the world, translated into several languages, generated hundreds of cover versions, and sold millions of copies," Emmanuel Miranda wrote in the program notes.
As PCS-LA's resident conductor, Miranda's prowess came to the fore, as this writer observed a July's practice session, wherein the choral group had yet to gel as one, with some trailing sounds that piqued the sharp ear of Miranda. He stopped them and could not take the off sounding notes. Like a father to a child, he said: "Did you practice? Please do not waste my time."
To this writer, the perceived harshness was unnecessary. Yet, all that harshness is in the past, forgotten and now all we see is that the hard work paid off, as the concert showed the beauty of a choral group singing as one. It called to mind the language used by Gustavo Dudamel and Andrea Morricone who practiced and conducted professional members of their orchestras and through their exasperation, had this to say, "Almost perfect," motivating them to reach that summit of perfection, if there was one.
The audience appreciated the '70s Rock Medley sang by Ana Burog, Lisa Ulanday, Kim Bautista and Apple Nazareno. It signaled to the audience that this is the fun part. But also, the "TSISMISAN," where the audience was pleasantly surprised.
Noel Anzures sang the solo of "HANGGANG SA MULI," composed by Ryan Cayabyab and arranged by Moi Ortiz. It was dedicated to Alec Bao, an erstwhile PCS-LA member, who received a heartwarming applause and perhaps equally moved by Noel's heartfelt rendition, and also Alec's presence,"So many songs sang coming for the heart/Hoping we've made you smile just for a moment."
HIBANG SA AWIT did not disappoint, it lived up to the audience's expectations from their first Disney Hall concert of four years ago.
"I enjoyed this concert more than their first, I dare say," Cynthia Bonta added.
"Rosa Parks took her stand with clarity and courage. I took mine by diversion and default.
Some journeys are direct, and some are circuitous; some are heroic, and some are fearful and muddled. But, every journey, honestly undertaken, stands a chance of taking us toward the place where our deep gladness meets the world's deep need," Parker Palmer wrote in Let Your Life Speak.
PCS-LA took their paths to Disney Hall with courage, boldness, community support and the audacity of being people's artists, showcasing talented artists like themselves, and collaborating with gifted musicians from the Philippines, here in Los Angeles, and wherever Filipinos-mad-about-songs are. It was as I wrote in Part I, magical, warm, and tender!
Footnote: This writer wrote about Mon David, Ana Burog, Kit Navarro and Edward Granadosin in Part I published in the Asian Journal – Los Angeles Weekend edition on August 25, 2018.
* * *
Prosy Abarquez-Delacruz, J.D. writes a weekly column for Asian Journal, called "Rhizomes." She has been writing for AJ Press for 10 years. She also contributes to Balikbayan Magazine. Her training and experiences are in science, food technology, law and community volunteerism for 4 decades. She holds a B.S. degree from the University of the Philippines, a law degree from Whittier College School of Law in California and a certificate on 21st Century Leadership from Harvard's Kennedy School of Government. She has been a participant in NVM Writing Workshops taught by Prof. Peter Bacho for 4 years and Prof. Russell Leong. She has travelled to France, Holland, Belgium, Japan, Costa Rica, Mexico and over 22 national parks in the US, in her pursuit of love for nature and the arts.
Facebook Comments