"A lot of traditional Filipino food has sour and bitter notes, which are very unfamiliar to American palates of a few years ago. American palates have changed drastically. I think there's a really bright future." – Anthony Bourdain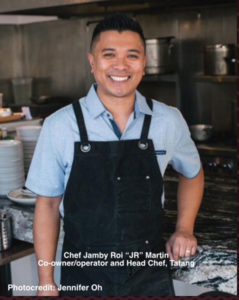 Before his tragic demise a few weeks ago, world-renowned top chef Anthony Bourdain has prophesied the future of Filipino cuisine saying, "Filipino food is the next big thing." I couldn't agree more. And if he is still alive today, he would definitely check out these two hole-in-the-wall food hubs that are tucked in the San Fernando Valley. I can already imagine him eating sisig and crispy pata with these chefs; nay, food innovators – who are making the San Fernando Valley the next hot spot for "Pinoy Food."
 Meet Chef "JR" Martin (chef and owner of Tatang in North Hollywood) 
Jamby Roi "JR" Martin is co-owner/operator and head chef at Tatang restaurant in North Hollywood. He leads a professional team dedicated to providing culinary excellence and a top-tier guest experience while overseeing all restaurant operations, culinary offerings, and media outreach.
 Chef JR holds a degree from Le Cordon Bleu, Pasadena.  He has gained renowned exposure in high-profile venues and events throughout the United States associated with Wolfgang Puck, Patina; National Events: Kentucky Derby, Grammy Awards, X-Games; Major Sports Leagues: NBA, PGA, NHL, MLS, USTA, NASCAR; Corporate/Political/Religious Entities: Lexus, American Express, Ralph Lauren, La Coste, SPACE-X, TESLA, President Clinton, Catholic Archdiocese of Oakland & Los Angeles, just to name a few.
 Prior to starting a professional culinary career and his own restaurant business, JR spent his teenage years learning how to plan for, cook and feed his large extended family. This includes his mother, her 15 siblings and the +50 progeny that comes with the lineage. He spent over 15 years passionately pursuing business knowledge within the industry alongside his culinary expertise.
 Tatang, which translates in Tagalog as father, was aptly named in honor of the chef's late grandfather. Tatang Restaurant is known for its Filipino fusion and their modern take on famous Filipino dishes such as lumpia (fried spring rolls), chicken adobo, chicken sisig, longganisa, pork liempo, pancit and mami, among others. 
 One of the restaurant patrons described the food as "good for health-conscious people" as most of its ingredients are organic and not too oily compared to other Filipino restaurants.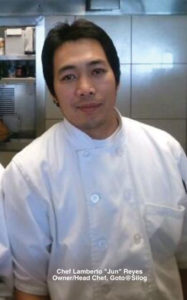 Chef JR aims to bring the North Hollywood and greater Los Angeles area a unique culinary experience that will bring the community together through that same love of good food and company. He plans to offer a wide range of programs and services, from gastronomic education to business development and community-enhancing workshops.
 Meet Chef "Jun" Lamberto Reyes (chef and owner of Goto@Silog in Panorama City)
His traditional and home-cooked way of preparing Pinoy food will take you back to the good old days when your mom or lola used to fix you some "meryenda" after an afternoon's worth of playing under the scorching sun. Such is Chef Reyes' vision of Goto@Silog: comfort Filipino food that soothes every Filipino's soul.
Known to his frends as "Jun," his passion for cooking started way back when he was still in the Philippines. Before coming to the U.S., he worked in Saudi Arabia, yet his love for cooking didn't escape him. He would usually cook for his co-workers when he is off-duty.
 After his job in Saudi ended, he moved to the U.S., where he got his first job at a Senior Care Facility as a cook. He also worked in other Filipino restaurants and became one of Chowking's first employees when they opened in Cerritos. He worked there for seven years.
Jun decided to shift careers and worked as a contractor. He told himself that he'll only go back to the food industry when he already has his own restaurant. This, of course, was easier said than done. A job opportunity opened up for him and guess what? Yep, you've probably guessed right – cooking found its way back to him when he accepted a job at a Filipino restaurant in Cerritos.
When that restaurant closed, he pursued Culinary Arts to further his education. It took him six years until he was ready to manage a restaurant. Still not his own, yet as close as owning one, he rented out the restaurant's name and took care of all the expenses. After a few years, he decided to buy it out to open his own restaurant and named it,"Goto@Silog."
For the past four years, Goto@Silog has been serving Filipino comfort food specializing in meryenda such as goto, as well and breakfast rice toppers or "tapsilogs." He has since added some Filipino favorites such as their famous crispy pata and bulalo ng Batangas, which is their bestseller – and I must say – to die for.
Chef Jun is planning an expansion very soon and is in the lookout for a good location to share his talent and love for Filipino cuisine.
***
Monet Lu is a Marikina-born, award-winning celebrity beauty stylist with his own chain of Monet Salon salons across Southern California and Las Vegas, Nevada. Ultimately, Monet is known as an all-around artiste who produces sold-out fashion and awards shows as well as unforgettable marketing campaigns. Monet is also the founder of the revolutionary all-natural beauty products such as Enlighten, your solution to discoloration . To contact Monet, please visit www.monetsalon.com or email him at monetsalon@aol.com