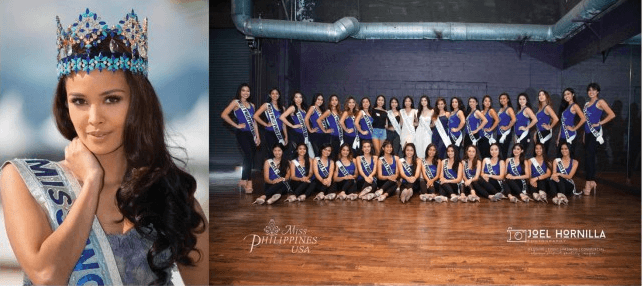 Looks like Miss World 2013 Megan Young is not yet done conquering the 'world' and she's onto her next conquest—the world of Hollywood. Yes, our Pinay pride is in town to try her luck in Hollywood. According to the entertainment website Push, Young is planning to take a summer workshop in the United States so she can act better in English.
"Mas sanay kasi akong magsalita ng Tagalog or Taglish, so kailangan ko ring i-practice ang sarili ko saEnglish or acting in English. Actually, I'm starting from zero. I don't expect anything. I'm really starting from scratch. Kung meron, meron. Kung wala naman, at least I tried." she said.
It was reported last March that Young signed a five-year contract with Innovative Artists Agency in New York to help spur her international career.
"I want to work where I want to be, pero marami pa rin siyang prosesong pagdaraanan. I'm not speaking long term but let's see how thing will unfold from here, so, tignan natin," she said then.
Young was crowned Miss World 2013 in Bali, Indonesia, making her the first Filipina to win the elusive crown. She also won the "Top Model" competition, placed second in the "People's Champion," and fourth in the "Multimedia Challenge" and fifth in the "Beach Beauty" contest of said competition. Young also received the Continental Queen of Beauty title as Miss World Asia 2013, the highest ranked contestant in the Asian region.
Young, who is Megan Lynne Young in real life, was born on February 27, 1990. She holds a dual citizenship: Filipino and American.
Young is a Starstruck alumna and member of the GMA Artist Center before she decided transfer to ABS-CBN.
She joined Star Magic Batch 13 and was famous for being a celebrity housemate in Pinoy Big Brother: Celebrity Edition 2. She once shared in an interview that before she entered the PBB house, she prepared herself to sleep alone and do simple chores at home. Inside the PBB house, she was nicknamed 'The Princess of Charm," because she would often have the other housemates do chores for her. Although, Young did not emerge as a winner because of her eviction, she gracefully accepted it. On the other hand, Young's role as Shane in "Kokey" was widely accepted.
Young was also a co-star in TV5's series, "Misibis Bay," which had their few weeks of shooting in a beachfront in one of the paradise island in Albay, Philippines.
At a young age, she believes she still has a lot more room to grow and learn what life really is.
After making movies and appearing in several commercials and endorsements in the Philippines, she is not ready to take on another challenge that seem to fit right up her alley. For sure, Hollywood is a different ball game but our sweet-face beauty queen is no stranger to the ups and downs of showbiz life. In fact, she serves as an inspiration to women in and out of the Philippines.
Right now she is getting ready to be one of the judges for The Miss Philippines USA happening on Sunday, July 16th at the Alex Theater at 4:00 pm. Joining her in the panel would be Jonas Gaffud, actor Matt Ranillo III and his wife Linda Ranillo, JR Oriel, Grace Mercado, Janet Nepales and Mohammed Selami
The pageant on its 6th year has 33 contestants vying for the elusive crown of being 2017 Miss Philippines USA. Specials guests include Dingdong Avanzado, Eric G Bagyo, Michael Keith and celebrity model Daniel Azurin. The show will be hosted by Cher Calvin and Tony Cabrera, who have been hosting the event for six years in a row. The competition event is produced by Miss Philippines USA Productions under CEO and Celebrity Fashion Designer Lou Razon.
As of this writing, Young has officially landed in the city of Angels, and that's according to her latest Instagram post. I like how this young woman is very focused and knows what she wants. She has not only brought pride to our country by winning the Miss World title, she is also a living testament of a typical millennial-dreamer who is not afraid to chase after her dream.
To our dear Miss World 2013, Megan Young, I really see a future for you in Hollywood. I am optimistic that you are going to rock their world! Good Luck and More Power to you!
***
Monet Lu is a Marikina-born, award-winning celebrity beauty stylist with his own chain of Monet Salon salons across Southern California and Las Vegas, Nevada. Ultimately, Monet is known as an all-around artiste who produces sold-out fashion and awards shows as well as unforgettable marketing campaigns. Monet is also the founder of the revolutionary all-natural beauty products such as Enlighten, your solution to discoloration . To contact Monet, please visit www.monetsalon.com or email him at monetsalon@aol.com
Facebook Comments