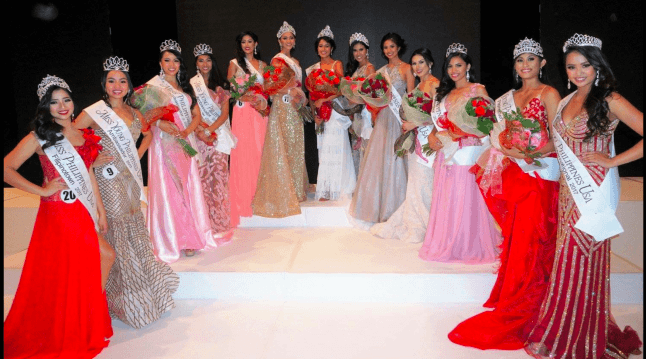 The sixth installation of the Miss Philippines USA 2017 and Miss Young Philippines 2017 held last Sunday, July 16 at the Alex Theatre in Glendale proved to be one of the most successful Filipino-American pageants in Southern California.
This year had the most number of contestants with 33 candidates vying for the crown.
"This year we are proud to stage a production with a fusion of Filipino and American. We have more candidates this year, and have screened more than 100 hundred applicants since 2016. There are teens that are already interested in beauty pageants and Miss Young Philippines USA is their platform to prepare themselves for their career choice. We are amazed at how many young applicants sent their profile to us," said CEO and founder Lou Razon.
The evening's co-hosts, broadcast personality Tony Cabrera and Cher Calvin, news anchor on KTLA 5 News, who have been co-hosting the pageant for six years, introduced the candidates as they opened the show with a dance number.
"The most memorable was the opening dance performance of the candidates wearing contemporary national costumes designed by me. I was screaming for joy while watching the girls perform," Razon continued.
The swimsuit competition drew louder cheers from the crowd as 22 contestants competed in the Miss Philippines USA swimsuit category, while eleven competed for the Miss Young USA swimsuit round and was won by Jazlynn Dizon. Kayla Nadres won Best in Swimsuit for Miss Philippines USA 2017. The swim apparels were provided by Dylee & Lylee Active & Swimwear Apparel.
More exciting announcements were made throughout the program which was attended by over 1,400 distinguished guests. Mrs. Cora Aragon Soriano, the first Mrs. Philippines USA, officially announced that Mrs. Philippines USA segment would be included in the competition category for next year's pageant.
The Long Gown category followed shortly and was won by April Rose Maniwang in the Miss Young Philippines USA category and by Nicole Guerrero for Miss Philippines USA.
Seven semi-finalists were chosen from the 11 young contestants and 13 semi-finalists were chosen from the 22 Miss Philippines contestants to compete in the final question-and-answer portion.
The Question-and-Answer segment concluded with the following special awards: Alexandra Dalumpines won Miss Filipinotown; Jessica Cabanos won Miss Foodtrients World, Alyssa Sandra Guevara and April Rose Maniwang were appointed 2017 Ambassadors; Alyssa Sandra Guevara was the second runner-up and Sabrina Garcia was the first runner-up.
The winners in all final categories for Miss Philippines USA 2017 were: Kayla Nadres who won World 2017; Gabby Pangan who won Filipinotown; Kristine Macalutas and Valerie Bondan who were appointed 2017 Ambassadors; Angelica Escandon who won third runner up, Andrea Valera as second runner up, and Angelica Escandon who emerged as the first runner up.
The evening culminated with the joyous crowning of both Miss Philippines USA 2017 and Miss Young Philippines USA 2017. Nicole Guerrero emerged as the Miss Philippines USA 2017 and won Miss Philippines USA Top Model of the World and Miss Philippines USA Foodtrients World. The title Miss Young Philippines 2017 was awarded to Jazlynn Dizon!
Amazing guest performances filled the night; Michael Keith, the Filipino "Michael Jackson," performed two songs to get the show started, as well as an energetic performance by Bagyo, Eric G serenaded Miss World 2013 Megan Young, who was also one of the 11 jurors, and Ding Dong Avanzado closed with an awesome song number. Aces and Queen Founder and Beauty Queen Maker Jonas Gaffud was also among the judges that night. He joined Young on stage as they crown the Miss Philippines USA and Miss Young Philippines 2017. He and Young functioned as mentors of the candidates during the pre-pageant season. He pledged his support for next year's competition and said, "it will be bigger and better–if not best."
The Miss Philippines USA is co-produced by program and technical director Randy Trinidad. This year's pageant was directed by John De La Vega. With such an amazing team behind her, Ms. Razon expresses her deepest gratitude to all who made this event a successful and worth trailing, six years and beyond.
She said, "I feel blessed that we are in our 6th year. It is getting bigger and better and I feel like we need to move to a bigger location (laughs). This year, we wanted to come up with a more cultural show that shows the roots of Filipino-Americans. It took us three months to plan the theme and the costumes and the staging. Turnout was fabulous, the event was fun and exciting, it is a fusion of the Philippines and USA. I would like to thank all our sponsors, judges, candidates, parents, staff and crew and the audience for their support! I would like my candidates to know that they all looked beautiful.  This year's batch was one of the best. I do appreciate their hard work and dedication in making the pageant successful."
***
Monet Lu is a Marikina-born, award-winning celebrity beauty stylist with his own chain of Monet Salon salons across Southern California and Las Vegas, Nevada. Ultimately, Monet is known as an all-around artiste who produces sold-out fashion and awards shows as well as unforgettable marketing campaigns. Monet is also the founder of the revolutionary all-natural beauty products such as Enlighten, your solution to discoloration . To contact Monet, please visit www.monetsalon.com or email him at monetsalon@aol.com
Facebook Comments