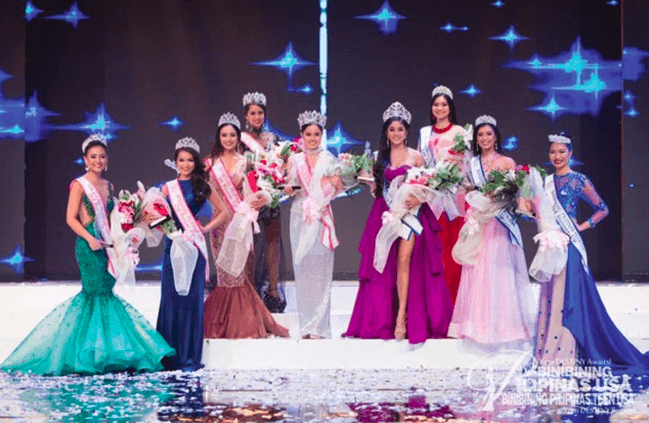 REDONDO Beach – Along with a spectacular evening of world class performances and star studded lineup, twenty (20) extraordinary young women, with an equally impressive group of nine teen candidates fought for gold at the 5th, the grandest, and final installment of Binibining Pilipinas USA.
In a first, the evening was hosted by KC Concepcion and KC Montero — remarkably, the first-time ever that the two KCs have hosted a show together.
"It took Binibining Pilipinas USA to bring us together," quipped KC Montero.
Co-hosted with Emmy-award winning producer of "The Talk," Marc Anthony Nicolas, the night kicked off with a spectacular opening number featuring laser and LED effects, twin 20 foot dancing robots and high-flying, acrobatic moves by Asia's Got Talent and WCOPA Grand Champions, Junior New System. The audience joined them in waving their LED  batons in the air.
"That atmosphere was absolutely electric," said Olympic figure skater, Michael Martinez, a guest in the audience.
Hailing from seven states, the contestants competed in their national costumes, swimsuits, and evening gowns to a sellout venue.
The toughest job of narrowing the bunch fell to the pens of the distinguished panel of judges Chaired by Miss Universe 1993 Dayanara Torres and including: Undersecretary of the Philippine Department of Tourism Kat De Castro; world-renowed fashion designer Elie Madi; "Voice builder to the world" Gary Catona; former Major League Baseball All-Star Royce Clayton; Ralph Moore; Hon. Cristina Perez (Justice for All with Judge Cristina); Michelle Narvaez; and actor Reggie Lee (Grimm).
Special music performances by a pair of platinum recording artists, Dawn Robinson of En Vogue ("My Lovin'-You're Never Gonna Get It") and dance diva Cece Peniston ("Finally") had the audience dancing and singing along enthusiastically.
Lastly, for a surprise number to celebrate five years of excellence. IEG brought back some Binibining Pilipinas USA and Teen USA alumni as they presented a dance number, "There's Nothing Holding Me Back."
The evening marked the final time the pageant would run as "Binibining Pilipinas USA" as KC Concepcion announced that the pageant would continue next year under its new moniker, "Miss Filipina International."
"We couldn't have been more thrilled with these past five years," said Mildred Deang, BP-USA founder and Executive Producer." At the same time, we're excited for what the next five years will bring but, first, we need to catch up on some sleep!"
Special guests were Jacob Meir, founder of For the Stars Fashion House, actress Maria Conchita Alonzo, Olympic skater Michael Martinez, Consul General Los Angeles Adelio Angelito Criz and wife, Director of Tourism Los Angeles Richmond Jimenez, actress Hilda Koronel, President of Hunt Enterprises Priscilla Hunt, Miss Universe Guatemala Virginia Argueta, Cinemoi President Daphna Zimans, Emmy-award winning producer Lisa Lew-Brennan, designer Joey Galon and a quartet of mainstream entertainment and fashion industry publicists Nerissa Silao, Eseel Borlasa, Josephine Dizon and Winston Emano were on hand to join the most awaited event of the year.
When all settled, the winners emerged:
Winning the title Binibining Pilipinas USA 2017 is Nikki Zulueta, Binibing Pilipinas USA Tourism – Kylie Nishida, Binibining Pilipinas USA 1st RU – Kelly Ceniza, Binibining Pilipinas USA 2nd RU – Nicole Viera, Binibining Pilipinas USA 3rd RU – Nicole Colina.
The winners of Binibining Pilipinas Teen USA 2017 are:
Pilipinas Teen USA Asia
Aragon
Binibining Pilipinas Teen USA 1st RU Czarina Kwong
Binibining Pilipinas Teen USA 2nd RU Patricia Santos
Binibining Pilipinas Teen USA 3rd RU Lorey Caminos
Special Award winners are:
Binibining Photogenic – Maristel Barrientos
Binibining Popularity – Maristel Barrientos
Binibining National Costume – Janet Hammond
Binibining Miss Congeniality – Pamela Saguinsin
Binibining Top Runway Model – Amber Oconer
Binibining Best in Talent – Cheska Angeles
Binibining Best in Swimsuit – Kylie Nishida
Binibining Best in Evening Gown – Kelly Ceniza
Binibining Social Media – Rachelle Penaso
Binibining People's Choice Award – Kyra Decastro
Binibining Philippine Airlines – Amber Oconer
Bb. Teen Best in National Costume – Asia Aragon
Bb. Teen Miss Photogenic – Czarina Kwong
Bb. Teen Miss Popularity – Angel Soliven
Bb. Teen Miss Congeniality – Asia Aragon
Bb. Teen Top Runway Model – Asia Aragon
Bb. Teen Best in Talent – Asia Aragon
Bb. Teen Best in Swimsuit – Asia Aragon
Bb. Teen Best in Evening Gown – Asia Aragon
Bb. Teen Teen Social Media – Patricia Santos
Bb. Teen People's Choice Award – Lorey Caminos
***
Monet Lu is a Marikina-born, award-winning celebrity beauty stylist with his own chain of Monet Salon salons across Southern California and Las Vegas, Nevada. Ultimately, Monet is known as an all-around artiste who produces sold-out fashion and awards shows as well as unforgettable marketing campaigns. Monet is also the founder of the revolutionary all-natural beauty products such as Enlighten, your solution to discoloration . To contact Monet, please visit www.monetsalon.com or email him at monetsalon@aol.com