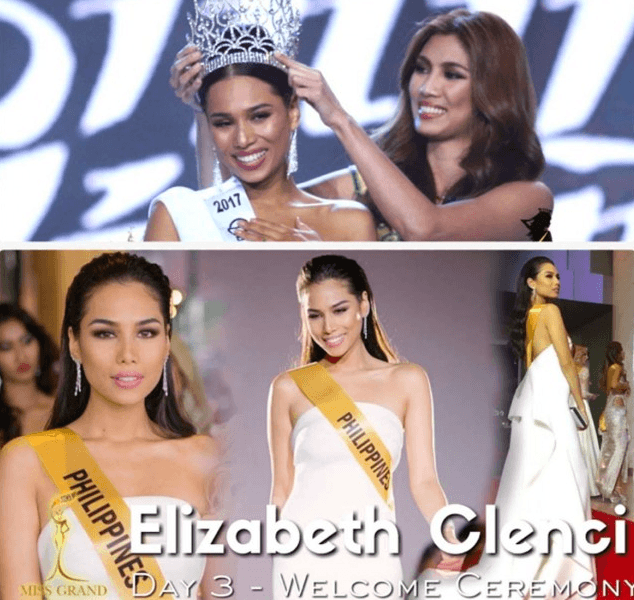 WITH only a couple of days away from the coronation night, the Grand International title is just within reach of the 77 lovely candidates representing their countries for the 2017 Miss Grand International being held – as we speak – in Vietnam. And as expected, votes are being cast on who are going to make it to the Top 5. Sources say our candidate Elizabeth Durado Clenci is one of the best bets on all the categories and has a good chance of taking the crown home.
Miss Grand International has been in the beauty pageant field since 2013 and in such a short amount of time has established itself to be one of the world's leading international beauty pageants with its good quality and unique theme. The show prides itself for its fast-paced production, upbeat music, engaging camera angles and energy.
Last year, I witnessed the overall atmosphere of Miss Grand International 2016 Final Show at the Westgate International Theatre of Westgate Las Vegas Resort & Casino. Every part of the show was spectacular and charming and the production was outstanding. It was that year that our Philippine representative Nicole Cordoves won first runner-up. And with the way we've been winning beauty pageants for the past six years, it's no surprise that we might actually win the title this time.
I like our candidate. She is very graceful, sophisticated and she sure knows how to project and carry herself in front of the camera. She knows how to walk like a full-fledged beauty queen and gives total justice to the gorgeous gowns she'd worn even from the time she competed for the 2017 Binibining Pilipinas. It seems like I am not the only one who sees the possibility of her becoming Miss Grand International 2017 because apparently Elizabeth Clenci is acing most of the pageant portions! She is one of the crowd favorites throughout the competition. Joining her in that list are Indonesia, India, Venezuela, Vietnam and Thailand. Her white evening gown and national costume were highly praised as well as how she handled the group interviews and Q&As. I have a good feeling that she would get into the top 5 but of course I really hope she'd bring home the crown.
Elizabeth Durano Clenci is half Filipina, half Romanian. She grew up in Australia and studied Music. She is a full time musician; a session bassist, singer and also plays guitar and piano and she is a fan of Marvin Gaye. During the interview with Rappler, Liz mentioned that one of the musicians she looks up to is Marvin Gaye. "Singer-songwriter, there's a few, definitely Marvin Gaye, Lian La Havas would be like a good modern-day inspiration for me. Fleetwood Mac, I love their songs. I think they write incredible songs," she said.
In her interviews she would often talk about how she suffered with a skin condition and how she overcame it. "Out of nowhere, my body erupted in severe eczema. It was the most agonizing year and a half of my life, everything became painful. I invested thousands of dollars and precious time with multiple doctors and specialists who just vaguely addressed my case. One doctor even told me that this is how I would live the rest of my life. In my heart I knew this wasn't true and there was a way. Having a background and Interest in natural health I was able to eventually completely heal myself. Taking the natural route meant that healing wasn't going to happen over night, and took a year of slow yet sure healing. My experience taught me patience and trust. I had to trust in my instincts knowing that I was making the right decision to lead to true healing. It also showed my determination to strive and push for my goals. I proved to all the non-believers who said I couldn't … that I could, and I learned that above everything, believe in yourself and trust yourself. I now openly tell my story so that I can serve as an inspiration and guide to those who too are suffering and hope to someday, after or even during my music career be of assistance to people through natural health whether its through Naturopathy or Music Therapy," Liz said.
Like most beauty queens (who have won-eventually after joining Bb. Pilipinas multiple times), it wasn't Liz's first time to join the pageant. She first tried to compete in Bb. Pilpinas back in 2011 where Shamcey Supsup won the title of Miss Universe Philippines. In an interview with The Philippine Star, Liz said she saw the second chance as very different for her, adding that maturity has played a role in her most recent foray into the pageant world.
"I don't see it as joining a second time; I see it with fresh new eyes as a more mature woman. I was so young when I joined the first time. I don't see repeating as a disadvantage or anything. If anybody has a dream, it doesn't matter how many times you fail, it's about getting up and trying again and risking everything, and that's what makes you a winner."
Very well said. Such confidence oozing from this young lady who is indeed "beauty queen material." Good luck to you Elizabeth, we are here cheering and supporting you. We're elated to hear that you are doing well. May you continue to shine and be proud to be a Filipina!
***
Monet Lu is a Marikina-born, award-winning celebrity beauty stylist with his own chain of Monet Salon salons across Southern California and Las Vegas, Nevada. Ultimately, Monet is known as an all-around artiste who produces sold-out fashion and awards shows as well as unforgettable marketing campaigns. Monet is also the founder of the revolutionary all-natural beauty products such as Enlighten, your solution to discoloration . To contact Monet, please visit www.monetsalon.com or email him at monetsalon@aol.com