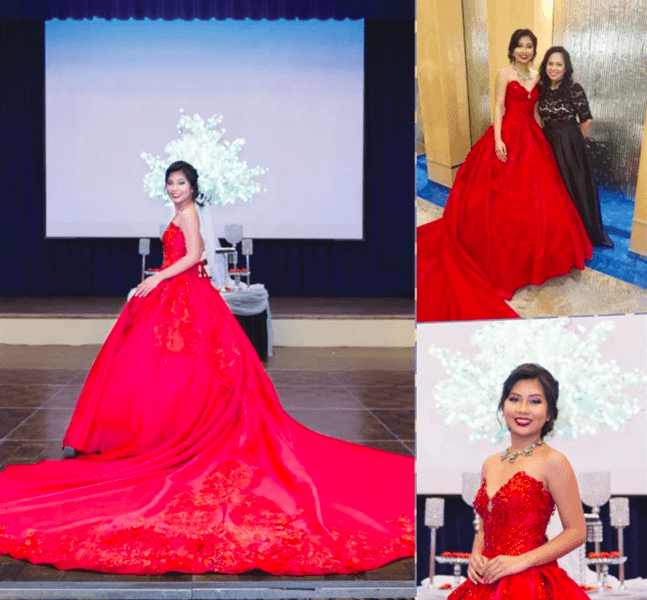 THEY say one of the most precious moments a woman could ever have is to be a mother. It changes you from within and you'll never look at life the same way again. But what happens when the baby you once cradled in your arms turns into a lady right before your eyes?
I had the pleasure of hearing about this experience straight from my favorite mom-and-daughter: Lalaine and Richie Anne Soliven.
"I am excited to see the woman of God that she is becoming; a woman of character, love & grace. Richie Anne and I became closer like we're "best friends." We talk through everything but we manage to set boundaries like have ups & downs and still balance our individuality and closeness, have unconditional love for each other by accepting one another's imperfections," Lalaine Soliven, mother of Richie Anne opened up when I asked her about the relationship she has with her daughter now that she has officially entered adulthood.
Richie Anne turned 18 last July 4. Her Fabulous-and-Glamour-Night-themed debut was held at the Pacific Palms Resort. The night was filled with unforgettable moments and was well attended with over a hundred guests who all have played an important role in Richie Anne's life.
"I had the the best time making sure the party was in order and that it would be memorable for everyone. I really wanted to make Richie Anne happy on her special day," Lalaine added.
The most awaited dance aka the 18 roses was executed flawlessly. The lovely debutant danced with her godfathers, grandfathers, cousins, brother and of course, her father, who happened to be her final dance.
"The Father-Daughter Dance was very emotional.  It signifies Richie Anne's first step to womanhood and my husband's acceptance of the fact. During the 18 Roses, Richie Anne's Godfather (her Uncle Ronald) carried her like a baby in his arms. It was very touchy-feely.  It brought everyone to tears," Lalaine continued.
According to her, Richie Anne's father was very supportive and in effect, Richie Anne grew up strong & confident and she attributes that to having a strong male influence in their daughter's life.
"Looking back at those eighteen years, the memories that really stand out to me were the simple things: taking piano lessons together, taking turns reading to one another, letting her choose the music in the car or playing a game or coloring together, just her and I being silly," she said.
The baby is now a lady
"As a young lady, I would like people to recognize my God-given gifts, I would love to inspire more people through my joy and kindness. I would want people to be excited that I am part of their life and would hate to see me go. I want them to able to trust me and see me as someone who stays true to her word but walks with confidence not seeking approval of everyone," Richie Anne says when I asked her how she wants to be treated now that she is a full-grown woman.
"I would describe myself as a person with a humble heart. Many people think that I think 'little of myself' and I don't think that's true at all. I am a person with real interest in others and would want to contribute positively to the world," Richie Anne says when I asked her to describe herself.
Richie Anne was one of The Beautiful Life Celebration's "Most Beautiful Fil-Am 2015"and was crowned "Darling of the Night." She is currently majoring in Biological Sciences at University of California-Irvine. Ten years from now, she sees herself as a doctor, giving back to the community by affecting positive change and opening opportunities for others and for herself.
Right now, she is involved in the "Thirst Project," a non-profit organization aimed towards providing clean water sources in third world countries. They are fundraising money to build wells or water filters for hundreds of people where all donations are directly given to the water projects. Just last year, the total funds donated for water projects reached $449,517.
"I believe that each individual have enough opportunities to make a difference in their everyday lives.   A simple smile can evoke positive emotions of love, compassion and joy that would bring about change," she said.
Lalaine and Richie Anne would like to thank the following people: Miracle Santos of Miracle Dream for being the best event planner/coordinator, Leo Bagtas of Da Vinci Camera, for capturing memorable moments, Carl Andrada of Carmelo Design for the debutant's grandiose gowns, twins Monica & Monique Santos for the lovely hair & make up, Host/DJ Joseph Gelito for the entertainment, Asian Journal and Monet Lu for taking the time to publish our story and writing such an amazing piece. Richie Anne's dad Richard Soliven and her brother AJ Soliven, as well family & friends who were there to celebrate her special day.
To my favorite mother-daughter tandem who I've know for quite sometime and have grown really fond of, I am so proud that this milestone has brought you closer to each other and I am thankful for letting me be part of it. Good luck to both of you and I hope you continue to be each other's best friend.
***
Monet Lu is a Marikina-born, award-winning celebrity beauty stylist with his own chain of Monet Salon salons across Southern California and Las Vegas, Nevada. Ultimately, Monet is known as an all-around artiste who produces sold-out fashion and awards shows as well as unforgettable marketing campaigns. Monet is also the founder of the revolutionary all-natural beauty products such as Enlighten, your solution to discoloration . To contact Monet, please visit www.monetsalon.com or email him at monetsalon@aol.com