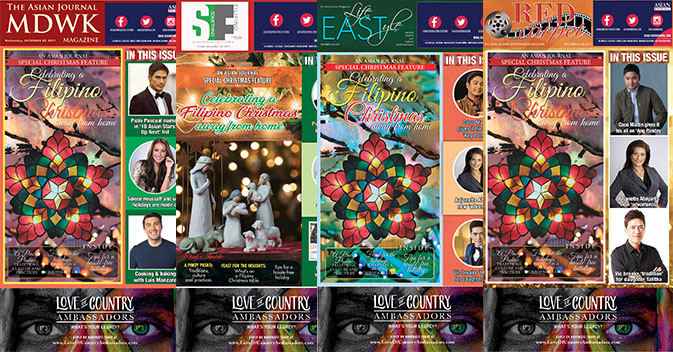 CHRISTMAS Day is fast approaching and for many in the U.S., that means hustling to finalize Christmas gifts, finding the perfect tree, and sending out family Christmas cards.  For the millions of Filipinos living in the U.S., it also means making sure balikbayan boxes are arriving on time to their loved ones back in the Philippines, placing lechon orders, and hanging up the parol.
The Philippines is famously known for having the longest Yuletide season, with stores decked out in Christmas decor, and new and Original Pilipino Music (OPM) Christmas songs playing in homes, malls, offices, and public transportation as early as September.
In the U.S., where holidays like Halloween and Thanksgiving take up the beginning "Ber" months — as many Filipinos refer to September onward as — Fil-Ams have their own ways of kickstarting an early season.
For one thing, there's the famous balikbayan box, which Fil-Ams start sending out in September to arrive in loved ones' homes in the Philippines by December. It's no surprise that balikbayan shipments spike during Christmas time, according to the Port of Manila.
As any experienced boxer would say, packing a balikbayan box comes with a few techniques.  Inside the boxes that often stand at two feet tall, are carefully curated and strategically organized non-perishable items like shoes, Betty Crocker cake mixes, toothpaste, soap, American chocolates, Nutella, American chips, pasta, Spam, and other various canned goods.  Shampoos, conditioners, perfume, and other liquid items are put in plastic grocery bags.  Fragile items like fine china, dinnerware, and jewelry are carefully wrapped in t-shirts which act as cushioning.  The remaining gaps are then filled with things like toilet paper and paper towels, stuffed toys, and more pieces of clothing.
And then there's the Spanish influenced holiday tradition of Simbang Gabi (night/dawn Masses), a nine-day series of Masses leading up to Christmas Day.  Every year from December 16 through 24, many Fil-Ams join in the Philippine tradition of attending the holiday services, with the most devoted attending all nine days.
"My grandma told me that when you complete Simbang Gabi, you'll have good luck for the next year," said Coleen Esguerra, a Fil-Am from San Diego, California. "I know of a great aunt of mine that completes it every year."
In Southern California for example, hundreds of Filipinos, primarily Catholic, gathered at the Cathedral of Our Lady of the Angels in Downtown Los Angeles to kick off the Mass tradition.  The service ended with a parade of parols (Philippine star-shaped lanterns) which were then blessed.
While not everyone may complete the full nine days, it is without a doubt that everyone shows up at Noche Buena (the Good Night).  Noche Buena, essentially a Filipino Christmas Eve celebration, is the biggest reunion of the year for many Fil-Am families.  It isn't uncommon for families to have relatives visiting from as far as the Philippines — Esguerra's two cousins and aunt from the Philippines come over every year.
And as the lively Tagalog holiday song "Kay Sigla ng Gabi" or Noche Buena suggests, food is a major part of the night with relatives proudly bringing their own specialties to the table.
Like at other Filipino gatherings held throughout the year, dishes like pancit, chicken adobo, pinakbet, kaldereta, and lumpia make up the table spread.  But no ultimate Noche Buena is complete without items like hot tsokolate (hot chocolate) made with tablea (chocolate tablets) from native Philippine cocoa beans, salabat (warm ginger tea) which is especially popular as the sun comes up, queso de bola (large Edam cheese ball),hamón (ham), puto bumbong (a margarine and brown sugar topped purple-colored sticky rice cake), bibingka (coconut-rice cakes), and of course,lechon (whole roasted pig), which if not made at home, is pre-ordered in advance.
Beyond the food, there are the typical Christmas activities most families enjoy, but with unique Filipino nuances.
"Seeing parols and the food definitely differentiates a Fil-Am Christmas to a traditional American Christmas," said Nadia Gapur, a Sacramento-based Fil-Am.
There's the Christmas music of Holiday favorites like "Jingle Bells" or "White Christmas", but also of classic Filipino songs like "Ang Pasko ay Sumapit (Christmas Is Coming)" or "Pasko Sa Nayon (Christmas in the Village)". There's the Christmas tree, holly, and garlands, but also the colorfully lit parol— an iconic Filipino Christmas symbol.  Then there's the gift giving in which kids finally receive their presents, but only after showing respect for their elders through the gesture of pagmamano.
"Also having karaoke is super Filipino," Gapur added.
For many Fil-Ams, including Esguerra, incorporating Philippine holiday traditions are an ode to how they're celebrated in the Philippines.
"The feeling is different, and the whole Christmas spirit is more pronounced in the Philippines," said Esguerra.  "When Filipinos say that Christmas decorating starts in September in the Philippines, they are telling the truth.  Everyone in the Philippines takes Christmas on another level, and I love it."
But like any Christmas celebration, Fil-Am or not, celebrating the holiday is about making new personal traditions with loved ones.  This is the case for Filipina travel and lifestyle blogger Camie Juan who just recently moved from the Philippines to New York.
"It's going to be our first Christmas together and without our families.  We just plan to stay home and cook a nice dinner together, very laid back, maybe watch a Christmas movie," said Juan.
"We're looking at it as like starting our own traditions now that we're married," she added.
Facebook Comments