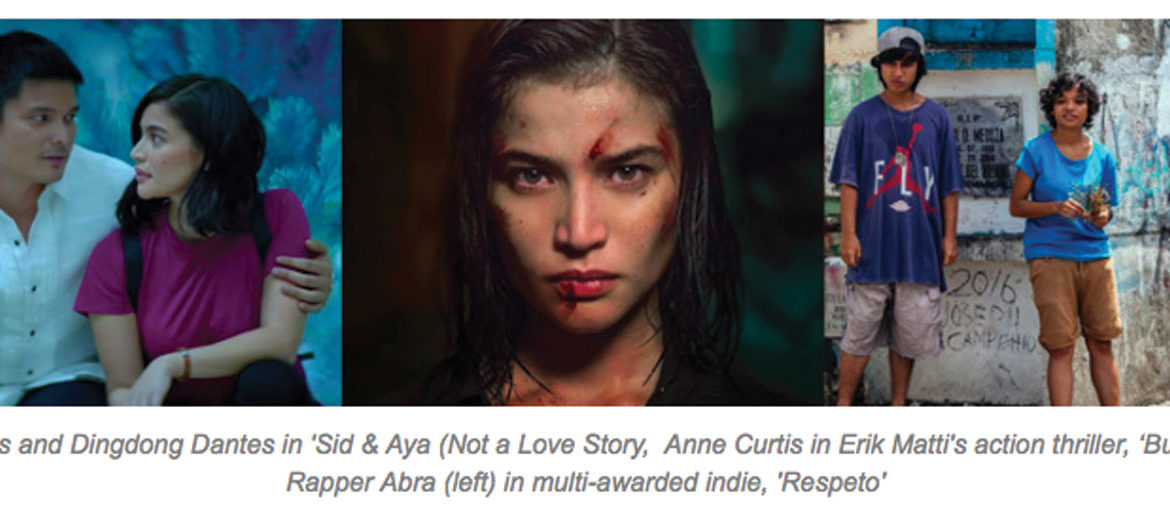 BuyBust, We Will Not Die Tonight make their world premiere
The New York Asian Film Festival is back for its Savage Seventeenth edition and this year, a batch of Filipino films get the spotlight.
These films to be shown at the NYAFF are "BuyBust" directed by Erik Matti, "Neomanila" directed by Mikhail Red, "On the Job" directed by Erik Matti, "Respeto" directed by Treb Monteras II, "Sid & Aya (Not a Love Story)" directed by Irene Villamor, and "We Will Not Die Tonight" by Richard Somes.
Three of these films have already earned nominations, and received accolades from prominent award-giving bodies in the Philippines, as well as other countries –  "Neomanila," "On the Job," and "Respeto".
"BuyBust," an action-thriller will make its world premiere at the festival, giving the world a first look at award winning filmmaker Erik Matti's hotly anticipated action film.
Richard Somes' explosive genre piece, "We Will Not Die Tonight," also had its world premiere at the said event last week.
On the other hand, "Sid & Aya (Not A Love Story)," which has received positive reviews from film critics all over the Philippines, will be making its New York premiere. The film and its director Irene Villamor were praised for its non-conformity to conventions.
The film is still showing in some Manila theaters. It went head on against a number of Hollywood blockbusters such as "Jurassic World" and "Deadpool 2".
Villamor shared that she was invited to the NYAFF to screen her other movie "Meet Me in St. Gallen" but when the programmer saw Sid & Aya in Manila, he told her they were going to invite the film as well.
"I was initially surprised, sabi ko, pang festival ba ito?"she asked. The festival organizers, who have all seen the screener, said yes.
A Film and Audio Visual Communication graduate from the University of the Philippines, Villamor started as a production assistant, helping friends with their shoots and productions. "Sid & Aya" is her third feature film after "Camp Sawi" and "Meet Me in St. Gallen".
Her love affair with film started way back in college at UP and she considers Joyce Bernal as one of her mentors. She went in as one of her interns back in 2000.
"Nag-umpisa talaga ako as utusan," she said laughing. "From OJT to PA to assistant director. I tried being a cinematographer one time but I couldn't carry the camera. Mabigat! Then I decided to write."
"Sid & Aya" is a character-driven film and it is about a series of conversations between the two main characters played by Dingdong Dantes and Anne Curtis that drove this film.
"I wanted to dwell more on their personal narratives, I wanted it to be introspective," she said.
From writing screenplays for Star Cinema in hits such as "Bakit Hindi Ka Crush ng Crush Mo" and "Everything About Her", Villamor went to become assistant director, something that she loved doing. Then came her big directorial break via "Camp Sawi," although she has been primed for the post with her first co-directorial job along with Antonette Jadaone in the film "Relax, It's Just Pag-Ibig".
"All around the world, Filipino films continue to compete and be recognized by the most prestigious of film festivals and we are proud that NYAFF is doing its part in introducing Filipino Films — genre Filipino films especially — to the North American audience. We hope that this is the first step for more of our films to be recognized and distributed in that side of the world. We wish our delegates the best of luck," said Chairperson and CEO Liza Diño.
"We Will Not Die Tonight" and "Neomanila" were screened last week while the remaining four Filipino films will be screened next weekend at the School of Visual Arts (SVA) on 23rd Street.
July 14 "On the Job" 12:30pm @ SVA 23rd St
July 14 "Respeto" 7:30pm @ SVA 23rd St
July 15 "Sid and Aya (Not A Love Story)" 3:30pm @ SVA 23rd St
July 15 "Buy Bust" NYAFF's Closing Film 7:30pm @ SVA 23rd St
The 17th New York Asian Film Festival in New York City, USA runs from June 29, 2018 to July 15, 2018.
Facebook Comments