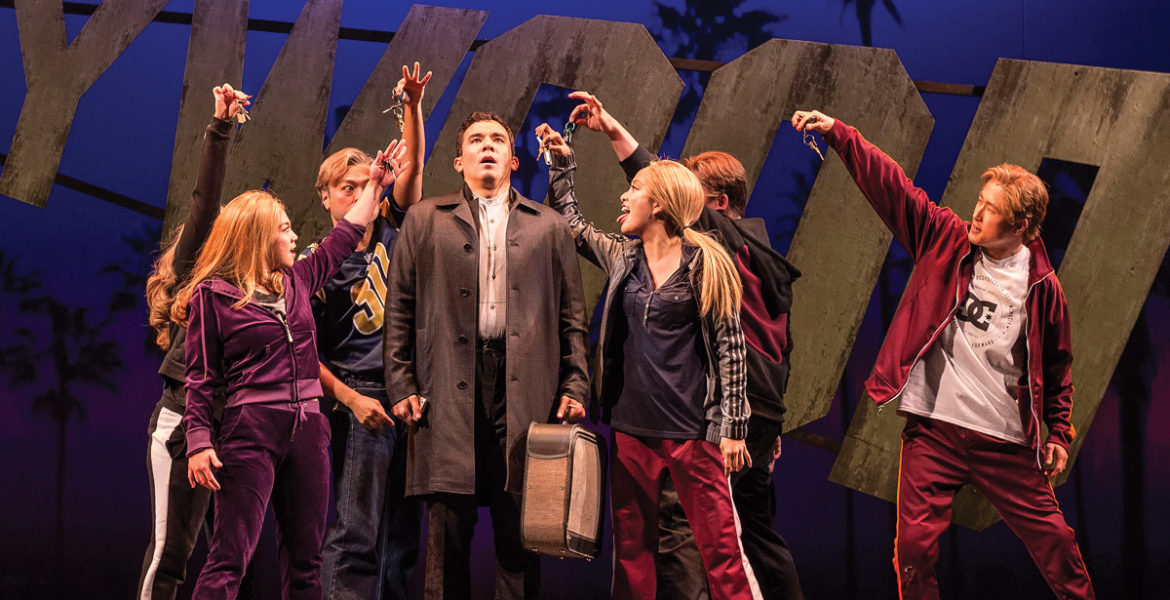 "Do you mind if I'm on the elliptical during this?" actor Conrad Ricamora asks on a recent afternoon during a phone interview.
For the next 30 minutes, Ricamora talks about the latest stage role that has been filling his time before ABC's legal drama series "How to Get Away with Murder" — in which he plays Oliver Hampton — starts filming season five this summer. 
This entire conversation is devoid of any indication that he's out of breath. 
"It's good training," he says with a laugh.
In two hours, he'll then make his way to the Ahmanson Theatre in downtown Los Angeles, where's starring in "Soft Power," a musical by Tony Award winning playwright David Henry Hwang ("M. Butterfly") and composer Jeanine Tesori ("Fun Home") that premiered on May 16.
The production, billed as a "play with a musical," is produced by Center Theatre Group, directed by Leigh Silverman and choreographed by Sam Pinkleton.
Coming back to the stage feels like home for Ricamora, who spends most of his year working on the TV show. 
"There is no replacement for that immediate sharing of energy with an audience in that theater that you can't get from TV or film. Those two forms have great things too that theater doesn't, but that shared experience that lives and dies every single night is something you can't replicate or find anywhere else. Also, there is a sense of ensemble that happens in theater because everyone shows up at the same time every night to tell a story. There are times where I go a week or two without seeing some of the cast on the TV show because we don't shoot the same scene," he says. 
In "Soft Power," Ricamora plays Xue Xing, a Chinese film executive who visits the United States trying to do an American show set in Shanghai. There, he meets with a man named David Henry Hwang (Francis Jue) — who is loosely based on the real playwright — and encounters presidential candidate Hillary Clinton (Alyse Alan Louis).
"It is such a complex show about really sensitive topics. People should just go see it…they are bound to have an experience like no other in the theater," Ricamora says, trying to describe all the elements that go into the musical. 
Another layer of the story jumps 50 years later and recounts the 2016 presidential election from a Chinese lens and with China as the main world leader. Essentially, this turns the tables on musicals like "The King and I." What if American culture and historical events were told from an outside perspective?
"A part of what David and Jeanine are doing is sincerely turning the idea of 'The King and I' on its head. Rodgers and Hammerstein, who are white people, wrote 'The King and I,' probably with really good intentions but without any real knowledge of Thailand or anywhere in that area. What happened years down the road when China is now the world power, what America was like way back 100 years ago, and what they would write about it, they might get it wrong the way Rodgers and Hammerstein probably got a lot of things wrong when they wrote 'The King and I,'" Ricamora says. 
Hwang, the only Asian American playwright to win a Tony Award, has stated in interviews his complicated relationship with "The King and I" and how that largely influenced the writing of "Soft Power." The story was originally part of a commission to mark the 50th anniversary of the Center Theatre Group's Mark Taper Forum. 
"I've always loved 'The King and I,' it's been a show that has moved me since I was a kid. But as I've gotten older, there's this complicated feeling where I know it is kind of inauthentic and making a political point subtly—reinforcing the dominance of the West. But it's done so beautifully that by the end of it I'm still in tears," Hwang said previously in a conversation with CTG's Artistic Director Michael Ritchie. 
For Ricamora, whose past work includes Lun Tha in "The King and I," being able to take a critical look at the beloved musical and star in a production written by someone who is Asian American, alongside fellow Asian American actors, is unprecedented.
A recent study by the Asian American Performers Action Coalition found that in 2015-16, the number of Asian Americans decreased to 4 percent, the steepest drop among all the groups.
"It's been an interesting process because the production of 'The King and I' that I did at the Lincoln Center was done with a lot of integrity. But when you start with something that was written by people who never even went to the area where the show takes place, then there is bound to be inaccuracies," he said. "What's so great about 'Soft Power' is turning that convention on its head and to finally be able to play an Asian man who is three-dimensional and what if all of the white characters on the show are based on ideas that Chinese people had of America even if they were trying to do it with the best of intentions."
Ricamora, who is of Filipino descent on his father's side, says that acting has in some respects brought him closer to his heritage. 
His father came to the United States from the Philippines at 10 years old and "tried to be very American."
"Even when he was raising us, my brother and [me], he didn't teach us Tagalog…I think maybe because he left when he was a little kid, he didn't want us to have an accent or anything. But we did go to Fil-Am events and I remember that sense of camaraderie," he recalls, mentioning that he mainly grew up in the South. 
One of this notable roles was Benigno "Ninoy" Aquino, Jr. in "Here Lies Love" — the musical about former Philippines first lady Imelda Marcos — which was an "immediate immersion into Filipino history."
"That meant the world to me to learn about the country that runs through my blood that I've never had the chance to talk or learn about. I got to do it on stage for a couple of years alongside other Filipinos," he shares. "It felt very rewarding and it was a safe space for us to all be ourselves and tell our stories." 
For "Soft Power," Ricamora was offered the role of Xue Xing the same day he got a call back. Leading up to rehearsals, he worked with a dialect coach to master the way his character speaks. 
"It lends a lot to how [my character] moves through the world and gets what he wants and I don't want to say aggression… but his determination to really get his country and culture seen," he says. "It's something that I feel all Asian people can tap into because we haven't been able to see ourselves on screen. We talk about shows that are whitewashing Asian characters so that kind of desire to move forward our representation in media is something that was really easy for me to tap into." 
The cast of "Soft Power" is predominantly Asian American, including Filipino Americans Billy Bustamante (whose Broadway credits include "Miss Saigon"), Jaygee Macapugay ("School of Rock"), Maria-Christina Oliveras ("Amelie"), and Geena Quintos ("Miss Saigon").
Ricamora has worked with most of the cast members before so "it feels like family" to reunite with them.
With the 24/7 information cycle and saturation of news, perhaps a political musical is the last thing viewers may want to see. There are no mentions of the current U.S. president's name in it. 
However, Ricamora believes "Soft Power" provides that space for the audience to take a step back from what's happening outside the theater's walls. Reviews for it have mostly been written in praise for its boldness. 
"It's the ability to laugh at the things that have happened in the last two years since the 2016 presidential election," he says of his main takeaway of the musical. "It has been such a dark and trying time filled with so much doubt, fear, and anger so it's nice to go to the theater and just laugh about it and get new insight into it as well. It's a release for all the things that have been happening and I think that has been a great joy. Also the conversations that people are immediately having during and after the show." 
That's the beauty of an art form like theater. It doesn't remain stagnant and each performance is never truly the same as the one that came before it. Having to keep up with real-life updates and changes has kept Ricamora on his toes. 
"Working with David and Jeanine has been the greatest challenge. Their ability to shift dialogue and the story and sharpen and specify things is really, really quick. Being able to keep up with that has been one of the most rewarding and challenging things I've ever done in my career," he says. 
On the morning of this interview with Ricamora, news broke that the U.S. would pull out of an upcoming summit with North Korea. "I've never been part of a show where headlines can really change it," he muses.
"It's constantly evolving every day, isn't it? The news today, it talks about how precarious [U.S.-Asia relations] are. I just read something in the New York Times about how backing out from the summit with North Korea could potentially benefit China, giving it a leg up in world politics. That's what our show is about: imagining if China becomes a dominant leader, not just politically, but culturally as well. There are signs of that starting to happen because we're not willing to work and have that dialogue with other nations."
There are symbols within "Soft Power" that satirize the image of today's American society, especially abroad, including McDonald's and being gun-obsessed. The week before, yet another mass shooting at a school occurred in Santa Fe, Texas and that "completely changed the tone of our show," Ricamora mentions. 
"It's a very much living and breathing work of art in a way that I've never been a part of before," he adds. 
"Soft Power" runs until June 10 at the Ahmanson Theatre before making its way to the Curran Theater in San Francisco from June 20 to July 8.
After that, Ricamora heads back to the studio for the fifth season of "How to Get Away with Murder," which will film until next February. 
"I wish I knew. They don't tell us anything," he says, laughing, of what the audience can expect of Oliver in the upcoming season. "They're in the writers' room right now cooking up all kinds of stories but they're sending us any updates or anything. You'll know when I know."
Ricamora was promoted as a series regular in season three for his portrayal of Oliver, an IT specialist and HIV-positive gay man who is the love interest of Connor Walsh (Jack Falahee), one of Annalise Keating's (Viola Davis) law students.
"The main thing that I identify with is how Oliver really wants love in his life and wants a relationship. He struggles with that and I've struggled with that in less dramatic ways but I definitely identify with wanting to have that closeness with someone else but not knowing how to do that. Now that he's a part of this group, he blossomed into feeling at home with these people," he says. 
To be an Asian American actor as a regular on primetime network show is "huge," Ricamora says, because he didn't see representation for himself growing up. 
"It's not something I usually think about until someone shows up at the stage door, like someone did a week ago, in tears because they finally feel like they have representation. There are all these letters that come into the theater from people all over the country who are thanking me for just being on TV. It's very strange to take credit for because I'm not a politician out there making new laws for representation. I'm just doing my job as an actor, but it's an unexpected reward for doing the work that I want to do," he says, adding, "I'm glad I can be that for other people." 
"Soft Power" is at the Ahmanson Theatre in Los Angeles until June 10 with performances Tuesday-Sunday (8 p.m. Tues-Fri; 2 and 8 p.m. on Saturday; 1 and 6:30 p.m. on Sunday). It is approximately two hours and 20 minutes including intermission.
Facebook Comments