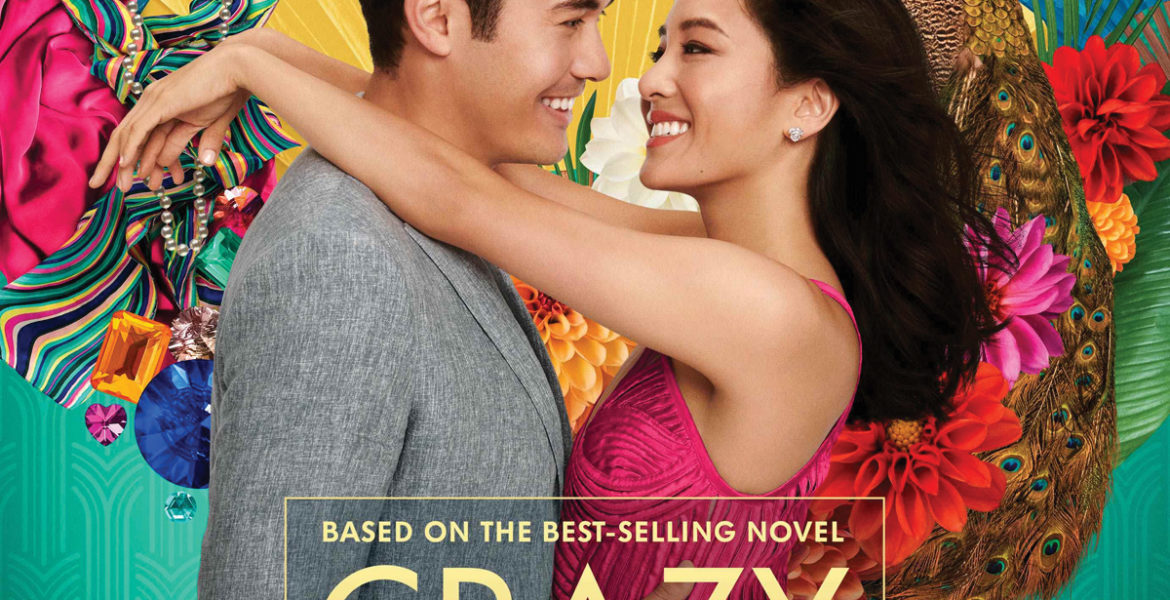 From 'Fresh Off The Boat', to 'Crazy Rich Asians' and beyond: The State of Asian American Representation in Film and TV
WHEN the first trailer for the upcoming summer flick "Crazy Rich Asians" dropped on April 23, 2018, Twitter's Asian American and Pacific Islander (AAPI) community went bananas.
Based off the 2013 novel by Kevin Kwan, "Crazy Rich Asians" (out Aug. 17, 2018) stars Constance Wu ("Fresh Off The Boat") and Malaysian-British Henry Golding (in his feature film debut) as the two leads in a romantic comedy about Singaporean social class, the confluence of marriage and love and the generational gap between Asians and Asian Americans.
AAPI Twitter users praised the film for leading the charge for cinematic diversity and potentially proving that majority-Asian films can be box office hits.
On the same day that the trailer was released, a select few were invited to a special screening of the film and many tweeted the reactions afterward. Rebecca Sun of The Hollywood Reporter nicely summed up the reaction and the film's significance in one tweet:
"Lots of weeping in the theater and smeared eyeliner afterward," she wrote. "Crazy Rich Asians is a love letter to Westernized Asians who live in a world that has heretofore largely ignored them."
Sun's tweet perfectly summarizes the state of AAPI film and television representation and the opportunities this film could potentially open up for Asian artists in the entertainment industry at large: it's the first non-martial arts film backed by a major studio (Warner Bros.) to feature an all-Asian cast telling a cultural story that Asian Americans will likely resonate with.
AAPIs in Hollywood have come a long way from blatant whitewashing, fetishism and various egregious stereotypes to the refreshingly vibrant "Crazy Rich Asians" (which also stars Fil-Am actor Nico Santos of NBC's "Superstore" and Filipina entertainer Kris Aquino). However, the current state of Asian and Asian American representation in the stories we see on film and television are far from where they ought to be, according to filmmakers, actors and other industry leaders. In an age where diversity in entertainment is the hot issue of the moment, Asians continue to be slighted in the conversation to include non-white individuals on and off screen.
A 2016 diversity study from USC Annenberg provided an even more stark contrast and found that, in a survey of more than 800 films from 2007 to 2015, Asian actors only had 3.9 percent of speaking roles in films compared to the 73.7 percent white actors received. In 2014 alone, only 1.4 percent of lead characters in studio films were Asian.
The television landscape (which features programs set in heavily diverse cities like Los Angeles, San Francisco and New York City), perhaps, shows the most egregious neglect of actors of color. A multi-university study released found that white actors continue to dominate series regular roles; nearly 70 percent of series regulars are white while 4.3 percent are AAPI. In 53 percent of shows set in LA and 70 percent set in New York City, there are no AAPI series regulars.
The barometer for AAPIs in television jumped in 2014 when Taiwanese-American restaurateur Eddie Huang's memoir "Fresh Off The Boat" was picked up by ABC. While the show has been criticized for creative reasons (Huang has openly criticized the comedic direction the showrunners went), "Fresh Off The Boat" was recently renewed for a 5th season, proof that a series with a majority Asian cast can last in the age of network television decline.
The year after "Fresh Off The Boat" expanded the ways in which network sitcoms can be financially solvent, Indian-American comedian Aziz Ansari and Taiwanese-American writer and producer Alan Yang created the Emmy and Golden Globe-winning comedy series "Master of None", a dramatic comedy series about a struggling actor Dev (Ansari) and his heterogenous group of friends.
"Master of None" was met with praise from critics for bringing cinematic flair to the television front, but more profoundly, it was praised for bringing much needed ethnic, sexual and body diversity and bringing visibility to the unique second-generation Asian American experience. Ansari and Yang have stated that the need for three-dimensional portrayals of Asian Americans was a driving force in their creative direction for the show.
An episode that discussed the relationship between AAPI millennials and their immigrant parents earned Ansari and Yang an Emmy win for Outstanding Writing in a Comedy Series in 2016.
In his Emmy speech, Yang made a call to action to uplift the creative Asian community: "There [are] 17 million Asian Americans in this country and there are 17 million Italian Americans in this country. They [Italian Americans] have The Godfather, Goodfellas, Rocky and The Sopranos. We got Long Duk Dong. So we got a long way to go. But I believe we can get there. I believe in us. It's going to take a lot of hard work. Asian parents out there, if you can do me a favor just a couple of you: get your kids cameras instead of violins and we'll be all good."
Changing Hollywood's culture
While there isn't necessarily a quick fix to address the issue of cinematic AAPI representation, a two-pronged solution that places responsibility on studios and Asian filmmakers themselves to help change the culture, according to veteran Chinese-American actress Kelly Hu.
"I think a lot of it has to do with the people who work behind the scenes, the producers, directors and writers creating these roles," the Chinese-American actress shared with the Asian Journal in a recent interview. "And also for us to get out there as the Asian community, to go out there and support [other Asian artists]. When there are Asian shows being done to actually watch and go support to show that we can make a huge difference."
Changing culture doesn't happen overnight. Arguing the financial solvency of Asian stories with studios, improving the ways in which AAPIs are represented and getting them on the screen in the first place feels like a tall order. And it is. But the avenues available to create and produce your own projects are more vast than ever.
Korean-American actress and writer Vivian Bang's career began as many budding actresses' do: small roles in television roles and largely unseen projects. The 34-year-old actress from Seoul, for the span of her nearly 20-year career, grappled with many of the woes experienced by many AAPI actors: scarcity of Asian faces on screen is real, but more insidious are the ways in which Asian faces are portrayed.
In an interview in March, she told the Asian Journal that she believes there's an "unconscious bias" in the film world and American culture at large wherein there isn't an active pursuit to shirk AAPIs in entertainment, but there is a noticeable "absence" that has largely gone unnoticed in the system. Asian actors, she said, are too often slighted and are given roles that to represent the scope of their talents.
"We have so many stories to tell, and these aren't 'niche' stories," Bang said, referring to instances where studio heads are hesitant to finance Asian-specific projects for fear of being too esoteric and, potentially, financially insolvent. "These are human stories because, if you haven't heard, we're humans! Like, why can't there just be a show about Asian people just living their lives in LA? We can do so much more than just playing the quirky best friend or the token Asian."
And that's exactly what she did. She wrote, produced and stars in the upcoming film "White Rabbit", a dramatic comedy about an LA-based Korean-American performance artist struggling to be heard as a multi-dimensional artist. She wrote "White Rabbit" out of what she calls a necessity for a story that, not only features an Asian female lead but to address the issue of invisibility of the AAPI community in the creative world.
"There's just this really deep reservoir of artists and talent coming from [the AAPI] community which hasn't been given its rightful exposure. It's not that we're not there, it's that we haven't been given the chance to really shine, but now we live in this time where we can do that ourselves," Bang asserted.
Addressing diversity 
Like all issues of culture, many people question the urgency of the diversity problem. Does it really matter who we see in our movies and shows?
In general, the AAPI population is growing at a rapid rate. The U.S. Census Bureau found that the AAPI community is the fast-growing demographic in the United States and naturalization trends see that continuing for the next several decades. It would benefit the studios looking to turn a large profit and AAPI artists who haven't been given their due to transform the industry to more accurately represent this new reality and to cater to a growingly ethnically assorted population, as expressed by sociologist Nancy Wang Yuen in her book "Reel Inequality: Hollywood Actors and Racism."
"'Diversity' and 'brilliance' are not mutually exclusive. Hollywood can reconceptualize racial diversity and inclusion not as a compromise, but as a goal," she writes "Hollywood simply cannot afford to ignore an increasingly diverse domestic audience base and growing international market. As an industry, Hollywood also risks stagnation because racially and gender diverse groups are more likely to innovate and create than groups with less diverse members."
Diversity for diversity's sake isn't the issue. The call for fair representation isn't to haphazardly include more Asian bodies in a film to fulfill a quota that film's past could not, but it is to, rather, challenge the century-long homogeneity in Hollywood that fails to capture the reality of a growingly assorted American population. Culture is, in part, shaped by film and television which have a profound reach, and to accurately represent the AAPI community in thoughtful, constructive ways means accurately representing the world as we know it.
Facebook Comments