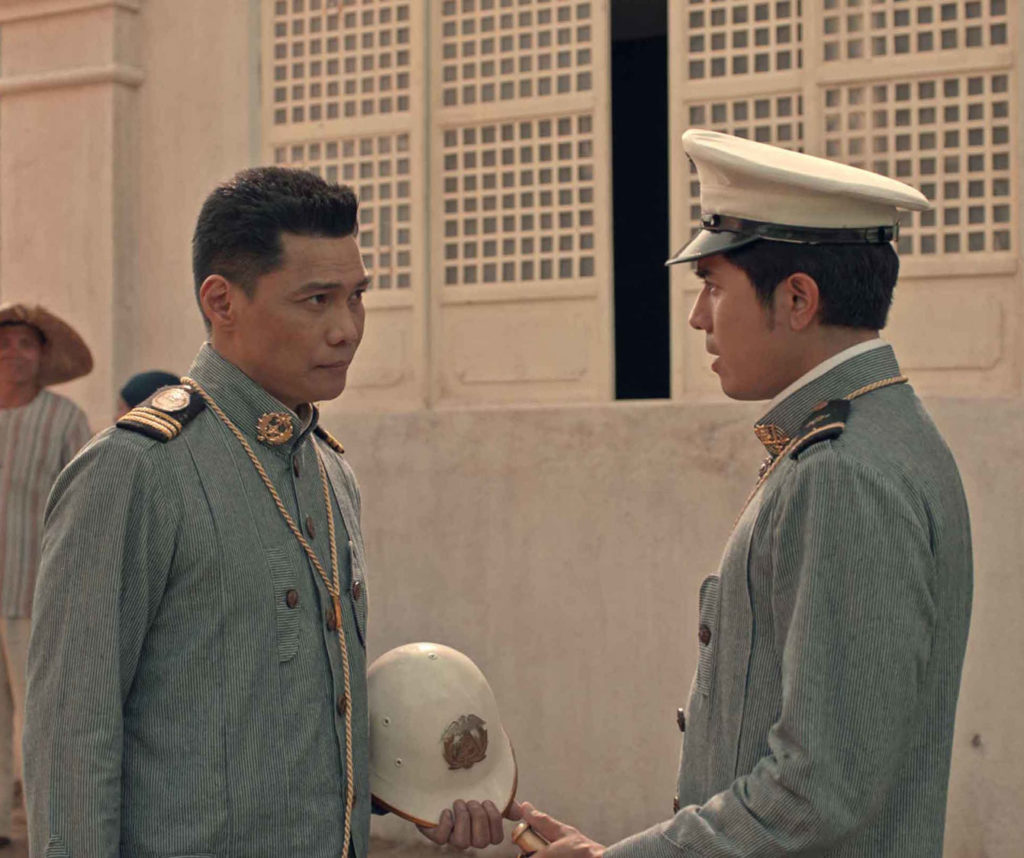 THREE years after the highly successful run (both commercial and critical) of Heneral Luna comes the much-awaited sequel, Goyo: Ang Batang Heneral, a historical biopic that focuses on the last months in the life of Gregorio del Pilar (Paulo Avelino), one of the youngest generals of the Philippine Revolution (against Spain) and the Philippine-American War.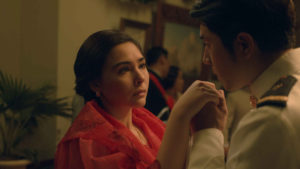 Goyo picks up immediately right after Heneral Luna's ending and it follows the young general's life up to the point where he died at the battle of Tirad Pass. A short film uploaded on YouTube entitled Angelito acts as a bridge to connect both films and provides a clearer transition by showcasing the story of Manuel and Jose Bernal after Luna's death.
Goyo was the most trusted ally of Emilio Aguinaldo, the Philippine President and Commander-in-Chief during the Revolution and War. To his critics though, he is nothing but Aguinaldo's lapdog.
A crucial scene, and one of my favorites, shows Manuel Bernal (masterfully played by Art Acuna) defying the authorities and getting into Goyo's mind rent free as he asked the young general, "Are you a soldier or are you a dog?" before taunting him with "Tahol, Goyo, tahol!" ("Bark, Goyo, bark!")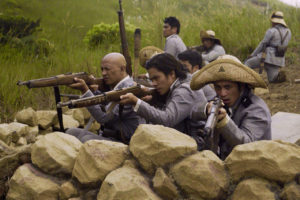 This and a few flashback scenes later would humanize Goyo's character and reveal how he tries and copes with the questions that bother him and keep him up at night. There were scenes that reveal his personal battle against post traumatic stress disorder, one that he got after a near-death experience defending Kakarong de Sili in Bulacan. This, added to Bernal's taunts would haunt Goyo endlessly.
Quickly, the film moves and after five months of relative peace, the U.S. Army begins its final push to crush the Philippine army and capture Aguinaldo. Goyo faces the biggest challenge of his life as he oversees the large caravan of officers, soldiers and civilians making their perilous escape through the mountains of the Northern regions.
If you have seen Heneral Luna and expect a loud, hot-headed and boisterous lead character, you'd be disappointed. If at all, Goyo as portrayed in the film is anything but loud, but don't be fooled by that because Avelino delivers a powerful yet nuanced and subdued performance. It could very well be a study in contrast as both heroes' characterizations are like night and day.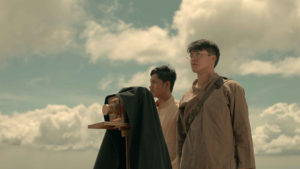 "For many, Gregorio del Pilar was a true hero of the revolution, but for some, he was nothing more than an arrogant henchman of Revolutionary President Emilio Aguinaldo. Yet his willingness to give up his life reveals a level of determination and perhaps humility that cannot be easily dismissed," director Jerrold Tarog said. "For someone so young and popular to face death head on, Goyo, as del Pilar is known to his friends, deserves to be examined using both a wider and a more intimate lens."
As the second part in the envisioned ambitious historical trilogy that began with Heneral Luna, Goyo: Ang Batang Heneral continues an attempt to examine Filipinos' faults as a people by using the past as a reflection of the present.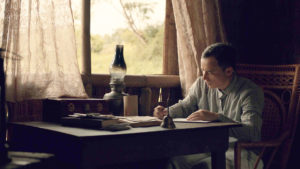 With multiple points of view and the same characteristic freedom to move between historical fact and fiction as in Heneral Luna, Goyo expounds on themes of maturity and responsibility, contrasts the naivete of youth with sobriety of adulthood, and attempts to ask questions about our readiness for a task of nation building.
The film was shown in New York City and Elizabeth, New Jersey over the weekend and followers of Filipino films went out to watch.
Lawyer Elizabeth Cueva has always supported Filipino films with historical significance. She has also seen Heneral Luna and a preview of the bridge short film Angelito.
"They were [all] well made. General Gregorio del Pilar has always been both a charismatic and enigmatic personality in Philippine history — a tragic hero. There was a buzz on "hero" worship that was predicated on this film," Cueva told the Asian Journal. "I was curious about how Jerrold Tarog would treat the character and his place in history."
"It stirred a sense of nationalism in me," she added.
She also cited the film's cinematography, production design, costume, music and acting by the lead and ensemble actors and saying they were all excellent.
"I like how the overhead sweeping vistas actually transported the audience to the battle scene and terrain of the Battle of Tirad Pass and the military maneuvers of both parties. There is a good balance of dreamy romanticism and war action scenes," she said.
"There is sympathy for the character of Gen. Gregorio del Pilar as well as criticism for his misplaced sense of loyalty in Gen. Emilio Aguinaldo. This is both good and bad, because it already "preaches" to the audience that Gen. Aguinaldo was a bad or selfish leader. There is definitely no sympathy for him here in this film," Cueva added.
"I thought it should allow the audience to think and judge for themselves. I am not sure if a foreign audience with no background of the Philippine Revolutionary War would easily grasp the film. But those with background and interest will surely enjoy it," she concluded.
Carlo Cruz relishes his Goyo experience
New York based actor Carlo Cruz was still based in Manila late 2012 when he auditioned for Heneral Luna.
He didn't get a call back. He moved to New York to further hone his craft. Three years later, he got a call from him and they offered a role for Goyo.
"No questions asked, I said yes. Tell me when and where, I'll be there," Cruz shared with us over coffee and mochi in Koreatown. "I was really excited when I found out that I was going to be a part of the sequel. It is definitely one of my memorable experiences so far."
Cruz plays the role of Captain Juan del Pilar, a younger cousin of Goyo's. He did his part researched about the man but there's not much in history books.
"The lack of material to work with in a way opened doors for me to be creative and look at the script with a fresh perspective, free of bias," he shared.
Prior to Goyo, Cruz was last seen in Toto, a film by New York based director John Paul Su.
Cruz started his career in Manila doing commercials, then he got into independent films. He did a Cinemalaya film called The Animals and worked on a few more.
In New York, he decided to hone his craft by enrolling in Lee Strasberg Theater and Film Institute, the same school that Jake Cuenca attended a few years ago. He decided to stay in New York for a while to learn and absorb the working culture.
The shoot for Goyo took the cast and crew all over northern and central Luzon. They shot from May to November 2017. Cruz's first day was end of June until October.
"Direk Jerrold followed the schedule, we would do 12 hour days so we would have enough time to rest and recuperate for the next shooting day. The energy on the set was always good, laging ganado. They were meticulous and organized as far as scheduling is concerned," Cruz said.
Working on the film and gaining the entire experience made him realize just how much potential Philippine cinema has.
"This has been the biggest project I've been on, beautiful script and passionate people, I saw what else we could do and strive for to reach that level of filmmaking," he shared. "What I love about the movie is that it is a very internal kind of film, it shows the internal conflict that the characters in the movie have to go through. You see the humanity of these individuals along with their own flaws and weaknesses. It's up to the viewers to decide."
For now, his main goal is to grow as much as an artist and to absorb, take risks, make mistakes and learn from them. The process may feel a bit chaotic but he feels there's a benefit because he is always evolving.
"I consider myself as a journeyman. I try to evolve as an artist, as a person. I try to work on my craft and better myself and wherever the meaningful work is, I'm there, whether it's in the Philippines or here, I will follow my dream," he said.
Cruz considers himself very lucky to be a part of a project such as Goyo, where everybody is pushing each other to get better.
He is also thankful that the Philippines has a lot of filmmakers who are very brave.
"It's not always about entertainment, the social commentary aspect, that's the power of film and that is extremely necessary as well," he said.