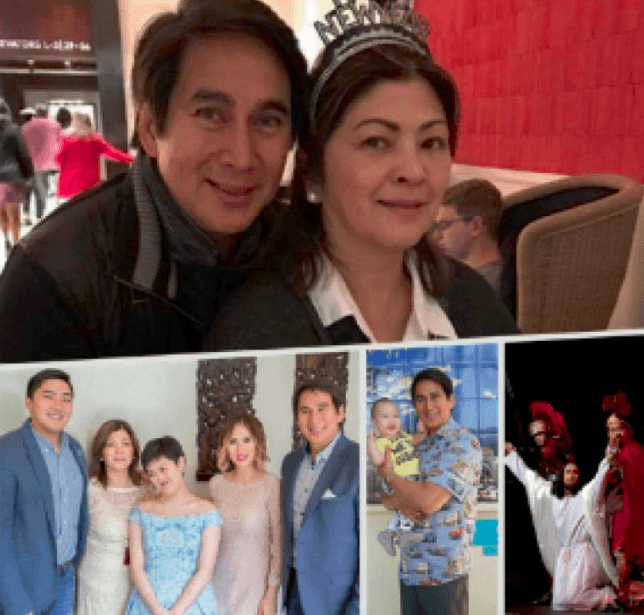 In writing this piece, I was given the rare opportunity to talk to one of the greatest Filipino actors of all time. This person also happens to be the man who played "Jesus Christ" in the 90s film, "Kristo."  With the observation of Lent, the timing of this article couldn't be more impeccable.
Continuing the tradition
It's almost customary for an actor who was identified (and quite known) with a role he played, to actually continue playing the same role – only in a different yet much diverse – format. Something Ranillo has been doing in the last seven years.
"I still play 'Kristo' but [now] in an actual play. When I moved here in the U.S. in 2010, I've started doing stage plays with my brother Dandin Ranillo. He directs and co-produces them," he said.
"Kristo" is a Passion play in dance-drama pantomime. It was shown in parts of Northern California from 2010 to 2013, and in 2016. Ranillo also starred in "Hesu Kristo," another Senakulo play which casts some of the finest Filipino actors in the industry, including Vivian Foz as Virgin Mary and Joji Isla as Peter. In September 2016, Ranillo played the role of San Lorenzo Ruiz in the musical play, "Lorenzo Ruiz, The Filipino Saint." The play was shown at the St. Lorenzo Ruiz Parish in Walnut, California.
The accidental actor
Matias Archibald Ranillo III — popularly known as Mat —  has been acting since 1977. His first movie was with Alma Moreno in Bulaklak ng Teatro Maynila, which is an offshoot of the latter's hit show, "Alindog." Since then, Ranillo established himself as a character actor in the movies "Sinong Kapiling? Sinong Kasiping?", "Dalawang Pugad, Isang Ibon", and "Masarap, masakit ang umibig, which the actor also considers three of his monumental films and what catapulted him to stardom.
For someone who's been acting for almost half a century, it is surprising that it wasn't really his dream to become an actor.
"I became an actor by chance. I never really liked being a celebrity. I didn't like politics and show business. My father was an actor then turned lawyer then got into politics. He died from a plane accident.  My Grandfather was the governor of our province, so growing up, I experienced life as a public figure – magulo. So I never dreamed of walking that path." Ranillo continued.
Ranillo's mom Gloria Sevilla was a famous actress and as talent runs in their blood, Ranillo's sisters, Suzette and Lilibeth, also followed their parents' path. This led the way for him to get into the industry he once detested.
"I was active in speech in elementary and high school.  It became sort of an outlet for me. But I wasn't known to play a lead role. I was usually the supporting actor or the curtain opener. Then in college, my other sister, Lilibeth, who also did acting for a short time, was doing commercials. So I was asked to do commercials too, and I became active in that. From there, some designers contacted me to do ramp modeling. Then some talent scouts saw me and asked if I want to try acting. They asked me to do a stage play with veteran actors. I remember I was the only one who was not famous. Then from the plays, a TV director saw me and had me guest on a TV show on ABS-CBN. That started my journey from stage to TV to film."
Perfecting the craft
"I never really dreamt of becoming an actor.  I never wanted to be in showbiz. They say I am a reluctant star. I am very private. I have seasons when I'm in the limelight then I'm out, then back, then out. I prefer that because I get overwhelmed with being a public figure, like your life is not your own. So I just work then I disappear for a while."
Like a rare gem that he is, Ranillo wasn't into teeny-bopper roles. He opted for off-beat roles — roles that were unpredictable or ones you wouldn't expect an actor would play regularly, by choice. And this is what Ranillo became more known for.
"My acting style is the stage-actor-way of acting. More subdued., not explosive. That's not my cup of tea. I am not into big movements or heavy drama. I prefer doing character roles than to be a leading man. I think those three films (mentioned above) and some others proved that I am a guy who can act. (They) were more of playing a character and accentuating your acting and not (you) as a matinee idol or a celebrity. It's easy to present yourself as this gorgeous leading-man material but being established as someone who can act is a different story. I didn't want to be just a pretty face who comes and goes."
The 'bigger' roles
Ranillo lives with his wife Linda in California, where his children and grandchildren also live. He talked about life as an ordinary man — the "real" life behind the camera and the big role he plays in his grandchildren's lives.
"Being a grandfather to four grandchildren — it's a different perspective in life. I never thought that I would be given another chance to become a parent again. Caring for my grandchildren relives my memory of being a father to my children. I told Krista she should make memories with her kids now because these memories would be embedded in their minds and hearts as they grow old. I lost my father when I was in grade school and that was during the moments that I was already bonding with him. I looked up to him as my role model. Then he died. And I lost that fatherly figure, so I vowed to myself that when I become a father I would definitely treasure it. I will make the most of my time with my children. I took that role seriously. When Krista was born, I stopped working for a year and as she was growing up, I would often bring her to location shoots and out of town trips. I'm glad she still remembers them up to this day."
As a husband, Ranillo takes every chance he can to spend time with his wife despite his busy schedule.
"When I have to go out of town, I would bring my wife instead of bringing my manager or publicist, so I would have time for her," he shared.
Once again, ladies and gentlemen, Mr. Mat Ranillo, one of the greatest actors of all time will be honored for his lifetime of achievement on April 29, 2017, at the Beautiful Life Celebration 2017 at the LA hotel in downtown Los Angeles.
***
Monet Lu is a Marikina-born, award-winning celebrity beauty stylist with his own chain of Monet Salon salons across Southern California and Las Vegas, Nevada. Ultimately, Monet is known as an all-around artiste who produces sold-out fashion and awards shows as well as unforgettable marketing campaigns. Monet is also the founder of the revolutionary all-natural beauty products such as Enlighten, your solution to discoloration . To contact Monet, please visit www.monetsalon.com or